PMA 08; Best Of Show
As part of our annual Photo Marketing Association (PMA) coverage we ask our reporters to deliver a "Best of Show" award. While each contributor had their own beat, we also asked them to go beyond their respective area of coverage to find what, for them, signified a breakthrough product, technology, or new trend that they felt would affect all photographers in the months and years ahead. Each looked at this topic through their own lens, and while there was some agreement, there were some surprises as well.
Sony's Pro D-SLR And Tamron's Ultra-Wide Zoom
In addition to showing equipment that would be shipping soon, a few companies announced "products in development" during PMA 2008. Shown as prototypes--sometimes only in the back rooms, under secrecy agreements--these were intended as "sneak peeks" into the future. Typically, such items boast of entirely new technology or at least some really significant improvements over current models. Some of these will not be officially unveiled until later in the year; other future products were openly discussed, however, including my two picks for "Best of Show": a pro D-SLR and an ultra-wide angle zoom.

Sony has already made five Alpha-series models, combining some Konica Minolta Maxxum components with their own technology. But it's the sixth camera that I found particularly appealing, the coming "flagship" of the line shown as a "mockup" during Sony's international press conference. Although a model name was not announced, this will be a professional D-SLR, employing a newly developed 24.6 (effective) megapixel CMOS sensor with several A/D converters to minimize digital noise. More importantly, the sensor is full frame with a recording area that's roughly the size of a 35mm slide or negative.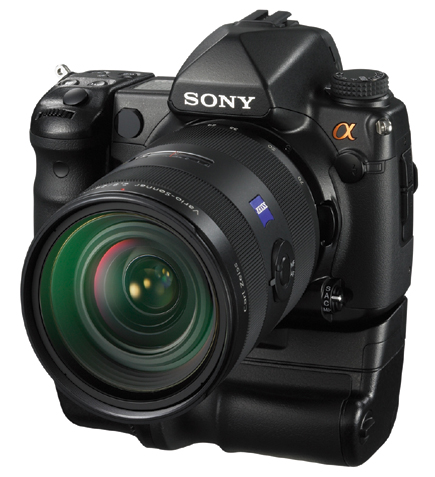 Other camera specifications were not available, but apparently, the pro D-SLR will include a built-in stabilizer and an ultrahigh-resolution 3.5" LCD. It should also allow for a fast Burst mode, since the new CMOS sensor supports "6.3 frames per second scanning"; actual speed will depend on the processor as well. I have been very impressed with the performance and image quality provided by the Sony A700, and I'm definitely looking forward to testing the new pro model sometime this fall.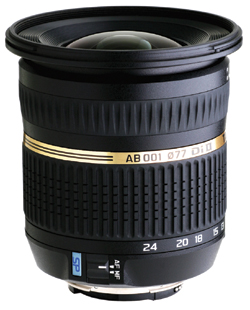 The Tamron SP AF10-24mm F/3.5-4.5 Di II LD Aspherical (IF) zoom (for "small" sensor D-SLRs) received a lot of publicity because of its exotic optical formula. In truth, another aspect may be just as important: the new system that will modify "the angle of incidence" of light rays. Presumably, this feature will ensure that light rays strike the sensor at a 90° angle, even at the edges of the frame. That should minimize the loss of edge sharpness and shading (darkening) that is typical with lenses--especially ultra wides--that are not extensively optimized for digital capture. Tamron's current 11-18mm zoom is a highly-rated model, but the extra features to be available with the 10-24mm lens should make it even more desirable.
--Peter K. Burian
Nik's Viveza And Casio's EXILIM Pro EX-F1
My first pick is Viveza, a new plug-in from Nik Software. This plug-in makes selecting and correcting image content easier than ever. One of the most difficult tasks in image editing is masking areas of your image for correcting color, contrast, or brightness. Viveza uses control points that let you click on an area of your image and then make corrections for just that color range. Viveza has a very easy-to-use interface, and like the other Nik plug-ins, it fully supports a graphic tablet.
Highly recommended.
My second pick is the Casio EXILIM Pro EX-F1. It's a 6-megapixel compact camera with the ability to capture 60 fps (frames per second) at full resolution. If that's not fast enough for you, in Movie mode you can capture up to 1200 fps. I appreciate the fact that Casio hasn't compromised on the camera side of things to work this magic. It records in JPEG and in raw (direct to DNG) with a very good 12x optical lens, full selection over Exposure modes, and a large, bright LCD display. This camera really blurs the line between still and video camera.
--Jon Canfield
Universal Battery Charger And Simplified Picture Hanging System
My first pick is a small universal charger with which you can charge two different size batteries at the same time. Although there were several new universal chargers at the show, the Delkin Dual Universal Battery Charger that sells for $55 seemed particularly appealing. Using one universal charger will make it far easier to always have your rechargeable battery charged and ready to use. It's adaptable to different types of power worldwide and includes a car charging cord so you can recharge batteries en route to your assignment or destination.
Delkin Dual Universal Battery Charger
One small item I saw demonstrated struck me as particularly useful. Anybody who has experienced the frustration of trying to precisely position the wall hook when hanging pictures will agree. The Picture Perfit really does make hanging a picture of any type a simpler task without needing either a measuring tape or laser. Basically, it consists of a small guide cap panel with adhesive on the back that has a picture suspension hook. The adhesive temporarily holds the panel in place for positioning. For the utmost in convenience get their kit, which contains an adjustable carpenter's square along with a few hooks. It's really fast and the picture is exactly where you want it every time. A starter kit sells for under $20.
--Robert E. Mayer