Lexar Image Rescue 3 Image Recovery Software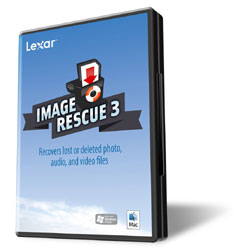 Lexar has introduced Image Rescue 3, the new version of the company's award-winning image recovery software. In most circumstances, Lexar Image Rescue 3 allows users to recover lost or deleted photo, video, and audio files, regardless of flash memory card format, manufacturer, or mass storage compliant reader. Designed for both professionals and consumers alike, Image Rescue 3 boasts a redesigned, step-by-step interface that walks the user through the intuitive image recovery process, delivers extensive recovery capabilities, and offers a live online customer support chat link as an enhancement to its existing support features.
Image Rescue 3 is available for download free of charge with purchase of all Lexar Professional and Platinum II CompactFlash, Secure Digital, and Secure Digital High Capacity memory cards. Image Rescue 3 is compatible with Windows 2000/XP (or higher) and Mac OS 10.2 (or higher), and recovers files from all popular flash memory card formats, including CompactFlash Type I and II, SmartMedia, Memory Stick, Memory Stick Pro, Secure Digital, Secure Digital High Capacity, MultiMediaCard, and xD-Picture Card.
In addition to being included as value-added software on all Lexar Professional and Platinum II CF, SD, and SDHC memory cards, Image Rescue 3 will be available at photo specialty stores nationwide and for easy download at http://lexar.com/software/image_rescue.html for $29.95.
Site Map / Direct Links
| | | | | | | | | | | |
| --- | --- | --- | --- | --- | --- | --- | --- | --- | --- | --- |
| Cameras Other | | Techniques Site Features | | Blogs | | More Articles | | Columns eCommerce | | News |