The Shape Of (Digital) Things To Come: What Today's Cool New Tech Might Mean For Tomorrow's Cameras
As advanced electronics continue to supplant more and more elements of camera function and design, often displacing optical and mechanical systems, the camera of the future is being redefined. To give you a clearer picture of the emerging technologies that are destined to change the shape of cameras to come, let's take a closer look at the implications of some of the emerging new tech found in the latest models.
Translucent Mirror Technology
Sony's Translucent Mirror Technology has been further refined in the second-generation Translucent Mirror used in their SLT-A65 and SLT-A77 models. Both have 24.3MP CMOS image sensors, provide continuous phase detection and AF tracking even during the exposure, full 1920x1080 HD video at 60p, 60i, and 24p, continuous OLED EVF viewing with no mirror blackout, and deliver maximum burst rates of 10 and 12 fps (frames per second) respectively. A key to achieving such outstanding specs is the stationary Translucent Mirror that directs a small portion of the incoming light upward to the phase-detection AF sensor, enabling these cameras to focus quickly and accurately while simultaneously capturing the image, a feat not possible with traditional SLRs and D-SLRs.
Sony claims that the Translucent Mirror used in their latest models was made possible by advances in materials technology that allow them to produce semitransparent mirrors with ultra-thin, ultra-smooth, dimensionally stable surfaces that are so flat any deviations are measured in nanometers. These new high-transmission mirrors are said to virtually eliminate ghosting, completely eliminate the effects of aging, have a minimal effect on image quality, and allow a far greater percentage of the light to reach the image sensor. By allowing just enough light to be reflected up to the AF sensor, less than 1/3 of a stop is lost at the image sensor compared to conventional D-SLRs, and it's automatically compensated, says Sony, by increasing signal gain and/or upping the ISO.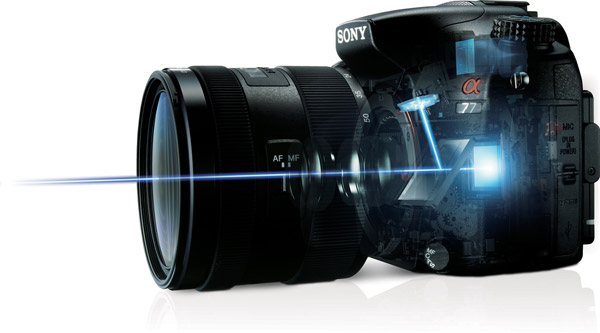 Since only a minimal percentage of the incoming light is directed upward, an optical finder can't be used, and that's why cameras like the A65 and A77 have OLED EVFs, a technology we cover next. (Note: One of the main reasons ingenious Canon's pellicle-mirror SLRs never caught on was that their penta-prism viewfinders were noticeably dimmer than their less costly competitors.)
The question is: will Translucent Mirror Technology transform all D-SLRs into D-SLTs? Will other camera manufacturers pursue a parallel track, or find ingenious new ways to refine traditional D-SLRs to provide simultaneous functionality, or take another approach entirely? It's too early to tell, but the next defining moment in this saga will come when Sony unleashes the full-frame successor to its top-of-the-line Alpha 900. I predict that it'll be a Translucent Mirror camera and that will really throw down the gauntlet in terms of speed, responsiveness, and delivered image quality.
OLED EVF
Are we seeing the end of optical SLR finders? While they got off to an admittedly rough start, electronic viewfinders (EVFs) that display a live feed off the image sensor have been considerably upgraded in recent years by Panasonic, Sony, and others. Typical enhancements include greater resolution (to 1.4 million dots) and faster refresh rates to mitigate smearing of the image when viewing action subjects. To provide an enhanced viewing experience that more closely approximates looking through an optical SLR viewfinder we again turn to Sony, who incorporated a new OLED EVF in the latest Alpha-series SLRs and the NEX-7 Compact System Camera (CSC).
Sony's OLED EVF uses organic LEDs (self-illuminating OLEDs) to form the image. Its resolution has been increased to an impressive 2.36 million dots for greater detail, and its refresh rate is about 0.1ms, for nearly instantaneous viewing that virtually eliminates smearing when shooting video and action subjects. The OLEDs themselves provide a full RGB signal at each image point without multiplexing, delivering improved speed and color accuracy. Brightness and color gamut have also been enhanced (the OLED covers 20˚ more than the conventional LCD on the triangular NTSC color gamut chart). In addition, Sony's OLED EVF displays a 100 percent view at 1.1x magnification, is bright to the corners with no light falloff, and has a very high eye-point of 27mm for greater viewing comfort.
Sony's OLED EVF does indeed provide a viewing experience much closer to that of a first-class optical SLR viewfinder than any EVF I've previously used, and it increases viewing brightness when shooting in dim light, making it easier to view and compose. In my opinion, however, looking through Sony's OLED EVF still doesn't look quite as "real" to me as looking through a first-class optical viewfinder. Perhaps I am subliminally aware of the infinitesimal delay between capturing and presenting the image. However, if you want to see how the camera is taking the picture (exposure, white balance, etc.) it's a great way to go.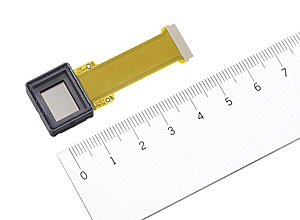 Clearly OLED EVFs have considerable potential for future development, and they're the primary feature that makes simultaneous AF, AE, and image capture a practical reality. Their role in taking us beyond the limitations of the mirror box and costly penta-prism viewfinder can hardly be overstated. We're already seeing a number of OLED LCDs from manufacturers other than Sony, and it's likely we'll be seeing more and better OLED EVFs from other makers in the near future.
On-Sensor Phase-Detection AF
Phase-detection autofocus, the primary AF system used in D-SLRs, is based on dividing an incoming light beam directed to the AF sensor into pairs of images, then comparing the peaks and valleys of their light intensity patterns. Once these differences are detected, the amount of front or back focus is instantly calculated and the lens quickly moves in the right direction until the patterns are virtually identical to achieve proper focus. It's analogous to focusing manually using a split-image rangefinder—once you observe the split-image pattern you know what direction to turn the lens in to align the two halves of the image. That's why phase-detection AF, a true electronic range-finding system, is typically much faster than contrast-detection AF, which analyzes the live view image and seeks the point of maximum contrast. Recent developments have substantially improved the speed of contrast-detection AF systems, but phase-detection AF is still the best, and that's why you see new D-SLRs increasingly making use of this system.
These benefits could be built into mirrorless compact interchangeable lens cameras and future high-performance D-SLRs and camcorders if there were only some way of integrating phase-detection AF sensors into the image sensor itself. Well, as it turns out, Nikon, Sony, and Fujifilm have all filed patents for on-sensor AF systems, but Nikon was the first to use it in production on compact, interchangeable lens cameras—the new 1 J1 and 1 V1. Both have 13.2x8.8mm CX-format CMOS sensors that incorporate a hybrid on-sensor AF system with arrays of phase-detection and contrast-detection sensors, and both can shoot bursts at up to 10 fps. Nikon is understandably reticent about releasing technical details of their on-sensor AF system, but here's what we can tell you: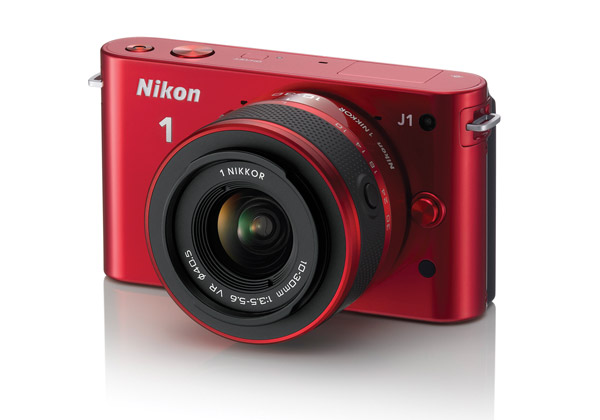 There are 73 Phase-Detecting (PD) sensors and 135 Contrast-Detecting (CD) sensors on the CX image sensor. The PD array is centrally located in the frame, covering a large portion of the picture area, and the CD AF sensors cover the entire sensor area since they're required when the light level is too low for the PD sensors.
How does the system eliminate possible artifacts caused by having non-image-forming sensors on the CMOS? Could this system be used in cameras with larger sensors, such as APS-C and full-frame D-SLRs? Nikon has no comment. Evidently, Nikon's hybrid on-sensor AF system was developed to achieve AF performance equal to a D-SLR in cameras that do not have a sub-mirror to direct the light to a separate CD AF sensor. Mission accomplished. But you may rest assured, this isn't the last we're going to hear about on-sensor CD AF, and its potential for future development is enormous.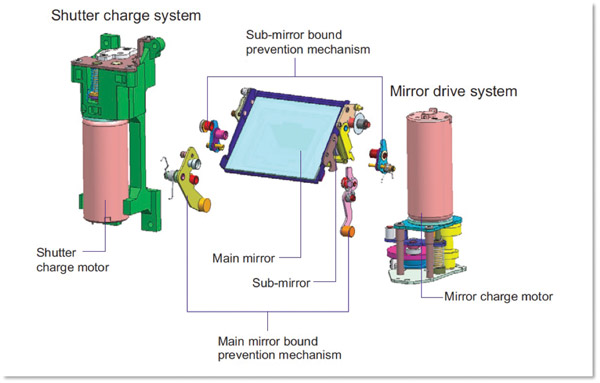 Quad-Action Mirror
When Sony unveiled their SLT-A77 its 12 fps burst rate made it the world's fastest production D-SLR. Two weeks later Canon announced the EOS-1D X, a full-frame 18.1MP D-SLR that achieved the same impressive 12 fps burst rate along with a brilliant optical penta-prism viewfinder, and can even shoot at 14 fps with the mirror locked up. What made this possible is an ingenious new Quad-Action mechanical mirror design that provides positive mirror actuation in both directions, literally pulling the mirror down, holding it in viewing position, and then pulling it upward, all at an incredible speed.
In other words, the system doesn't use springs and that's why it can reduce the mirror-cycling time from about 80ms in a typical high-speed pro D-SLR to a mere 50ms. Its existence is a clear indication that it's still possible to enhance the performance parameters of the classic optical-mechanical D-SLR.
100,000-Pixel RGB Metering
The top-of-the-line EOS-1D X has more up its sleeve. Instead of a conventional segmented light sensor, the EOS-1D X uses a 100,000-pixel RGB metering sensor—think of it as a miniature version of an imaging sensor with a tiny red, green, or blue filter over each pixel. The advantage is that it can read combinations of brightness and color in sufficient detail to recognize a wide range of specific subjects and scenes before the picture is taken and without resorting to Live View.
As with many current D-SLRs, the metering sensor is located in the prism housing above the eyepiece so it reads most of the image area directly off the focusing screen, but its ability to read color information in RGB allows the system to determine subject colors, color distribution, and do a far more accurate job of recognizing and adjusting for various scenes. Using this information the system can apply subtle corrections that enhance both exposure and color accuracy. And it's less influenced by backgrounds or colors in specific areas such as clothing, so it can provide more accurate exposures and more precise color rendition when using evaluative metering.
There are other systems, such as Nikon's acclaimed 1004-zone Color Matrix system, that have been designed with similar goals in mind, but Canon's latest takes the concept to a whole new level. It will be fascinating to see whether this technology migrates down to mid-level Canon EOS models, and whether other leading manufacturers will develop competitive systems.
What's Ahead?
Gazing into my crystal ball, I can see several overarching trends that will influence the shape of cameras to come. In terms of hardware, electronic viewfinders will continue to get better and better, and they will be integrated into a whole new range of mirrorless interchangeable lens compact cameras that provide D-SLR functionality along with enhanced performance and attractive form factors at competitive prices.
Focusing systems, especially those using contrast AF, will become fast enough to deliver pro-caliber AF performance when shooting HD video and the integration of still and video capture and control interfaces will improve noticeably. The development of lenses for mirrorless systems, and the adaptation of conventional lenses for video applications, will proceed at a brisk pace. Perhaps most important of all are the advances that will come in image processing. Power and speed are destined to increase markedly over the next few years, allowing faster capture at higher resolution and with less noise, and multi-shot capture, including auto HDR that will become more widespread.
All images courtesy of the manufacturers.