Nikon D5100: A Lightweight, 16MP APS-C D-SLR
The new Nikon D5100 D-SLR is a compact and lightweight DX-format camera. The body is about two-thirds the size of a D300, recording on SD/SDHC/SDXC memory cards. The similarly compact kit lens, an 18-55mm VR, provides good balance, and, along with my Nikon SB-900 Speedlight, all fits neatly into a compact camera bag. The grip on the D5100 was a little smaller than what I was used to, but I soon grew accustomed to it.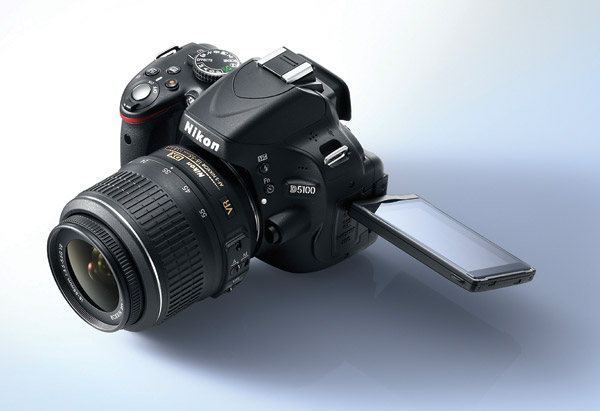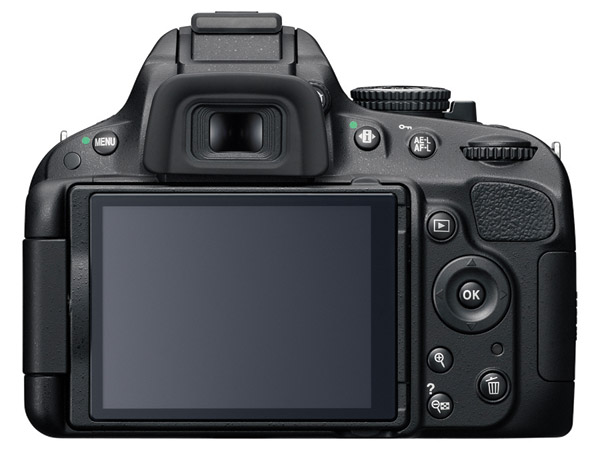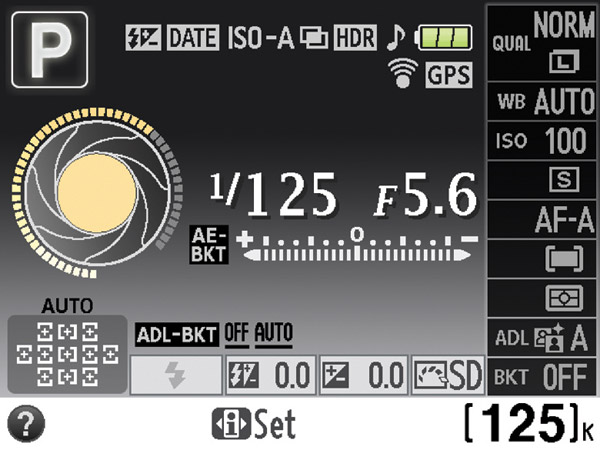 Most of the function buttons on the camera are conveniently situated on the right side. However, a few controls, such as ISO, WB, and drive/release mode, are noticeably absent. I resolved this issue in part by assigning ISO selection to the custom function (Fn) button (on the left, between the flash mode/pop-up button and lens release), so I could make changes on the fly. (To assign this button, use the Custom Setting Menu dubbed Controls in the color LCD display via the Menu button to the left of the eyepiece.)
I found myself employing the 3"-diagonal color TFT LCD quite often, since the D5100 lacks a top-panel info LCD, with the viewfinder showing only data that's of immediate need (most notably, shutter speed, f/stop, and ISO). While constantly having to use the Menu is not my favorite way to do things, the large screen and legible display made the process more inviting. However, this monitor was a bit difficult to read outside on a bright day, but you can manage and shading it with your hand does help. Live View users and camcorder aficionados will especially love the camera's vari-angle monitor.
Kit Lens: 18mm vs. 55mm
During still shooting the battery seemed resilient enough to withstand continued use of the monitor. The "Information" button (directly behind the shutter release) can be used to momentarily turn the display off, or on. The monitor goes to sleep following a user-defined period of inactivity, as does the camera (Custom Setting Menu: Timers/AE Lock). If you prefer, put the monitor into standby via the Setup Menu: Auto info display (it's still usable when needed).
There is also an "Information Edit" button (on back, immediately to the right of the eyepiece—not to be confused with the "Information" button). This brings up an on-screen menu that lets you set metering, focusing, drive modes, WB, flash modes, and several other parameters, among them capture quality. (To select a function after bringing up this screen, scroll to the setting you want to change, hit the OK button, and go from there.)
One-Second Exposure: Amusement Park Ride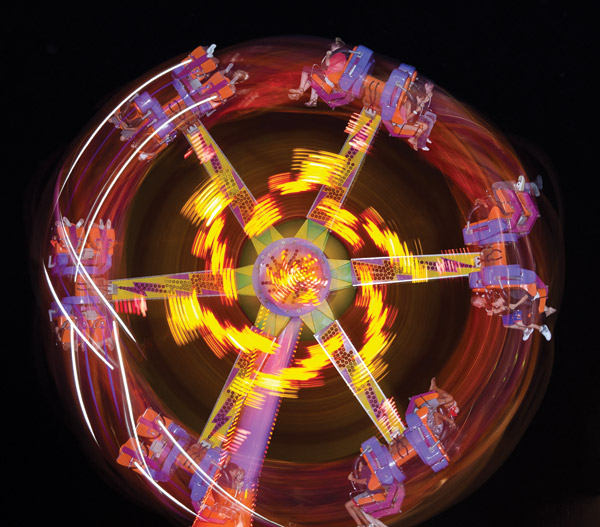 Whenever you press partway down on the shutter release, you're returned to shooting mode. This same action of course can be used to lock in focus and exposure before releasing the shutter (depending on your Menu settings). There is also a separate AE-L/AF-L button on back, if you prefer to lock in exposure or focus this way.
Raw And JPEG Capture
I opted for Raw+Fine JPEG when starting work with this camera so that I could experience Active D-Lighting, a JPEG-specific function analogous to single-shot HDR (High Dynamic Range). Active D-Lighting proved quite effective in capturing otherwise lost details in high-contrast scenes much of the time.
However, when engaging two-shot HDR (under the Shooting Menu), you have to intentionally set capture to JPEG only (not Raw+JPEG). Otherwise this function is grayed out and inaccessible.
Close-Up: Built-In Flash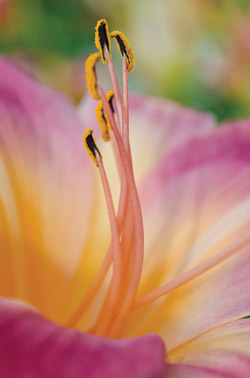 Shooting Modes
The D5100 has all the shooting modes you could ask for, and some I would never use (selected via the Mode dial). The thumbwheel (Command dial) on the right is used to change shutter speed and f/stop, respectively, in Shutter-Priority and Aperture-Priority AE modes. In Flexible Program AE mode, the thumbwheel controls both aperture and shutter speed in combination to arrive at an equivalent exposure.
The Exposure Compensation button (behind the shutter release) lets you override AE to +/-5 EV. In Manual shooting mode, the Command dial changes shutter speed, and, when used in combination with the AE override button, changes f/stops. (You can use the Custom Setting Menu: Exposure to set increments in 1⁄3 or 1⁄2 EV steps.)
Matrix, center-weighted, or spot metering can be selected for these key operating modes. I found that matrix metering worked quite well, although I did often engage the AE override quite often, usually +0.7 EV with brightly toned subjects.
ISO 6400: Night At The Festival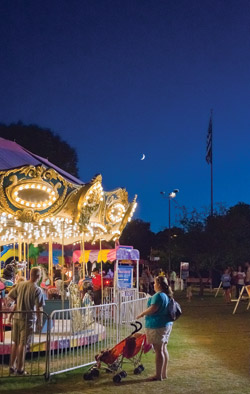 Scene Modes
While not my cup of tea, Auto and Scene modes automate shooting with limited settings. In selected modes in this group, the built-in flash self-actuates in low light; in others, the flash is deactivated.
Specific Scene selections on the Mode dial address portraits, kids, action, close-up, and landscape. A separate group of Scene situations are collectively found under "Scene" on this same dial, and selected via the thumbwheel and monitor.
Selective Color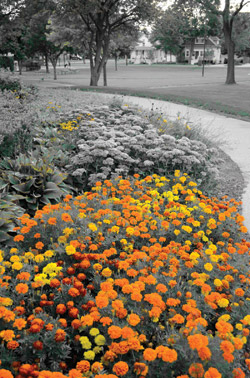 Live View For Stills And HD Movies
The action seems to slow down a bit when Live View is engaged for stills. And of course battery drain is greater, whether shooting stills or video. (To activate Live View, use the lever attached to the Mode dial. Subsequent use of the lever, or restoring the monitor to its original facedown position, returns you to normal operation.)
In Live View, you can autofocus continuously with AF-C as your Focus mode, or select the AF target more deliberately with AF-S. Either way, the focus point (now a square) can be positioned anywhere in the frame. There is also a manual-focus option, but this doesn't apply to the kit lens. In fact, when manual focus is switched on in the lens, Focus mode is unavailable.
In Live View, AF-area mode can be set to Face-priority or Subject-tracking, as well as Wide-area or Normal-area AF. Subject-tracking became especially erratic when the subject moved near the edge of the frame. Face-priority didn't perform convincingly, but it did work better with subjects closer to the camera (or larger in the frame). The other two modes worked fine, unless you were shooting in low light.
With Live View engaged, you can shoot movies at HD resolutions, up to 30 fps (set via the Shooting Menu), and they appear as smooth and rich on the color display as they do in playback. (Videos are stored in the MOV file format.) An external stereo microphone is recommended to avoid recording ambient noise (AF and camera handling).
Color Sketch
Effects Mode
My two favorite effects for stills with this camera are Color Sketch (a cartoon-like effect) and Selective Color (where you can selectively record up to three colors and various shades). Live View is necessary to set operating parameters for both. You can use Effects without Live View for speedier capture, but Live View does let you preview them first. Oddly, when Color Sketch is engaged for movies, recording appears to drop to roughly 15 fps and appears more like a badly produced stop-action sequence.
Capture quality automatically switches over to JPEG when you choose the Effects shooting mode for stills, and switches back again for other modes. If capture was originally set to Raw, it automatically converts to JPEG Fine, and back when you exit Effects. Even as a still effect, Color Sketch takes considerable time to process.
The 18-55mm Kit Lens And VR
When shooting movies and panning with the kit lens, VR (Vibration Reduction) did a nice job in keeping the shot fairly steady. It was only when I started walking with the camera on uneven ground that the image expectantly became jumpy (a kind of Blair Witch Project effect). Zooming worked smoothly enough and surprisingly well during movie shooting.
Most of my time with the D5100 and this lens, however, was spent shooting stills, with the aid of the optical viewfinder. Keeping in mind that the D5100 uses the DX (APS-C/cropped) sensor, I mentally multiplied focal lengths by the 1.5x sensor factor to arrive at starting hand holdable shutter speeds for my still shots, notably when using VR. That makes the 18-55mm equivalent to a full-frame 27-82.5mm.
Optical performance was surprisingly good for a kit lens. You'll experience vignetting when shooting wide-open, especially at 18mm. Sharpness drops noticeably at the corners at this focal length, but improves visibly at f/5.6, along with vignetting. Performance at 55mm is better, but also improves as you stop down. While there is noticeable barrel distortion at 18mm, curvilinear distortion is largely corrected at 35mm and beyond. One more thing: a lens shade is optional. That said, flare was not an obvious problem, but I'd still recommend a lens hood.
Focusing With The Kit Lens And Optical Finder
Autofocusing using the optical viewfinder proved reliable and reasonably fast. At times, however, I did have a problem outdoors, when it was difficult to see the focusing indicators—notably, against bright areas. With still subjects I preferred Single-point AF. Predictive AF performance for moving subjects was uneven, which is understandable given a scant 11 focusing points. I found Dynamic AF worked better with subjects moving in an erratic pattern. For subjects moving linearly, more or less, 3D tracking proved satisfactory. Auto AF was especially suitable when I needed to square off
the camera, with all 11 focusing points visible.
I didn't really care for manual focusing with this lens since it's achieved by rotating the front element, not a separate focusing ring on the lens. And that obviously wreaks havoc when using a circular polarizer. What's more, the lens lacks manual override during AF. However, one nice feature is the rangefinder focusing aid in the viewfinder. In Live View, use the Zoom button to assist you with focusing.
However, I did find myself switching to manual focusing for close-ups. In that case, I simply set the lens to the close focus limit and physically moved toward or away from the subject with camera/lens in hand. By this means I produced some tight shots of flowers that were nearly as impressive as those shot with a macro lens.
Field & Image Quality Notes
AWB ably handled a variety of lighting situations, especially mixed lighting, and proved to be my go-to white balance setting. Where needed, I corrected color balance during Raw conversion.
Luminance noise was also very capably handled. The D5100 held color noise to a minimum, practically extinguishing it in Raw captures. With JPEG images, however, it was noticeable at ISO 6400. Even then, you had to look closely, and the problem is largely remedied by setting High ISO NR to "High." If you set High ISO NR to "Off" and ISO to 1600 or higher, High ISO NR kicks into "Low" gear automatically.
In the end, the D5100/18-55mm VR combo very nicely handled practically anything I threw at it. That's not to say that there weren't a few disappointments, yet all in all it was a very satisfying experience.
Built-In Flash: Clown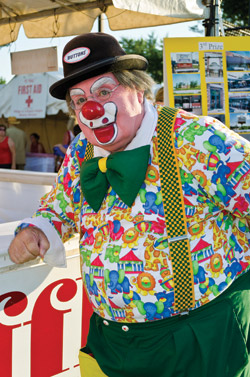 Two-Shot HDR
Two-shot HDR makes two consecutive captures even in single-shot release mode, over- and underexposing the images, in an effort to capture both highlight and shadow detail that would otherwise be lost in high-contrast scenes. These exposures are then transparently merged into a composite image. The bracket settings can be automatically selected (Auto) or user-defined, up to +/-3 EV. There is also a Smoothing option to optimize registration of the two superimposed images. A tripod is recommended. You have to activate HDR each time you plan to use it. When HDR is selected, other Menu settings become unavailable and the built-in flash can't be used. Also, be sure to turn auto-bracketing off to enable HDR (as well as interval-timed) captures.
(Note: All photographs were processed either in ACR or Lightroom from Raw files, unless otherwise noted. Where Raw images are involved, sharpening was applied only in this stage of processing, to the degree I normally use it, but not in post. JPEGs were not sharpened.)
The Nikon D5100 with the 18-55mm kit lens costs $825 (street). For more information and technical specs, visit: www.nikonusa.com.