Hasselblad Unveils 50MP CFV-50c CMOS Digital Back for V System Analog Cameras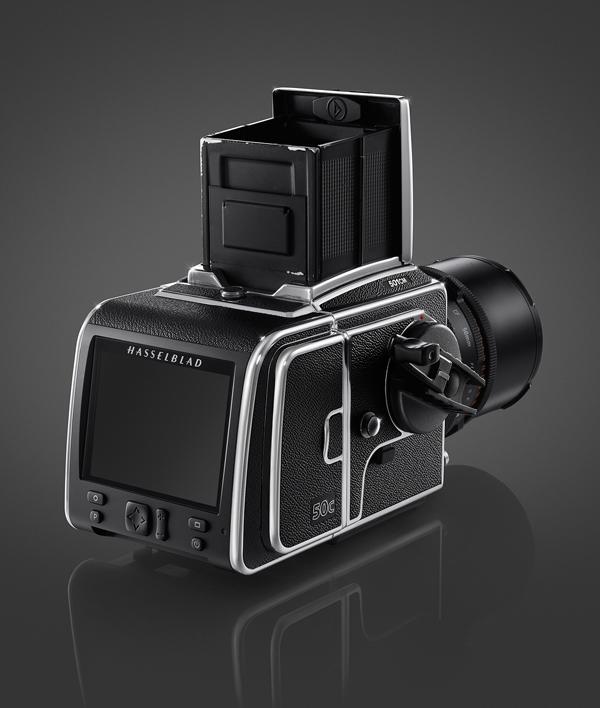 Hasselblad's gone "back to the future" with a new digital back designed to bring its V System analog cameras into the 21st Century. Called the CFV-50c, the CMOS sensor-based back will sell for 11,000 Euros (approximately $14,900) and is designed to work with "almost every V camera made by the company since 1957," Hasselblad said.
The new CFV-50c back for V System cameras appears to use the same 43.8 x 32.9mm, 50-megapixel CMOS sensor as the Hasselblad H5D-50c medium format camera system.
Here's a rundown of some of the features of the new back, which was unveiled by Hasselblad this morning:
• Shoots images at up to ISO 6400
• 12.5MP JPEG options (along with Raw)
• Capable of capturing long exposures with relatively low noise
• No external cables required
• Live, color video with Phocus software
• Faster frame rate than earlier CCD-based CFC backs
• Larger, higher resolution LCD screen on back
• New menu system and button layout
• New programmable button
• Traditional Hasselblad square crop option
• Remote control option possible with Phocus software using 500EL-type or 503CW with winder.
According to Hasselblad, the move to create a CMOS-based digital back for its V-system camera came at the request of photographers.
"We have experienced a substantial resurgence of interest in our iconic V cameras - users love the traditional ergonomics and the unique appearance," said Hasselblad CEO Ian Rawcliffe. "Our research has shown that although we no longer manufacture V models, there is a big demand from our dedicated V System users who want to be able to continue to use their classic cameras but also desire access to our latest technology.
See more info on the new CFV-50c back at Hasselblad's website: http://www.hasselbladusa.com/products/digital-backs/cfv-50c.aspx