Digicams: The Class Of 2012: Wi-Fi, CMOS, Long Zooms Grab Center Stage
It wasn't too long ago when the use of a CMOS chip in a digicam was a sign of a cheapie camera. Well, the tide has changed, with CMOS today reflecting the highest level of capture in our newest digital point-and-shoots. Yes, there continue to be CCD holdouts even in innovative designs, but the writing is on the wall, spelling an eventual fade-out of the Charge-Coupled Device. And today, the Backside Illuminated (BSI, or simply "backlit") CMOS sensor is slowly but surely moving into center stage—at least among small-sensor point-and-shoots, for improved light reception at the sensor, hence clearer, tonally fuller, and more detailed images. We're also seeing quite a few long-zoom models and more GPS-enabled cameras, with a digital compass to boot, mostly in travel/outdoors-oriented designs. The "rugged" category continues to grow, as well as features such as sweep panorama mode (just swing around with your finger continually on the button) and touchscreen displays. But perhaps the new feature that stands out most is Wi-Fi capability. One camera is even Android-powered. The latter may not be smartphones, but they certainly appear to be the smart way to go for the wireless generation. With those trends in mind here's our roundup of the digicam class of 2012. (Please note that this report contains both cameras on the market as of spring 2012 and those announced to be available when this article goes to press. Check with the various manufacturers for current availability.—Editor)
Canon announced a major addition to their digicam lineup: the PowerShot G1 X ($799)—the next generation of their very popular G-series. The G1 X boasts an all-new 1.5", 14.3MP CMOS sensor with astounding ISO sensitivity to 12,800, due in part to the new DIGIC 5 image processor. This processor also enables High-Speed Burst HQ for a maximum of six shots at 4.5 fps, at full resolution. The camera features a 4x (28-112mm 35mm equivalent) optically stabilized zoom (f/2.8-16), 14-bit Raw+JPEG capture, 3" vari-angle LCD monitor, and compatibility with Canon flash units, along with creative and scene modes, and special effects, including HDR mode, plus full HD 1080p capture, with storage on SD/SDHC/SDXC.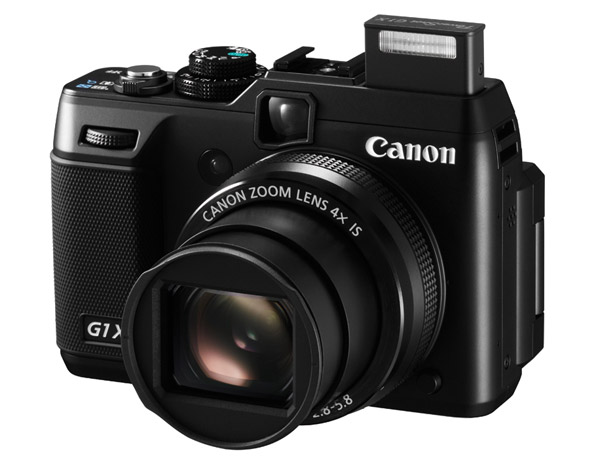 But another Canon story centers on the new cameras that incorporate Wi-Fi capability and can take advantage of Canon's new iMAGE GATEWAY, where you can post pictures directly from the camera to popular social networking and image-sharing sites, provided a Wi-Fi network is present. Sharing this capability are two new cameras. While largely similar to the newly announced Elph 520 HS, the even newer Elph 530 HS ($349—in white and black) has a 3.2" touch-panel LCD and Wi-Fi capability, with a 10.1MP backlit CMOS sensor and 12x optical zoom; it uses microSD cards due to its small size. Also new is the Elph 320 HS ($279—four colors): also with a 3.2" touch-panel LCD and Wi-Fi capability, with a 16.1MP backlit CMOS sensor and 5x optical zoom. Both Elphs offer HD video at 1080p.
And for the more adventurous, there is the D-series, with the D20 ($349) sporting a 12.1MP backlit CMOS sensor, DIGIC 4 image processor, 5x zoom (28-140mm), intelligent IS, 1080p HD video, GPS logger/tracker, shockproof (up to 5 ft), freezeproof (down to 14˚F), and waterproof (down to 33 ft).
Fujifilm North America Corporation unveiled quite a few new cameras, topped off with the X-S1 ($799), previously reported on in these pages. In the digicam arena long-range zooms headline their offerings, including the FinePix F770EXR with GPS ($379), F750EXR ($349), and F660EXR ($279) which all feature the newly improved 1/2" 16MP EXR-CMOS sensor. The F770EXR (with Raw capture) and F750EXR both sport a 20x (25-500mm) lens, whereas the F660EXR incorporates a 15x (24-360mm) zoom—all with Fuji's Motion Detection technology to prevent camera shake. All come with a 3" high-contrast LCD and HD movie capture. The FinePix HS30EXR ($499) and HS25EXR ($399) both feature the new 16MP EXR-CMOS sensor, but add a 30x manual optical zoom (24-720mm) to the mix, plus an EVF and HD movies. Boasting D-SLR styling, the new FinePix S4200 ($229), S4500 ($259), and SL300 ($299) (all with 14MP CCD) sport long zooms: 24x (24-576mm) on the S4200 and 30x (24-720mm) on the S4500 and SL300. Each has a 3" LCD and an EVF, with sensor shift to ensure sharpness in low-light levels, in addition to ISOs to 6400. They also feature HD movie capture.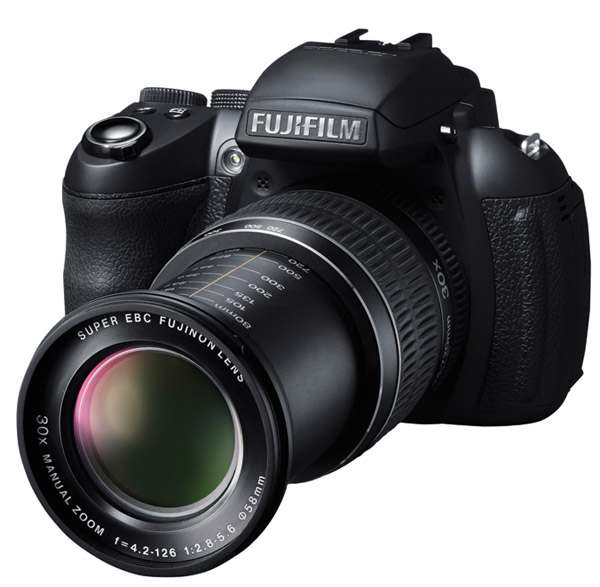 Fuji also addressed the outdoor enthusiast with the FinePix XP150 (with GPS—$279) and XP100 (without GPS—$249)—both ruggedized to deal with challenging conditions, from water to shock and freezing. Each features a 14MP CMOS sensor, 2.7" anti-reflective, high-contrast LCD, and stabilized 5x (28-140mm) zoom with a reinforced hardened glass lens barrier and water-repellent coating—plus full 1080p HD video.
General Imaging also showed long-range zoom models, including the GE X600 ($199), with a 25x zoom, 14.4MP CMOS sensor, 2.7" LCD screen, and 1080p HD video. It captures 10 fps in full resolution and offers HDR mode, a Multi-Exposure function that blends six successive action shots into one image, and an electronic viewfinder. The more economical X550 comes with a 15x optically stabilized zoom and a 16MP sensor ($149).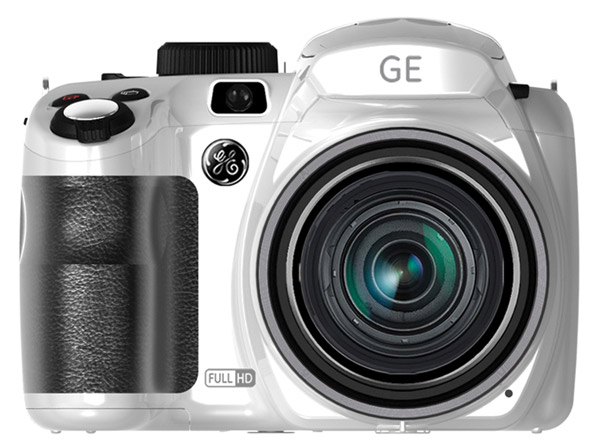 Kodak got into the "wireless" act with the Kodak EasyShare Wireless Camera M750, in silver, teal blue, and red ($169). This digicam has built-in Wi-Fi, broadcasting its own Wi-Fi hot spot, and you can save up to 10 open networks in the camera's directory to speed up file sharing at locations you frequent. It offers 16MP capture employing a 5x optical zoom (26-130mm) and uses a bright 3" Capacitive Touch Screen that lets you easily tap, swipe, or drag photos. And there is a dedicated HD video record button.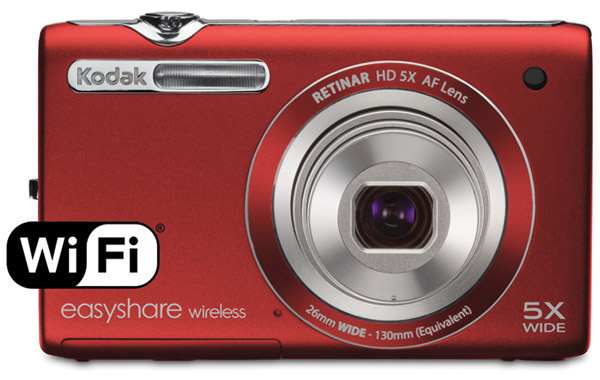 While the D4 and D800 are big Nikon news, the company is also committing to their digicam line as well. Perhaps the most impressive digicam is the Coolpix P510 ($429—in black and red), which comes with a 42x (24-1000mm) zoom with advanced optical VR image stabilization. It features a 16.1MP BSI CMOS sensor, 3" (921,000-dot) tilting vari-angle LCD screen, and full HD (1080p) video capable of using the full zooming range, with stereo sound. Other features include 5 fps bursts at full resolution and fast AF, and a built-in GPS for geotagging. Also new are the ruggedized/waterproof Coolpix S30 ($119—in white, blue, and pink) with a 3x optical zoom and HD (720p) movie recording; the Coolpix P310 ($329) with a 16.1MP BSI CMOS sensor and a fast 4.2x, f/1.8 lens with advanced optical VR image stabilization; and the Coolpix S9300 with an 18x VR zoom ($349) and the S6300 with a 10x zoom ($199)—each with 1080p video and a 16MP BSI CMOS sensor (S9300 adds GPS).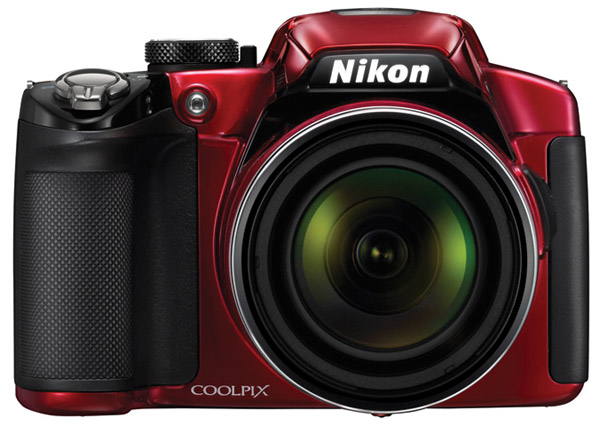 Olympus took their line of point-and-shoots to the next level for 2012 with the incorporation of backlit CMOS sensors and enhanced technologies collectively referred to as iHS, which stands for intelligent High Speed/High Sensitivity. Add to that the next generation of TruePic and FAST (Frequency Acceleration Sensor Technology) AF for enhanced focusing speeds and you've got a potentially exciting lineup. Two particularly noteworthy models are the SZ-31MR iHS ($399) and TG-820 iHS ($299). The SZ-31MR iHS features a 16MP BSI CMOS sensor with CMOS-shift IS, iHS, a 25-600mm equivalent zoom, a 3" touch-panel LCD, a variety of AF modes (including face-detect), standard and scene modes, art filters, and 1080p HD movie capture. The TG-820 iHS belongs to the Tough class of weatherized/shockproof/sealed cameras for the great outdoors. It comes with a 12MP BSI CMOS sensor, a 5x optical/10x digital zoom, GPS tracking, and a digital compass. Both cameras store data on SD/SDHC/SDXC cards.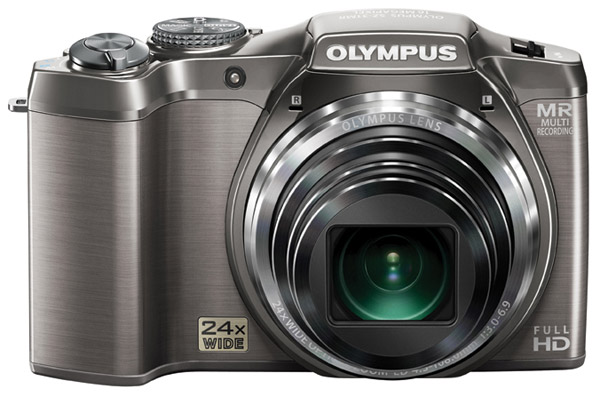 Panasonic's new Lumix SZ-series consists of the Lumix DMC-SZ7 ($199) and Lumix DMC-SZ1 ($179). Each has a 10x optical zoom with a 25mm ultra-wide-angle Leica DC Vario-Elmar lens, in a slim, compact body. The SZ7 (14.1MP) and SZ1 (16.1MP) capture HD video and feature Panasonic's iA (Intelligent Auto) mode, which automatically chooses the best camera settings. The iA function on the SZ7 also includes HDR, Intelligent Handheld Nightshot, and Motion Deblur, together with AF Tracking, Intelligent ISO Control, MEGA O.I.S., Face Recognition, Intelligent Scene Selector, Intelligent Exposure, and 3D Photo Mode (3D synthesis). The Lumix SZ7 features a MOS sensor, while the SZ1 employs a CCD sensor.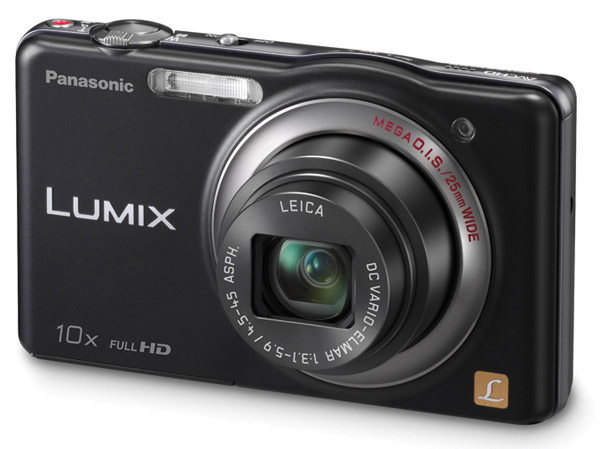 Pentax's contribution to the long-zoom field is their Optio VS20 ($249), a compact with a 20x optical zoom (28-560mm equivalent), plus it sports a second shutter button with a zoom lever for vertical shooting. It boasts a 16MP CCD sensor, three Shake Reduction (SR) modes (one for HD movies), a 3" wide-view (approx. 170˚) LCD, an Auto Picture mode that automatically chooses the best camera settings, plus scene and effects modes.
For the great outdoors there are the ruggedized Optio WG-2 ($349) and Optio WG-2 GPS ($399)—waterproof down to 40 ft, plus dust/shockproof (available in a choice of colors—it does look neat). The WG-2 features a backlit 16MP CMOS sensor, shoots 1080p HD video, and even comes with its own built-in continuous lighting—six LEDs—used in Digital Microscope mode for macro down to 1cm. The camera employs a 5x internal optical zoom (28-140mm equivalent), a 3" LCD, a hardened cover with SP coating to protect internal lens elements, Shake Reduction, and a Handheld Night Snap mode that produces a single blur-free, composite image from four images of the same scene.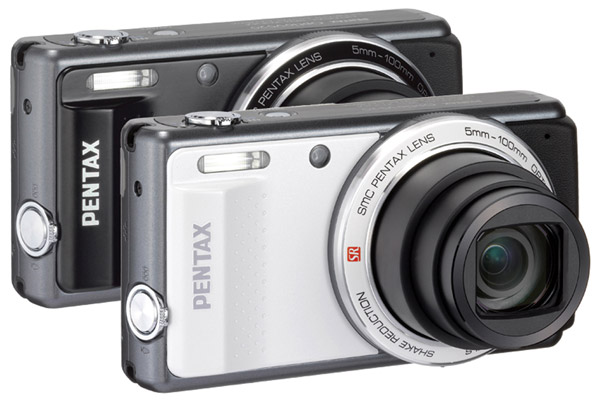 Until now, we all thought that Android meant a smartphone or tablet. Well, meet the first Android-powered smart camera: the Polaroid SC1630.
This 16MP camera with built-in 3x (36-108mm) optical zoom, 3.2'' touchscreen display, and Wi-Fi looks almost like a smartphone, except that it doesn't have a mobile phone thrown in the mix. The SC1630 employs a CCD sensor and offers 18 scene modes, geotagging, and a Smart Album to automatically organize photos by date, location, and people. Data is stored to a microSD card. In addition to Wi-Fi, the camera also has Bluetooth connectivity and optional cellular data connections. The camera even supports Google's Android Market for countless apps to apply to your images.
Samsung introduced several "smart" cameras, among them the WB850F ($379), WB150F ($229), and ST200F ($199) travel zoom cams utilizing Samsung's new SMART Wi-Fi technology. The WB850F also uses GPS features and Live Landmark so you can download maps and find out information on nearby locations with the touch of a button, enhanced by a Digital Compass. The WB850F features a 21x optical zoom, whereas the WB150F uses an 18x zoom, with the ST200F trailing with a 10x zoom, recording images, respectively, on 16.2MP, 14.2MP, and 12MP sensors. The WB850F goes a step further, employing a BSI CMOS sensor and a 3" VGA AMOLED screen. Each camera records HD video and offers optical image stabilization. Sweeping panoramas are possible with the Live Panorama function. Many artistic modes put even more fun into taking pictures with these cameras plus they offer Face Tracking.
In addition, Samsung brought the DualView (dual-LCD) design to yet another camera—the DV300F. This camera provides a 1.5" front-facing LCD screen that has a Child Mode (with animation) to keep toddlers and babies focused. More importantly, this is the first DualView with Wi-Fi connectivity.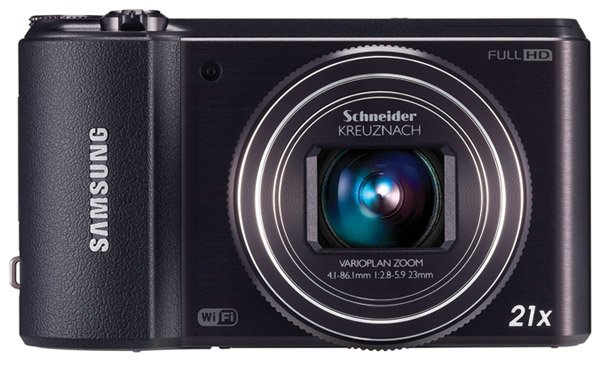 Sony has the new Cyber-shot DSC-W610 ($110), DSC-W620 ($120), and DSC-W650 ($150), which feature the new 360 Sweep Panorama mode, which creates a panorama as you complete a "press and sweep" motion, automatically stitching together multiple images. There is also an "Intelligent Auto" mode that optimizes camera settings for existing conditions. What's more, the DSC-W610 (4x optical) and DSC-W620 (5x optical) each employ a 14.1MP CCD sensor and feature SteadyShot image stabilization. The DSC-W650 offers a 5x optical zoom and enhanced Optical SteadyShot, and images onto a 16.1MP CCD sensor. The DSC-W620 and DSC-W650 cameras also feature HD Movie mode (720p) and artistic effects. The cameras are available in various colors.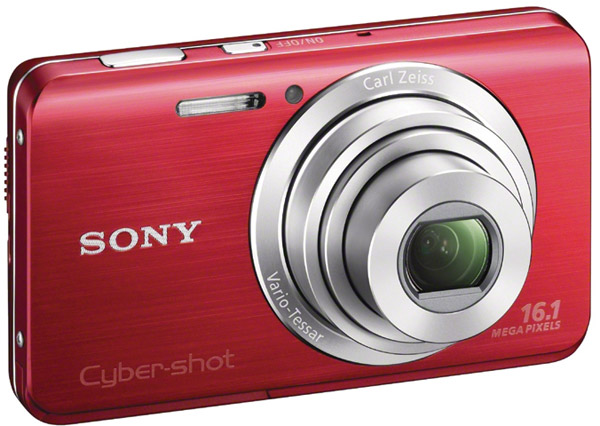 Vivitar has introduced several new economically-priced digital cameras, but of these only one sports an optical zoom: model VS830 features a 16.1MP CMOS sensor with an 8x optical/4x digital zoom, and a 3" touchscreen ($119).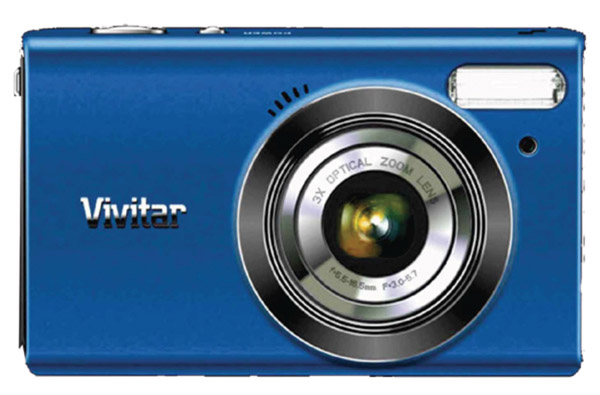 Contacts
Canon: www.usa.canon.com
Fujifilm: www.fujifilmusa.com
General Imaging: www.general-imaging.com/us/
Kodak: www.kodak.com/go/digitalcameras
Nikon: www.nikonusa.com
Olympus: www.olympusamerica.com
Panasonic: www.panasonic.com
Pentax: www.pentaximaging.com
Polaroid: www.polaroid.com
Samsung: www.samsung.com/us
Sony: www.sony.com
Vivitar: www.vivitar.com