Canon's EOS Digital Rebel XTi; A Lightweight D-SLR With Heavyweight Performance And High-Resolution Image Quality
Since the original 6-megapixel Digital Rebel became available in September 2003, this EOS series has been the best selling D-SLR line in the world. The second model, the 8-megapixel Rebel XT, introduced in February 2005, benefited from major improvements in image quality, speed, versatility, and convenience of operation. While the XT is still a fine camera, it was due for an upgrade because 10-megapixel resolution was quickly becoming the norm. Hence, we have the third-generation Digital Rebel, the XTi, with several advantages that keep Canon highly competitive with Nikon, Sony, Pentax, and Samsung in terms of features and performance, as well as price.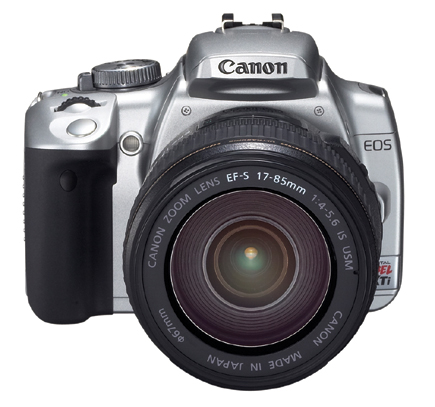 New Features And Technology
At a glance, the new model looks nearly identical to the XT except for the much larger--2.5" vs. 1.8"--LCD monitor and a slight revision of the layout of controls on the camera back. Because all shooting information is now provided on that screen--in a larger font for better visibility--the secondary data panel has been eliminated. The XTi is virtually identical in size to the previous model, ideal for anyone who appreciates a really compact D-SLR. (If you prefer an oversized body, add the optional ($149) Battery Grip BG-E3 with its secondary shutter release button for convenient operation in a vertical orientation.) Actually, holding ease has been improved slightly with a different grip shape, a 1mm increase in thickness, and a new rubber slip guard for the thumb area.

But the primary advantages over the XT are internal. The most significant is the entirely new autofocus system, employing a nine (not seven) point focus detection sensor borrowed from the EOS 30D. The central AF point is cross-hatched, capable of focusing on virtually any type of pattern; it's particularly effective with f/2.8 or brighter lenses but provides some benefit with any EF or EF-S lens. Other AF enhancements include superior low-light sensitivity and greater speed in automatic focus point selection, thanks to a high-speed microcomputer and new algorithms.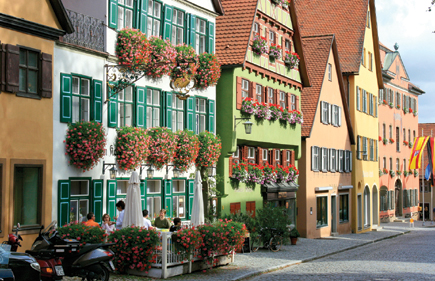 The EOS Digital Rebel XTi produced very pleasing JPEGs in its Standard (default) Picture Style mode but it's worth experimenting with the other options, such as Landscape Picture Style used for this image. When that option is selected, the camera boosts sharpness, contrast, and color saturation, producing a very rich, striking effect that's suitable for most outdoor, nature, and travel photography. (Auto White Balance; ISO 400; Evaluative metering with +2/3 EV compensation; f/8 in AV mode; EF 24-105mm zoom.)
All Photos © 2006, Peter K. Burian, All Rights Reserved

This is also the first Canon camera with an Integrated Self Cleaning Sensor Unit, employing ultrasonic vibration to shake dust from the low-pass filter that covers the CMOS sensor. (The dust is then collected by sticky adhesives located on all four sides of the sensor module.) This process is activated whenever the XTi is turned on and off but can be disabled using a Custom Function; it can also be stopped after camera start up by touching the shutter release button. Manually activated sensor cleaning can also be selected when desired. Other features include an antistatic coating on the low-pass filter, superior sensor module sealing, and a shutter mechanism that creates less dust. Should all of that fail to prevent dust specks in your images, you can create "reference frames" in camera to identify the blemishes; these can then be removed using the new/improved DPP (Digital Photo Professional) Version 2.2 software.

The Digital Rebel XT was already a full-featured camera but the XTi gains additional capabilities, including Picture Styles already available with the EOS 30D. Select Standard, Portrait, Landscape, Neutral, or Faithful and the camera will produce a different effect, varying the color rendition, sharpness, and contrast level. (User-selectable color saturation, tone, contrast, and sharpness levels are available, too.) There's one other Picture Style option, too, Monochrome. When that's selected, you can also choose from an array of Filters and Tones to modify the entire look of the black and white images.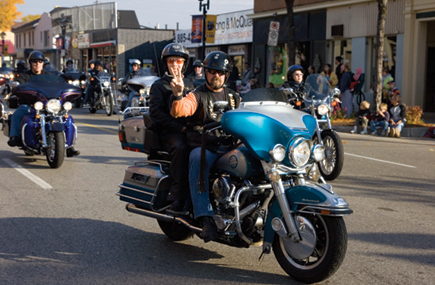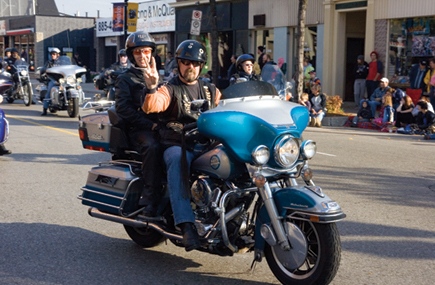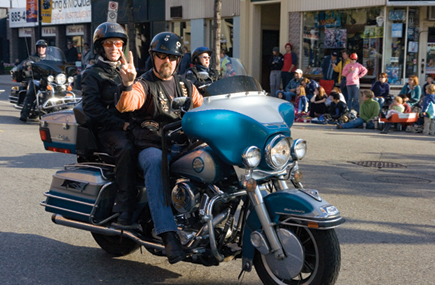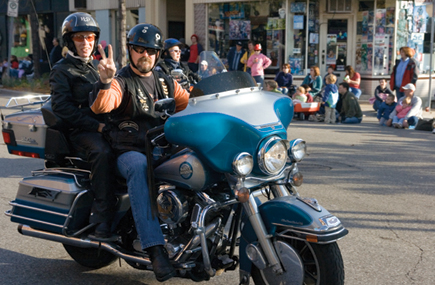 While the EOS Digital Rebel XTi can shoot far more images in a single burst, this short series illustrates the camera's speed as well as the effectiveness of the Continuous tracking focus system with moving subjects. (JPEG Large/Fine mode; ISO 400; Standard Picture Style; 1/250 sec at f/7.1; EF 24-105mm zoom.)
Other enhancements include more Noise Reduction and Auto Rotate options, two extra Custom Functions, improved Direct Print features, an RGB histogram (in addition to a Luminance histogram) in Playback, and a few extra Autofocus mode selection options. Burst depth has also been improved. Although the XTi generates larger image files than the XT, a larger buffer (temporary storage bank) and faster processing allows for shooting a full 27 Large/Fine JPEGs or 10 raw frames--vs. 14 and 5 frames--in a single sequence. That's useful particularly in action photography, using the 3 fps (frames per second) Continuous Drive mode.

Field Testing The Digital Rebel XTi
During a tour of Germany's Rhine and Bavaria regions after the photokina trade show, and while shooting events closer to home, I made nearly 1000 images with this new EOS camera. Based on my experiences, and the resulting images, I can provide the following assessments about the XTi's handling and performance.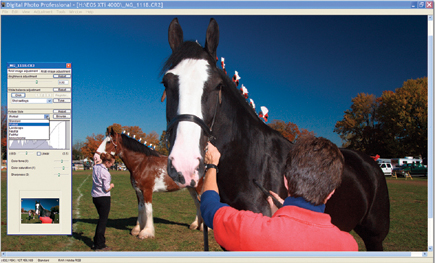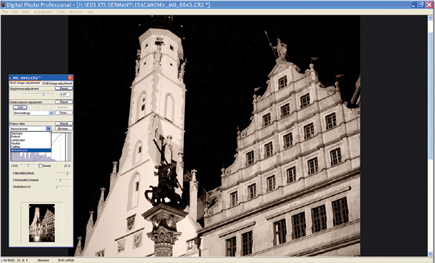 The new Digital Photo Professional Version 2.2 raw converter software is more versatile (and faster) than previous versions, providing more options for producing just the right effect in a raw format photo whether in color or monochrome. While some photographers prefer after-market converter programs such as Adobe's Camera Raw, only the Canon software supports the Picture Styles feature.
The new camera is lightning fast in all respects except start up speed because of the extra second required for sensor cleaning; that's easy to override when you're in a hurry, as mentioned earlier. Because of the improved buffer and processor, the camera was almost always ready to take another few photos, even while it was recording a very long series of images. The AF system was fast and reliable even in night photography in medieval villages; only in total darkness did I need to use the focus assist amenity provided by the flash unit. Continuous autofocus was equally successful, great for tracking moving subjects such as motorcycles and horses. The system maintained focus even when the subject was very close to the camera.