September 27, 2011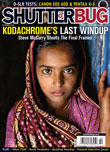 In This eNewsletter:

• How-To – Complementary Colors
• Industry Perspective – Photojournalism in the Digital Age
• What's New This Month – Canon, Ilford, Nikon, Lensbaby, and VueScan
• How-To – Color And Temperature
• How-To – Chromatic Aberration
• Vote! – Does wireless connectivity or networking play a part in your home or studio digital darkroom and printing setups?
• Workshops – Learn and Show
• Shutterbug Forums – Your Photo & Digital Imaging Source

This eNewsletter Brought To You By: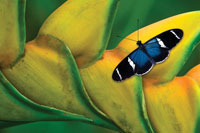 • Complementary Colors
Harmony On The Color Wheel
by Jim Zuckerman

The concept of complementary colors refers to three pairs of colors that artists agree look good together and complement each other. They are based on the color wheel that arranges colors in such a way that the colors opposite each other represent the three pairs. They are red and cyan, green and magenta, and blue and yellow. This doesn't mean that other colors don't work together very well, but it suggests that if you use complementary color themes in your work, the images will be visually compelling.

Get The Full Story






• Photojournalism in the Digital Age
by Ron Leach, Publisher

Ever since early man scrawled his thoughts and experiences on the inside of a cave, "journalists" have helped inform the public and shape the course of society. And never has the role of the reporter been more important than it is in today's complicated, fast-paced world. While the Internet has opened the floodgates of news and information, it has also transformed how reporters, photojournalists and news organizations go about their business.

Get The Full Story




• Canon PIXMA Wireless Photo All-In-One Printers
Canon U.S.A., Inc. announced the addition of the PIXMA MG8220 and MG6220 All-in-Ones to the Company's line of Wireless1 Photo All-In-One models with the ability to print, copy and scan images and documents. These affordable printers are compatible with many of the popular wireless devices on the market today for easy printing from almost anywhere. Additionally, consumers can unlock their creative printing side with the significant software upgrades to Easy-PhotoPrint EX and Full HD Movie Print2.

• ILFORD GALERIE Inkjet Media Print Permanence Rating
ILFORD Imaging Switzerland GmbH (www.ilford.com) is pleased to announce its line of GALERIE inkjet photo media has received high print permanence ratings from Wilhelm Imaging Research, Inc., the world's leading independent permanence testing laboratory.

• Nikon COOLPIX P7100
Nikon Inc. announced the new COOLPIX P7100, a 10.1-megapixel COOLPIX P7100 that is said to be is the ideal camera that advanced photographers seeking a companion to their D-SLR camera when both portability and superior image quality are a necessity.

• Lensbaby Senior Style Senior Portrait Photo Contest
Lensbaby, manufacturer of creative effects camera lenses, announces the beginning of its Senior Style Portrait Contest. In order to celebrate and reward outstanding, forward-looking Senior Portrait photography, Lensbaby has put together a contest full of exceptional prizes, with a Canon 5D Mark II camera being one of many valuable items in the grand prize package.

• VueScan Mobile App Debuts on the App Store
Hamrick Software announced today its VueScan Mobile App for iPad, iPhone and iPod touch is now available on the App Store. VueScan Mobile allows you to seamlessly scan documents and photos straight to your iPad, iPhone or iPod touch from any HP, Canon or Epson WiFi printer/scanner.



Picture Your City! Photographer and international bestselling author Michael Freeman (The Photographer's Eye) is visiting the US in October to take photos for a new book. He wants to know how you picture your city, town or neighborhood – submit a photo that tells a story for the chance to win one of two great prizes!

• Color And Temperature
What Are These Words Doing In The Same Sentence?
by Jim Zuckerman

The concept of color temperature is an integral part of photography, and yet many photographers are not really sure what it means. Color and temperature don't seem to have a direct relationship with each other, but light sources are often defined in terms of their color temperature, which is allied with setting the white balance in digital photography. In addition, the measurement of color temperature is in Kelvin degrees. What does all this really mean?

Get The Full Story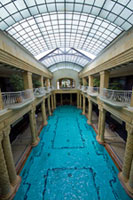 • Chromatic Aberration
Software Help For Optical Problems
by Jim Zuckerman

Chromatic aberration is an inherent problem in the manufacture of lenses. It is the failure of the glass to bend the light in such a way that it focuses all the colors at the same point, and it occurs because lenses have a different refractive index for different wavelengths of light. It is characterized by color fringing, or unwanted colors at the edge of objects. The colors can be red, cyan, green, magenta, blue, or yellow. You usually can't see this fringing until you magnify the image quite a bit, but at 100 percent and higher it's quite obvious. I've enlarged (#1) to 300 percent, and in (#2) you can see what I'm talking about. Chromatic aberration is quite pronounced in wide angle lenses, and it's most obvious in the corners. The picture of this famous pool in the Gellert Hotel, Budapest, Hungary was taken with a 14mm lens. The center of the lens is largely devoid of these unwanted colors. Telephotos also have chromatic aberration, but it is usually not as bad.

Get The Full Story







• Vote!
Does wireless connectivity or networking play a part in your home or studio digital darkroom and printing setups?
Please comment briefly on what wireless or network systems or devices you have interconnected in your home or studio.







• AdoramaTV Watch, Learn , Create
We'd like you to know that our friends at Adorama have an exciting new resource that's a key part of their photographic education initiative. See host, Mark Wallace, present how-to videos for everyone from snapshooters to enthusiasts to professional photographers, plus product reviews, interviews with today's top professional photographers, and reviews of iPad apps. AdoramaTV is the newest part of the Adorama Learning Center, which has thousands of photo-related how-to articles, product reviews and buying guides. New videos are added daily. Visit us today and ignite your passion…

• Cavecreek Photographic Workshops
Courses offered each month. Contact: Alan Lowy's Cavecreek Photographic Workshops, 2135 E. Gaffney Road, Phoenix, AZ 85087, 623-465-1077.

• Adorama Photography Workshops
Various courses offered each month. Contact: Adorama, 800-223-2500.





•Newsletter Feedback
Let us know what you think about our Newsletter. Please send your comments to:
editorial@shutterbug.com

• To Change Your Email Address
Please send your request to: Allyson.Fischgrund@sorc.com


If you would prefer not to receive future communications from Shutterbug, unsubscribe here. You may also reach us by writing to the following address: Source Interlink Media, Inc., 261 Madison Avenue, New York, NY 10016 Att: Privacy Coordinator. Privacy Policy.

Shutterbug Home Page • Print & Web Media Kit • Contact Us
Copyright SOURCE INTERLINK MEDIA™ All Rights Reserved
1415 Chaffee Drive, Suite 10 | Titusville | FL | 32780