June 30, 2009

In This eNewsletter:
How-To – Equivalent Exposure

Industry Perspective – Young Adults: Highly Engaged in Photography

What's New This Month – Smash Direct, STROBIES, Interfit, Nik, and Olympus

How-To – Get More Highlight And Shadow Detail

Vote! – Do you utilize GPS data in your photography?

Workshops – Learn and Show

Shutterbug Forums – Your Photo & Digital Imaging Source
This ENewsletter Brought To You By:
Equivalent Exposure
by George Schaub

Now we come to how ISO, aperture, and shutter speed relate to one another. They exist to balance the amount of light in the scene with the recording made by the sensor and ultimately made into an image file on the memory card. Your goal is to record the scene with as true and balanced a color and lightness of what you saw when you snapped the shutter.

To review, the ISO setting of the camera sensor is the sensitivity to light. We raise or lower it according to the light level and how we want to utilize aperture and shutter speed settings.
Get The Full Story


The Samsung SL620 with Smart Auto allows you to capture a perfect shot every time. Samsung's innovative Smart Auto technology quickly and easily analyzes the shooting situation then selects from one of 11 optimized settings to capture your surroundings. Choose Samsung Smart Cameras – Innovation makes it easy.




Young Adults: Highly Engaged in Photography
by Ron Leach, Publisher

InfoTrends, a leading market research firm in the digital imaging industry, recently released two surveys detailing the enthusiastic photography-related habits of young adults between the ages of 18 and 24. Given the popularity of social networking sites like Facebook and MySpace among young people, it's not surprising that digital images play an important role in the social lives of this demographic group.
Get The Full Story

Introducing AluminArte(TM). High Definition Photographic Imaging on Aluminum. AluminArte uses a unique imaging technology that is able to fully exploit the latest digital camera technology and achieve an unmatched depth of field and a wider gamut of color and saturation. Simply send us your files then choose your finish and framing options. Visit ImageWizards.net and get your free samples

.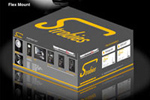 UsedCameras.com
Smash Direct, the parent company of UsedCameraBuyer.com, has launched a new destination for pre-owned camera and video gear online.
STROBIES Hotshoe Light Shaping Tools
Interfit is pleased to announce the arrival of a new brand, STROBIES, for use with many of the leading manufacturers hotshoe flashguns.


Interfit Flat Panel Kooltubz
Interfit has announced the arrival of the new Kooltubz 4 x 55 watt and Kooltubz 6 x 55 watt flat panels, thus adding to their versatile fluorescent range.


Nik Software Silver Efex Pro Update for Lightroom 2
The update is available now as a free download to current owners of Silver Efex Pro.


Olympus E-450 DSLR
Olympus announces its new entry-level digital single lens reflex camera, the new E-450, which includes three Art Filters - Pop Art, Pin Hole and Soft Focus.

A great photo is only as good as the prints you make from it. Two wide-format printers to take a close look at are the Epson Stylus® Photo R1900, ideal for glossy prints, and the Epson Stylus Photo R2880, designed for exhibition-quality prints. Right now you can save $100 on each.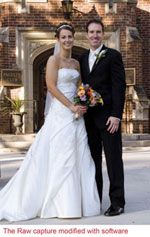 Get More Highlight And Shadow Detail
Using A D-SLR's Dynamic Range Expansion Feature
by Peter K. Burian

In an ideal world, all digital photos would be technically perfect: well exposed and exhibiting detail in all areas including any bright segments, the mid-tones and in dark shadow areas. While that level of detail may be possible in photos taken in "flat" illumination, as on an overcast day, real world lighting often produces very high contrast results. Whether you're shooting outdoors on a sunny day or indoors in a location with dark plus bright areas, the images may not be technically perfect. Overall, the effect is likely to be harsh with black shadows, excessively bright highlights, and underexposed mid-tones. Except in close-up photos, flash is not a practical solution to high contrast, so you'll want to consider alternatives. There are several, including high-tech amenities available with some D-SLRs for generating images with greater highlight and shadow detail.
Get The Full Story



We are used. But not used up! UsedCameraBuyer.com is the #1 destination for pre-owned camera gear online. UsedCameras.com features all brands, makes and models for the professional to the consumer. Low price guarantee and FREE domestic shipping on all orders. Re-purpose & Re-use, the ultimate way to Re-cycle with UsedCameras.com!



Vote!
There are now many device, and soon many cameras, that record GPS data. Do you utilize GPS data in your photography? If you do how does it help in your work? If not, would you consider using it if you knew there were easy, viable ways to automatically track location using software?
Briefly comment on how you use GPS data in your photography, or how you might use it if you had the gear and software.


Photoshop and NAPP go together like milk and cookies. For just 25¢ a day, you can learn how to make all those cool effects only Photoshop can do. No matter your skill level or what version of Photoshop you use, NAPP can help. Join today and get a FREE DVD!




Private Film Or Digital Workshops With Steve Anchell
Salem, 1-day, weekend, or 5-day workshops. Contact: Anchell Photography Workshops, 503-375-2163, website: www.anchellworkshops.com.


John C. Campbell Folk School
Looking For Light. Free catalog with course descriptions. Contact: John C. Campbell Folk School, One Folk School Road, Brasstown, NC 28902, 800-Folk-SCH, website: www.folkschool.org.
•
Newsletter Feedback
Let us know what you think about our Newsletter. Please send your comments to:
editorial@shutterbug.com
If you would prefer not to receive future communications from Shutterbug, . You may also reach us by writing to the following address: Source Interlink Media, Inc., 261 Madison Avenue, New York, NY 10016 Att: Privacy Coordinator.
Privacy Policy
.
Copyright SOURCE INTERLINK MEDIA™ All Rights Reserved
1419 Chaffee Drive, Suite 1 | Titusville | FL | 32780