April 27, 2010

In This eNewsletter:
How-To – Wide Angle Lenses

Industry Perspective – Is the Apple iPad a Photographer's Tool?

What's New This Month –
Canon, Xrite, onOne, Mamiya, and Sigma

How-To – Depth Of Field

Vote! – Comment briefly on what you consider the best way to learn more about photography.

Workshops – Learn and Show

Shutterbug Forums – Your Photo & Digital Imaging Source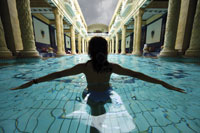 Wide Angle Lenses
Get A Unique Point Of View
by Jim Zuckerman
I have already defined what wide angle lenses are and discussed the tremendous depth of field they offer. There are other characteristics they have that are worth noting as well. Wide angle lenses are invaluable tools that give you tremendous creative potential in your picture taking.
Get The Full Story

Introducing AluminArte(TM). High Definition Photographic Imaging on Aluminum. AluminArte uses a unique imaging technology that is able to fully exploit the latest digital camera technology and achieve an unmatched depth of field and a wider gamut of color and saturation. Simply send us your files then choose your finish and framing options. Visit ImageWizards.net and get your free samples.




Is the Apple iPad a Photographer's Tool?
by Ron Leach, Publisher

As serious gadget freak, as well as a photographer, I've been giving some serious thought to the potential of Apple's new iPad as a tool for the traveling photographer. Admittedly, my experience to date with this new device consists of reading the specs and playing with the iPad for about 30 minutes at a neighborhood Apple store. Like many of you, ever since Apple announced the iPad I've wondered about what I could do with a 1.5-inch thick tablet with 10 hours of battery life, a high-resolution 9.7-inch screen and up to 64GB of storage capacity.
Get The Full Story

Extra 10% off Portrait Professional 9 - the world's first intelligent face touch-up software trained in human beauty. It allows even an unskilled user to achieve magazine quality, yet natural looking touch-up, in a fraction of the time required by Photoshop. Free trial: www.portraitprofessional.com. Enter code AP7223 for a 10% discount.



Capture great color even in difficult lighting with the easiest to use, most accurate white balance tool available: The ExpoDisc Professional White Balance Filter. RAW or JPEG, still or video. No additional software or post-processing required. Assembled and tested in the U.S.A. Learn more at www.expodisc.com.


Depth Of Field
Creative Focus Effects
by Jim Zuckerman

One of the most important concepts in photography, and one that you have to deal with every time you take a picture, is depth of field. Depth of field refers to how much of the scene is in focus in front of and behind the subject on which you've focused. For example, the picture of the Nile crocodile has shallow depth of field. Notice the grass in the foreground is soft, the head of the crocodile is sharp, and the back of the reptile and the distant background are significantly out of focus. In some instances, depth of field can be so shallow that mere inches, or even millimeters, make a difference.
Get The Full Story

Vote!
The Internet is filled with information about photography and certainly can be used as a source of knowledge. But is it where you get most of your information about photography and making images (and not just about gear)? Of course, we assume you learn a lot from the pages of Shutterbug, but where else do you go for photographic learning?
Please comment briefly on what you consider the best way to learn more about photography.

Iceland Photo Tour
Join George Schaub on an Icelandic photo tour in August featuring hands-on techniques and travel adventures. Dates are August 1-7, 2010.
Cavecreek Photographic Workshops
Courses offered each month. Contact: Alan Lowy's Cavecreek Photographic Workshops, 2135 E. Gaffney Road, Phoenix, AZ 85087, 623-465-1077.


Adorama Photography Workshops
Various courses offered each month. Contact: Adorama, 800-223-2500.


John C. Campbell Folk School
Looking For Light. Free catalog with course descriptions. Contact: John C. Campbell Folk School, One Folk School Road, Brasstown, NC 28902, 800-Folk-SCH.




If you would prefer not to receive future communications from Shutterbug, . You may also reach us by writing to the following address: Source Interlink Media, Inc., 261 Madison Avenue, New York, NY 10016 Att: Privacy Coordinator.
Privacy Policy
.


Copyright SOURCE INTERLINK MEDIA™ All Rights Reserved
1415 Chaffee Drive, Suite 10 | Titusville | FL | 32780