March 29, 2011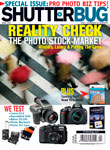 In This eNewsletter:

• How-To – Emerging Beauty
• Industry Perspective – Bright New For Camera Shipments
• What's New This Month – Kodak, Tiffen, Interfit, ToughTech, and More
• How-To – Digital Print Display
• How-To – Black And White Flower Portraiture
• Vote! – Comment on your predictions and thoughts on the future of film as a recording medium.
• Workshops – Learn and Show
• Shutterbug Forums – Your Photo & Digital Imaging Source

This eNewsletter Brought To You By: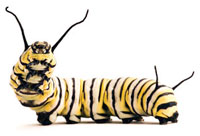 • Emerging Beauty
Time Lapse Techniques Capture Miracles
by David FitzSimmons

My wife, Olivia, is a naturalist. In one of her educational programs, she teaches children about the life-cycle of monarch butterflies. To show their four stages of life, she begins by collecting eggs from milkweed plants. Olivia keeps leaves from these plants in our refrigerator, feeding the foliage to the gradually-developing caterpillars. The larvae pass through five "instars" over a period of about two weeks, after which the approximately 2" long caterpillars pupate, each forming a chrysalis. Inside the green case—actually the exoskeleton of the pupa—the incredible transformation into an adult butterfly occurs, a process that takes about two more weeks. We enjoy watching for chrysalises that turn from green to transparent, a sure sign that a butterfly is about to break free.
Get The Full Story






• Bright New For Camera Shipments
by Ron Leach, Publisher

Total shipments of digital cameras set an all-time record in 2010 at 121.5 million units, according to Tsuyoshi Kikukawa, President of the Camera and Imaging Products Association (CIPA). Since CIPA began tracking this data in 1999 when the digital camera market was in it's infancy, shipments have recorded steady growth—reaching 100 million units in 2007.
Get The Full Story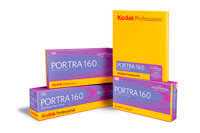 • KODAK PROFESSIONAL PORTRA 160 Film
Eastman Kodak Company introduced the new KODAK PROFESSIONAL PORTRA 160 Film, featuring a significantly finer grain structure in a 160-speed color negative film.

• Tiffen High Trans Multi Coated Filter Kits
The kits, available in the Twin Pack (Digital Ultra Clear and Circular Polarizer) and the ND Kit (ND 0.6, 1.2 and Color-Grad ND0.6), come with a padded 4 filter belt loop style filter case.

• The Tragedy in Japan
As you are all aware, last Friday's devastating earthquake in Japan caused serious damage in Northern Japan. Our thoughts are with all those people affected. Via TIPA, the company websites report the following news on their production facilities.

• Interfit Super Cool-lite 6
A new design from the ground up, with new features never before seen in fluorescent lighting, with added benefits of a rear grab handle, fully illuminated switches and new self contained fixings.

• ToughTech Duo
The ToughTech Duo is a high performance RAID portable storage system works with two 2.5" notebook drives or solid state drives to back-up and store data.



Make an extraordinary impression when delivering your photographs to your clients and give them something personable as well as beautiful. It is very easy to mount the display photo to our patented acrylic system. The 4x6 and 5x7 Acrylic Print Boxes come in three sizes which hold 150, 300 or 450 prints.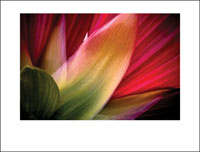 • Digital Print Display
Best Practices For Mounting, Matting & Framing
by Jon Canfield

After all the effort you've made to take a great photo and make a beautiful print, you want it to have immediate impact on the viewer. Whether it will hang in your home or if you're planning to enter it into a competition or a gallery showing, matted and framed images are far more impressive and durable than "bare" prints. Here are some tips gleaned from printmakers, conservation framers and gallery owners.
Get The Full Story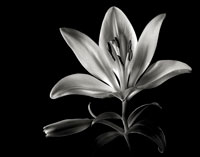 • Black And White Flower Portraiture
Light, Shadow, And Tone
by Endre Balogh

Our world is filled with so many beautiful subjects—people, landscapes, architecture, flowers, etc.—that I find it very difficult to limit myself to just one genre of photography. Flowers, with their extraordinary variety and dazzling colors, present a particularly rich resource. Surprisingly, I discovered that converting a brilliantly colored flower photo into black and white reveals its structure and brings out an indefinable living essence that is otherwise masked by color. I approach each flower with great reverence, attempting to convey an idealized, almost spiritual version of it to the viewer.
Get The Full Story







• Vote!
With the demise of Kodachrome there are increasing concerns about the fate of film as a recording medium, with some saying that all transparency film may be unavailable in the not too distant future. This raises the question: do you still shoot film?
Please comment on your predictions and thoughts on the future of film as a recording medium.


If you are looking to buy a NEW or USED camera, lens, tele-converter, flash, filter or any large or small photo accessories, we have one of the largest selections of famous, and not as famous, brands at very low discount prices. Visit our website www.cambridgeworld.com or call 1-800-221-2253.



• AdoramaTV Watch, Learn , Create
We'd like you to know that our friends at Adorama have an exciting new resource that's a key part of their photographic education initiative. See host, Mark Wallace, present how-to videos for everyone from snapshooters to enthusiasts to professional photographers, plus product reviews, interviews with today's top professional photographers, and reviews of iPad apps. AdoramaTV is the newest part of the Adorama Learning Center, which has thousands of photo-related how-to articles, product reviews and buying guides. New videos are added daily. Visit us today and ignite your passion…

• Digital Black and White Printing with George Schaub
Tools and techniques in a true studio printing environment. Maine Media Workshops.

• Digital Photo Workshop Cruise
Digital Photo Workshop Cruise to the South Pacific. Two weeks in April 2011 from Tahiti to ten French Polynesian Islands on a luxury cruise ship with top pros on board. Attendee images will be published in a fine arts book. 1-800-652-2267.

• Cavecreek Photographic Workshops
Courses offered each month. Contact: Alan Lowy's Cavecreek Photographic Workshops, 2135 E. Gaffney Road, Phoenix, AZ 85087, 623-465-1077.

• Adorama Photography Workshops
Various courses offered each month. Contact: Adorama, 800-223-2500.


•Newsletter Feedback
Let us know what you think about our Newsletter. Please send your comments to:
editorial@shutterbug.com
• To Change Your email Address
Please send your request to: Allyson.Fischgrund@sorc.com


If you would prefer not to receive future communications from Shutterbug, . You may also reach us by writing to the following address: Source Interlink Media, Inc., 261 Madison Avenue, New York, NY 10016 Att: Privacy Coordinator. Privacy Policy.

Shutterbug Home Page • Print & Web Media Kit • Contact Us

Copyright SOURCE INTERLINK MEDIA™ All Rights Reserved

1415 Chaffee Drive, Suite 10 | Titusville | FL | 32780