March 31 , 2009

In This eNewsletter:
How-To – Exposure Tips
Industry Perspective – Surge in Online Photofinishing
What's New This Month – Nikon, Canon, onOne, Kodak, and Jobo
Test Report – Tamron SP AF10-24mm f/3.5-4.5 DiII LD Aspherical (IF) Super Wide, Lightweight Zoom
Vote! – Comment briefly on your backup strategy
Workshops – Learn and Show
Shutterbug Forums – Your Photo & Digital Imaging Source

This ENewsletter Brought To You By:

Exposure Tips
Outdoor Fill Flash/Exposure Compensation Combo
by George Schaub

When working outdoors think of your built-in flash or auxiliary speedlight as a secondary light source that can be used to supplement, but not overpower the essential light source, the sun. Use that secondary source as a way to highlight certain subjects or reveal shadow areas that might otherwise be too dark. The main consideration is to use the flash so that it does not make the photo look untrue, or so overexposed (in relation to the main light) that it is apparent that a flash was used.
Get The Full Story


Photoshop and NAPP go together like milk and cookies. For just 25¢ a day, you can learn how to make all those cool effects only Photoshop can do. No matter your skill level or what version of Photoshop you use, NAPP can help. Join today and get a FREE DVD!




Surge in Online Photofinishing
by Ron Leach, Publisher

According to a recent report released by InfoTrends, online photofinishing revenues in the U.S. will surpass $1.5 billion by 2012—more than doubling since 2007. The largest growth category is expected to be custom photo gifts and merchandise which is anticipated to represent nearly 70% of that total—up from less than 50% two years ago.
Get The Full Story

Tamron SP AF10-24mm f/3.5-4.5 DiII LD Aspherical (IF) Super Wide, Lightweight Zoom

by George Schaub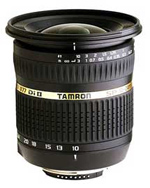 There was time when those seeking super-wide lenses for APS-C size sensor cameras didn't have much choice, but new light gathering systems that distribute light evenly from lens to sensor, as well as new optical formulas from camera makers and independent lens manufacturers, have changed that point of view. The latest in this welcome new class of glass is from Tamron, with their 10-24mm f/3.5-4.5 offering. Priced at around $500 (street) and weighing in at about 14 oz., the Tamron 10-24mm is useable for cameras that require "motor in the lens" operation, such as the Nikon D40X, on which this lens was tested. The DiII designation tells you that this lens is for digital SLRs with APS-C sensors.
Get The Full Story



Vote!
We all know that digital image file backup is important. How do you currently back up your image files?
Please comment briefly on your backup strategy.


Private Film Or Digital Workshops With Steve Anchell
Salem, 1-day, weekend, or 5-day workshops. Contact: Anchell Photography Workshops, 503-375-2163, website: www.anchellworkshops.com.


John C. Campbell Folk School
Looking For Light. Free catalog with course descriptions. Contact: John C. Campbell Folk School, One Folk School Road, Brasstown, NC 28902, 800-Folk-SCH, website: www.folkschool.org.
•
Newsletter Feedback
Let us know what you think about our Newsletter. Please send your comments to:
editorial@shutterbug.com
If you would prefer not to receive future communications from Shutterbug, . You may also reach us by writing to the following address: Source Interlink Media, Inc., 261 Madison Avenue, New York, NY 10016 Att: Privacy Coordinator.
Privacy Policy
.
Copyright SOURCE INTERLINK MEDIA™ All Rights Reserved
1419 Chaffee Drive, Suite 1 | Titusville | FL | 32780