February 22, 2011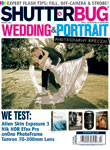 In This eNewsletter:

• How-To – Quick Tips: A Little Flash Will Do Ya'
• Industry Perspective – The Passing of Photographer Charles Brittin
• What's New This Month –SanDisk, Mac-On-Campus, Epson, Sun-Sniper, and More
• How-To – Multiple Exposure Zoom Effects
• How-To – Adam Block: Astrophotographer
• Vote! – Comment briefly on your experience with polarizer and ND filters for your DSLR photography.
• Workshops – Learn and Show
• Shutterbug Forums – Your Photo & Digital Imaging Source

This eNewsletter Brought To You By: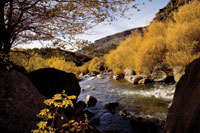 • Quick Tips: A Little Flash Will Do Ya'
Use On-Camera Fill For A Taste Of Light
by George Schaub

The small, built-in flash on your camera is not meant to be a powerhouse that will enable you to capture large groups indoors or throw light any significant distance outdoors when trying to conquer the contrast problems of backlit subjects. Most are good to about 10 ft maximum, and even shorter coverage ranges when used with the tele settings on standard zoom lenses. Some have a bit more power than others, but rarely do they go beyond a fairly short range. However, there are times when the small output can be used for adding just a taste of light to highlight a foreground subject and to bring lighting balance into a contrasty scene.
Get The Full Story






• The Passing of Photographer Charles Brittin
by Ron Leach, Publisher

Relatively unknown outside of Los Angeles for most of his career, Charles Brittin was an important documentary photographer known for his political activism. In commemorating Brittan's recent passing Andrew Perchuk, Deputy Director of the Getty Research Institute noted, "he was one of the great civil and political photographers of his age."
Get The Full Story




• SanDisk SDHC Card With UHS-I Technology
Tackling specific problems within a photographer's preferred workflow, the Perfect Photo Suite 5.5 offers simple yet powerful solutions for color correction, image resizing, masking and professional photographic effects in one affordable package.

• Free Webinar Series: Beyond the Classroom
MAC-On-Campus and Photoshelter are proud to announce a new and free webinar series, Beyond the Classroom: A Photo Student's Guide to Turning Pro.

• Epson Stylus Photo R3000
Epson America introduced its most advanced 13-inch printer to date - the Epson Stylus Photo R3000. Designed for professional photographers and fine artists.

• Sun-Sniper Giving Away 50 Camera Straps to Photo Clubs
The northern German manufacturer of camera straps is now giving away 50 models of the new Sniper-Strap PRO to photo clubs.

• New Bags From jill-e Designs
The creator of sturdy, stylish camera and carry bags for today's technology-dependent, on-the-go lifestyle is introducing a body-hugging DSLR bag in four trendy colors, matching lens bags, a full-sized jack rolling satchel, and more.



PREMIUM PHOTO INKJET PAPERS
FREE SHIPPING WITH SAMPLE KIT PURCHASE
Include any Red River photo inkjet paper sample kit in your order and receive free Ground shipping. Offer expires 3/12/2011. One per customer per address. ABOUT RED RIVER Red River Paper offers you premium photo inkjet papers. Our papers are as good or better than the big retail brands and save you up to 40%.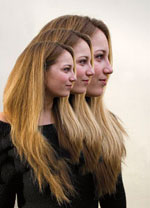 • Multiple Exposure Zoom Effects
Special Effects Made Easy
by Howard Millard

For a dynamic new look, put several captures on top of each other in a single image to multiply impact and open up new avenues to creative expression. Whether you want to inject motion into a static shot or add drama to a portrait, multiple exposure offers a myriad of possibilities for people, landscapes, flowers, and architecture—almost anything you can aim your lens at. It's no longer necessary to make complicated exposure calculations and shoot everything in-camera. In fact, with many digital models, it's not even possible to make multiple exposures in camera.
Get The Full Story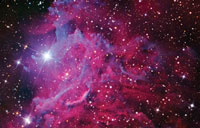 • Adam Block: Astrophotographer
Shooting For The Stars
by Lorraine A. DarConte

"We are all in the gutter, but some of us are looking at the stars," said Oscar Wilde, who, in his wildest dreams could not have imagined how truly spectacular the universe is. Thanks to "visionaries" like Adam Block—space, the final frontier—though still miraculous and mysterious, is a tad more accessible to the average Earthling. Block is Program Coordinator at the Mount Lemmon Sky Center in Tucson, Arizona. He's responsible for developing and administering the Steward Observatory's public astronomy programs and experiences, which include presentations, workshops, and special events. He also manages to find time in his jam-packed schedule to photograph the heavens above.
Get The Full Story







• Vote!
With so many "art filters" built into cameras these days, and a host of image processing programs that offer special effects, some photographers no longer carry glass, screw-on filters in their kit. The ND and polarizer are two filters some still recommend. Do you work with any screw-on filters for your digital SLR?
Please briefly comment on your experience with polarizer and ND filters for your DSLR photography.



You asked for it! A new volume of The Photoshop Darkroom! The brilliant and creative minds behind The Photoshop Darkroom, Harold and Phyllis Davis, bring you a whole new volume to inspire your creativity! Visit www.focalpress.com and view a two-part tutorial on "Twisting Reality".





• Digital Black And White Workshop With George Schaub
Learn about exposure, camera settings, processing and printing workflow in a week long workshop that includes location shooting, processing and critiques. Contact: George Schaub, website: www.santafeworkshops.com.

• Digital Photo Workshop Cruise
Digital Photo Workshop Cruise to the South Pacific. Two weeks in April 2011 from Tahiti to ten French Polynesian Islands on a luxury cruise ship with top pros on board. Attendee images will be published in a fine arts book. 1-800-652-2267.

• Cavecreek Photographic Workshops
Courses offered each month. Contact: Alan Lowy's Cavecreek Photographic Workshops, 2135 E. Gaffney Road, Phoenix, AZ 85087, 623-465-1077.

• Adorama Photography Workshops
Various courses offered each month. Contact: Adorama, 800-223-2500.




•Newsletter Feedback
Let us know what you think about our Newsletter. Please send your comments to:
editorial@shutterbug.com
• To Change Your email Address
Please send your request to: Allyson.Fischgrund@sorc.com


If you would prefer not to receive future communications from Shutterbug, . You may also reach us by writing to the following address: Source Interlink Media, Inc., 261 Madison Avenue, New York, NY 10016 Att: Privacy Coordinator. Privacy Policy.

Shutterbug Home Page • Print & Web Media Kit • Contact Us

Copyright SOURCE INTERLINK MEDIA™ All Rights Reserved

1415 Chaffee Drive, Suite 10 | Titusville | FL | 32780