February 23, 2010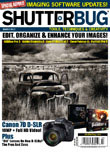 In This eNewsletter:
How-To – Hard & Soft Light

Industry Perspective – USB 3.0 to the Rescue

What's New This Month –
Nik, Samsung, Delkin, Brightscreen, and LowePro

How-To – The Raw Facts About Infrared

Vote! – Briefly on your experience with video with a D-SLR.

Workshops – Learn and Show

Shutterbug Forums – Your Photo & Digital Imaging Source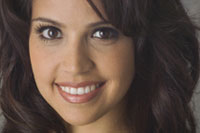 Hard & Soft Light
Use One, Or Both, For Portrait Work
by John Siskin

Photographers talk about the characteristics of light using various terms. When we talk about light being soft or hard, we are really referring to the size of the light source. By using both kinds of light we can have more control over the appearance of our subjects.
When you walk outside on a sunny day you're looking at hard light. The shadows have a lot of edge detail and are very dark. Reflections are small and very bright. In light like this we can see a lot of texture in surfaces. The shadows, if the light is coming from the right direction, can be a dramatic and important part of an image.
Get The Full Story


Introducing AluminArte(TM). High Definition Photographic Imaging on Aluminum. AluminArte uses a unique imaging technology that is able to fully exploit the latest digital camera technology and achieve an unmatched depth of field and a wider gamut of color and saturation. Simply send us your files then choose your finish and framing options. Visit ImageWizards.net and get your free samples.




USB 3.0 to the Rescue
by Ron Leach, Publisher

One of the bi-products of high-resolution digital cameras, terabyte hard drives, multi-gigabyte mobile phones, and D-SLRs with HD video capabilities is the ever-increasing need for greater bandwidth and faster data transfer rates. So it's none too soon that USB 3.0 has finally arrived. First touted at a developer forum by Intel in 2007, this latest iteration of the Universal Serial Bus promises significantly faster performance and backwards compatibility with USB 2.0-while using one-third the power of the earlier specification.
Get The Full Story

VANGUARD's Alta Pro tripod, winner of the prestigious 2009 TIPA Award for Best Accessory, features unmatched flexibility and stability. Its innovative Multi-Angle Central Column System lets users move the central column from 0 to 130-degree angles in variable vertical and horizontal positions, making macro-photography and special wide-angle shots a breeze.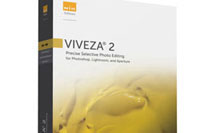 Nik Viveza 2 for Adobe Photoshop, Lightroom and Aperture
Nik Software announced that it is shipping its Viveza 2, the latest upgrade to its photo editing software for selective color and light control.
Samsung NX10
Samsung Electronics America, Inc announced the Samsung NX10 with a 14.6 MP APS-C size CMOS sensor and 3.0" AMOLED screen
.


Delkin 420X CompactFlash Line
Delkin Devices, Inc. expanded their lineup of CompactFlash card storage by announcing four new blazing fast 420X PRO cards capable of transfer speeds up to 63MBs.


Brightscreen Ideal Crop Lines
Brightscreeen USA has announced a new recently patented product "Ideal Crop Lines" which displays a crop area to compose images through the camera viewfinder, and or the LCD display.


Lowepro Pro Runner AW
This six-backpack series offer an array of carrying solutions from smaller standard backpacks to convertible designs that keeps gear accessible whether the bag is configured as a backpack or a rolling case.

Create a unique 'Portfolio in your Pocket' with Business Cards from moo.com. MOO's unique double-sided Business Cards let you showcase up to 50 different photos in one pack of cards. MOO is offering every Shutterbug reader a 'trial pack' of 50 Business Cards for FREE (just pay $6 shipping)!


The Raw Facts About Infrared
Processing Digital Infrared Raw Files Using Adobe Camera Raw
by Joe Farace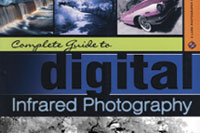 One of the best ways to squeeze the maximum image quality from your digital infrared files is to first capture them in your camera's Raw format and process them in your favorite Raw software. In my case that's Adobe Camera Raw (ACR) that's part of every recent copy of Photoshop and Photoshop Elements, so even if you're using Adobe's inexpensive image-editor you'll have access to the same tools. I use this product for a few simple reasons: As a Photoshop user it's already part of the software that I use every day and doesn't cost extra. When working on the first edition of "Raw Workflow: From Capture To Archive" (www.focalpress.com) I tried other Raw processing programs and found that ACR produced results consistent with the goals I am trying to achieve with my digital infrared photography. You may have different goals and may require different software, but for those of you who want to try the simple steps I use with Adobe Camera Raw to produce the digital infrared images you see in Shutterbug and my books, read on.
Get The Full Story


Vote!
Increasingly, makers of new D-SLR cameras are touting the video benefits of their cameras as much as the still features. How much do video features count if you were to be in the market for a new D-SLR?
Please comment briefly on your experience with video with a D-SLR.

Crafting the Black and White Digital Print: George Schaub
April 12-16, Santa Fe Photo Workshops, Santa Fe, NM
Cavecreek Photographic Workshops
Courses offered each month. Contact: Alan Lowy's Cavecreek Photographic Workshops, 2135 E. Gaffney Road, Phoenix, AZ 85087, 623-465-1077, website: www.cavecreek-photo.com.


2010 World Press Photo Contest
World Press Photo invites professional photographers and photojournalists from around the world to enter the 53rd World Press Photo contest.


Adorama Photography Workshops
Various courses offered each month. Contact: Adorama, 800-223-2500, website: www.adorama.com/catalog.tpl?op=WS_List.


John C. Campbell Folk School
Looking For Light. Free catalog with course descriptions. Contact: John C. Campbell Folk School, One Folk School Road, Brasstown, NC 28902, 800-Folk-SCH, website: www.folkschool.org.



If you would prefer not to receive future communications from Shutterbug, . You may also reach us by writing to the following address: Source Interlink Media, Inc., 261 Madison Avenue, New York, NY 10016 Att: Privacy Coordinator.
Privacy Policy
.
Copyright SOURCE INTERLINK MEDIA™ All Rights Reserved
1415 Chaffee Drive, Suite 10 | Titusville | FL | 32780