February 24, 2009

In This eNewsletter:
Commentary – Imaging Companies Seem Intent to Continue to Stir the Pot
Industry Perspective – Positive Outlook for Digital Camera Sales
What's New This Month – Jobo, Leica, Wilhem, Serif, and More
How-To – Objective And Subjective Exposure
Vote! – Comment on what criteria you would use to consider upgrading your gear in the coming year.
Workshops – Learn and Show
Shutterbug Forums – Your Photo & Digital Imaging Source

This ENewsletter Brought To You By:

Imaging Companies Seem Intent to Continue to Stir the Pot
by George Schaub

As I pack my bags to head off to the PMA show in Las Vegas that starts March 3, I wonder how many new products and technological advances will be announced this time around. It might seem with the economy the way it is that the pace of development will slow. But that doesn't seem to be the case. The pace of change in photography has been breathtaking, with photographers wondering when it will relent. Guess what—it won't, or it won't as much as you or I might expect.

As competition on all levels and product lines continues to grow, the idea seems to be that the survivors will reap the benefits down the road when things improve. That's why you can set your clock on when software will move to the next version (give or take eighteen months) and make a safe bet that the megapixel and sensor size ping pong match will keep being played. Even with some consolidations and buyouts in the works there still will be new players who see enough gold in the digital hills to keep the momentum going.
Get The Full Story


Photoshop and NAPP go together like milk and cookies. For just 25¢ a day, you can learn how to make all those cool effects only Photoshop can do. No matter your skill level or what version of Photoshop you use, NAPP can help. Join today and get a FREE DVD!




Positive Outlook for Digital Camera Sales
by Ron Leach, Publisher

Despite the dismal world-wide economic outlook, prospects for continued growth in the digital camera market seems remarkably strong—especially as compared to predictions for other consumer-related industries. Recent data from the Camera & Imaging Association (CIPA) in Tokyo indicates that the total shipment of digital cameras in 2008 exceeded the level of 2007 when shipments broke the 100 million mark for the first time since CIPA began compiling this data. There was significant year-over-year growth in shipments of both SLR cameras (an increase of 29.7%) and digital fixed-lens cameras (an increase of 18.5%).
Get The Full Story
Objective And Subjective Exposure

by George Schaub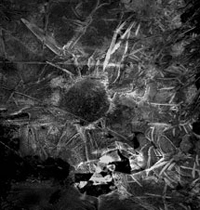 This is an excerpt from our new Petersens Photographic quarterly publication, which is a newsstand-only magazine still on newsstands today. Every three months a new edition will be available, with our next topic being "Composition." Look for it at a newsstand near you. You can also check out some other articles from the premier issue at www.photographic.com.

Not all photos need to contain every tonal value the photographer observes or that exist in a scene. Some tunes are best played with a smaller range of notes. One technique often used by experienced photographers is to first record all the tones possible and then edit out, or obscure some later. Indeed, some of the best photographs reveal some of the tones while hiding or darkening others, thus guide the viewer's eye according to the photographer's artistic pleasure, or even whims. That's the difference between the objective exposure, which strives to gather and record all the values and colors in a scene, and a subjective, or expressive exposure, which manipulates tonal values and color for certain aesthetic ends. If you ever have a chance to look at a master photographer's negatives, such as Ansel Adams, you'll see a considerable difference between the original negative and the resultant print.
Get The Full Story



Vote!
If you hear about a new camera, lens, printer etc. that you think will dramatically improve your work, would you consider purchasing same in the coming year?
Briefly comment on what criteria you would use to consider upgrading your gear in the coming year.


Private Film Or Digital Workshops With Steve Anchell
Salem, 1-day, weekend, or 5-day workshops. Contact: Anchell Photography Workshops, 503-375-2163, website: www.anchellworkshops.com.


John C. Campbell Folk School
Looking For Light. Free catalog with course descriptions. Contact: John C. Campbell Folk School, One Folk School Road, Brasstown, NC 28902, 800-Folk-SCH, website: www.folkschool.org.
•
Newsletter Feedback
Let us know what you think about our Newsletter. Please send your comments to:
editorial@shutterbug.com
If you would prefer not to receive future communications from Shutterbug, . You may also reach us by writing to the following address: Source Interlink Media, Inc., 261 Madison Avenue, New York, NY 10016 Att: Privacy Coordinator.
Privacy Policy
.
Copyright SOURCE INTERLINK MEDIA™ All Rights Reserved
1419 Chaffee Drive, Suite 1 | Titusville | FL | 32780