January 25, 2011
In This eNewsletter:

• How-To – Seeing Pictures: Negative Space
• Industry Perspective – Is This the Camera Platform of the Future?
• What's New This Month – onOne, Kubota, Tamrac, Phase One, and Westlicht
• How-To – Perfect Exposure
• How-To – Seeing Pictures: "Soft" Foregrounds
• Vote! – Comment briefly on your experience with smart phone photography.
• Workshops – Learn and Show
• Shutterbug Forums – Your Photo & Digital Imaging Source

This eNewsletter Brought To You By: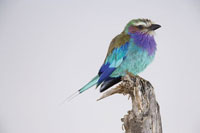 • Seeing Pictures: Negative Space
What's Not There
by Jim Zuckerman

The concept of negative space has to do with compositional balance. Negative space simply means an area of an image that is largely devoid of subject matter. In other words, it's a blank area like the sky, an expanse of plaster, the surface of a body of water, etc. The white sky behind the lilac-breasted roller is considered negative space.
Get The Full Story






• Is This the Camera Platform of the Future?
by Ron Leach, Publisher

Industry expositions like the recently concluded Consumer Electronics Show are exciting for consumers as well as for those of us on the "inside" because they often provide a venue for the unveiling of innovative hardware and software that we'll be testing and reporting on over the coming weeks and months. At the same time that our writers and editors are familiarizing themselves with all the new product introductions, however, they are also mindful of the longer view-asking themselves what new technologies and developments could shape the state of photography in the future.
Get The Full Story





• onOne Perfect Photo Suite 5.5
Tackling specific problems within a photographer's preferred workflow, the Perfect Photo Suite 5.5 offers simple yet powerful solutions for color correction, image resizing, masking and professional photographic effects in one affordable package.

• Kubota Lensbaby Image Enhancing Tools
Kubota Image Tools announced it has created the new Kubota Creative Tools - The Lensbaby Pak, specially designed to enhance the artistic effects created with Lensbaby optics.

• Tamrac Rally 5 Bag
The Rally 5 bag provides a method of carrying camera gear, accessories, and a laptop, without advertising what's inside, allowing you to carry your photo equipment safely and discreetly.

• Phase One Releases Capture One 6
Phase One released Capture One 6, its most advanced professional raw conversion and image editing software. Its incredible flexibility ensures the utmost in creative control, while delivering uncompromising image quality.

• Results At The 18th Westlicht Camera Auction
After a bidding battle between two collectors the auction highlight, a rare Leica MP2 from 1958 with a starting price of 80,000 EUR, was sold for incredible 402,000 EUR (incl. premium).




Introducing the David Busch Camera Companion App for the Rebel T2i/550D! You'll find select, rich content from the guide, as well as new, dynamic multimedia elements in a searchable, portable format that gives you all the information you need while you're using your camera on-the-go. Available now for $14.99!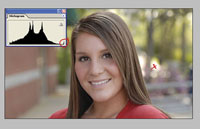 • Perfect Exposure
The Histogram Is Your Best Friend
by Steve Bedell

There are three things that constitute a "perfect" digital file. Perfect exposure, accurate white balance, and a controlled brightness range. In this article, we're going to focus on the first—perfect exposure. And in the process, we're going to spend a lot of time giving you a much better understanding of just what those spiky graphs on the back of your camera mean.
Get The Full Story




• Seeing Pictures: "Soft" Foregrounds
A High Tech Solution To A Visual Dilemma
by Jim Zuckerman

When foreground elements are soft, they are visually annoying. In nature, we want to see and appreciate all of the beautiful detail and texture in the subject. When the part of the composition that is closest to the camera, and therefore very prominent, is out of focus, our eye keeps going there in the hope of seeing sharp detail, but it can't bring that part of the image into focus. The blurred portion of the image keeps tugging at our attention instead of allowing us to enjoy the rest of the frame. It is best in these circumstances to use more depth of field. Soft backgrounds are ideal in many cases, but soft foregrounds should usually be avoided.
Get The Full Story







• Vote!
With more and more people using iPhones and so-called "smart" phones to make images, have you worked with the various apps for processing and sharing? Do you see this as a valid form of imaging and something you'd like to see covered in Shutterbug?
Please comment briefly on your experience with smart phone photography.







• Digital Black And White Workshop With George Schaub
Learn about exposure, camera settings, processing and printing workflow in a week long workshop that includes location shooting, processing and critiques. Contact: George Schaub, website: www.santafeworkshops.com.

• Black and White Printing
A three-day intensive course in the art and craft of digital black and white printing with George Schaub Feb 17-19, Palm Beach Photo Centre.

• Digital Photo Workshop Cruise
Digital Photo Workshop Cruise to the South Pacific. Two weeks in April 2011 from Tahiti to ten French Polynesian Islands on a luxury cruise ship with top pros on board. Attendee images will be published in a fine arts book. 1-800-652-2267.

• Cavecreek Photographic Workshops
Courses offered each month. Contact: Alan Lowy's Cavecreek Photographic Workshops, 2135 E. Gaffney Road, Phoenix, AZ 85087, 623-465-1077.

• Adorama Photography Workshops
Various courses offered each month. Contact: Adorama, 800-223-2500.



Metal Prints
by Black River Imaging
Metal Prints provide a durable, edgy presentation sure to excite any client.
Choose from two unique printing styles: Vibrant and Metallic Fade.
www.blackriverimaging.com



•Newsletter Feedback
Let us know what you think about our Newsletter. Please send your comments to:
editorial@shutterbug.com
• To Change Your email Address
Please send your request to: Allyson.Fischgrund@sorc.com


If you would prefer not to receive future communications from Shutterbug, . You may also reach us by writing to the following address: Source Interlink Media, Inc., 261 Madison Avenue, New York, NY 10016 Att: Privacy Coordinator. Privacy Policy.

Shutterbug Home Page • Print & Web Media Kit • Contact Us

Copyright SOURCE INTERLINK MEDIA™ All Rights Reserved

1415 Chaffee Drive, Suite 10 | Titusville | FL | 32780