January 27, 2008

In This eNewsletter:
Commentary – Bringing It All Back Home
Industry Perspective – Good News From Apple
What's New This Month – Adobe, DxO, Zacuto, onOne, and More
Test Report – Fujifilm Instax 200
Vote! – If a good, family oriented digital camera were made here in the US would you try your best to buy one?
Workshops – Learn and Show
Shutterbug Forums – Your Photo & Digital Imaging Source

This ENewsletter Brought To You By:

Bringing It All Back Home
by George Schaub

Can Anyone Make a Camera Here in the Good Ol' USA?

Can you name the last camera made here in the USA? I have been at this game for a while and am hard pressed to come up with an answer. You might think it was a Kodak, but they gave up the work years back when they outsourced their digital camera manufacturing to Flextronic, a Singapore based company with manufacturing lines in various developing countries. You might guess Polaroid, but they outsourced their manufacturing many years back, and they now exist in licensed-brand name only. You might guess Zone VI (now that's an obscure reference), which I know made hand-built wooden 4x5 cameras in Vermont back when Fred Picker was in charge. In fact, aside from some accessory and strobe manufacturers, the only thing photographic that remains manufactured here in the States is film.
Get The Full Story


PMA 2009 is the ultimate event for everything photo. You'll find high-margin products from hundreds of exhibitors; get practical ideas to strengthen your business; and network with colleagues, vendors and suppliers – all under one roof. And for a limited time, bring a friend and save $299.




Good News From Apple
by Ron Leach, Publisher

Most of the news about Apple these days has to do with the health of the company's Co-Founder and visionary Steve Jobs. In fact, much of the buzz at the recent Macworld Conference and Expo in San Francisco concerned the absence of Jobs and the news that Apple won't be participating in the event next year.
Get The Full Story



Fujifilm Instax 200
The Instant Camera Alternative

by George Schaub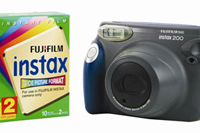 When Polaroid dropped out of the instant camera business it left lots of Polaroid camera owners holding the (camera) bag. Without the dedicated film, Polaroids became instant paper weights, interesting items for the MOPO (Museum of Photographic Obsolescence.) When Fujifilm recently announced they would be bringing instant film to our shores—they held the rights to make instant film in Japan—there was a quick glimmer of hope among Polaroid users that was quickly extinguished once it became clear that the instant film Fujifilm was introducing was proprietary to their camera alone. Nevertheless, here was an instant film system for those who just had to have their images developed on the spot.
Get The Full Story



Vote!
If a good, family oriented digital camera were made here in the US would you try your best to buy one?
Please comment briefly on this topic.




Private Film Or Digital Workshops With Steve Anchell
Salem, 1-day, weekend, or 5-day workshops. Contact: Anchell Photography Workshops, 503-375-2163, website: www.anchellworkshops.com.


John C. Campbell Folk School
Looking For Light. Free catalog with course descriptions. Contact: John C. Campbell Folk School, One Folk School Road, Brasstown, NC 28902, 800-Folk-SCH, website: www.folkschool.org.


•
Newsletter Feedback
Let us know what you think about our Newsletter. Please send your comments to:
editorial@shutterbug.com
If you would prefer not to receive future communications from Shutterbug, . You may also reach us by writing to the following address: Source Interlink Media, Inc., 261 Madison Avenue, New York, NY 10016 Att: Privacy Coordinator.
Privacy Policy
.
Copyright SOURCE INTERLINK MEDIA™ All Rights Reserved
1419 Chaffee Drive, Suite 1 | Titusville | FL | 32780