August 28, 2012

In This eNewsletter:

• How-To – Digital Infrared With Micro Four Thirds Cameras
• Industry Perspective – Camera phones or Phone Cameras?
• What's New This Month – Samsung, Harman, ScanDigital, SeaLife, and Polaroid
• How-To – Quick Tip
• How-To – Send Your Photographic Spirits Flying
• Vote! – A number of companies offer so-called "tough" weatherproof/waterproof cameras.
• Workshops – Learn and Show
• Shutterbug Forums – Your Photo & Digital Imaging Source

This eNewsletter Brought To You By:




• Digital Infrared With Micro Four Thirds Cameras
We Use An Olympus Pen For Digital Infrared Capture
by Joe Farace

A typical digital camera's sensor sees a range of light in wavelengths from approximately 350 to 1000 nanometers. A nanometer (nm) is a metric unit of length equal to one billionth of a meter. Your eyes usually see a range of light from approximately 400 to 700 nanometers. Most digital cameras place a low pass filter directly in front of the imaging sensor to allow low frequency light visible to the human eye to pass through to the sensor. It blocks unwanted light from the infrared and ultraviolet spectrums (the high end and the low end wavelengths) from polluting a photograph's color. As owners of early Leica M8 cameras quickly discovered, this piece of glass is very important for maintaining maximum color fidelity.

Get The Full Story



Around the World with Adobe® Photoshop® Lightroom® 4. Win a photo expedition to Thailand. Share your best shot for the chance of a lifetime. Submit your photo.

Submit your photos




• Camera phones or Phone Cameras?
by Ron Leach, Publisher

For the past few years we've watched the popularity of camera phones grow exponentially, as devices on the Android and Apple iOS platforms have offered more and more features, higher resolution cameras, and the ability to download a myriad of both free and paid apps of interest to photographers and the general consumer.

Get The Full Story



Join us for a Hands-on Photography Workshop: Lighting, posing, and shooting instruction and mentoring from some of the best shooters in the world. Live sessions with models, shoot and demo the latest equipment and gear. Coming to 40 cities in September and October. Use code: SBM12 for discount ticket.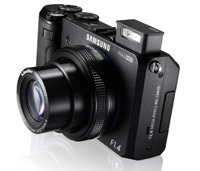 • Samsung Smart Camera EX2F
Samsung Electronics Co., Ltd has announced the launch of the EX2F, the latest model in its growing range of Wi-Fi-enabled Smart Cameras. Following the success of the EX1 with F1.8 lens, the new model is engineered to deliver super-bright photography thanks to its F1.4 lens, the brightest in any compact camera. The high image and video quality of the EX2F also comes with the advantage of being able to store and share images remotely using Wi-Fi functionality. Encompassing Full Manual Control in a strong but lightweight body, the EX2F is ideal for DSLR-owners looking for more portable equipment to capture images spontaneously and subtly, and for photographers looking for a step-up in quality from their point-and-shoot whilst retaining ease-of-use and portability.

• Fine Art Stamp Of Authenticity
HARMAN helps photographers and collectors identify images created on black and white real silver gelatin fine art photographic paperswith the introduction of stamps that can be used to certify the origin.
All packs of ILFORD PHOTO black and white fibre base paper will now include a set of 18 stamps intended to help photographers market their work as a genuine silver gelatin fine art print.

• Colorado Wildfires Motivates Memory Preservation Efforts
ScanDigital.com announced a nationwide campaign aimed towards assisting Colorado residents affected by the recent wildfires. With over 30,000 people evacuated, and more than 300 homes already destroyed by the fires, this tragedy has become a national focus. The magnitude of the event coupled with ScanDigital's personal connection to Colorado compelled the Company to do something to help the impacted communities.

• SeaLife Fisheye Wide Angle Lens
The SeaLife Fisheye Wide Angle Lens allows the underwater photographer to come very close to the subject and capture all of its amazing surroundings by increasing the field of view by an astounding 80 percent. With its universal-fit design, it quickly and easily snaps onto any SeaLife DC-series camera for breathtaking seascape images, and it creates a 16mm effective focal length when attached to the DC1400 digital underwater camera. That's an increase from 61 degrees to 111 degrees with the Fisheye Wide Angle Lens attached to the DC1400. On the DC1200, you can almost instantly increase your standard 44-degree field of view to 86 degrees.

• Polaroid Z2300 Instant Digital Camera
Polaroid introduces the Z2300 instant digital camera, the newest addition to the Polaroid instant digital camera line. The Z2300 features an integrated printer with ZINK Technology, enabling users to instantly capture, edit and in less than a minute print full color, 2x3" prints. Along with the ability to easily upload images to any social media platform, the Z2300 combines a compact form factor with a host of fun, easy-to-use features to create the ultimate social media machine. The camera is available in white and black and houses a 10 megapixel image sensor. The large 3.0" LCD display makes it easy to frame and review images and capture video in virtually any setting.


Check out the latest Adobe Photoshop CS6 video tutorials from Photoshop hall-of-famer Martin Evening, including "Panorama Photo Stitching Using the Adaptive Wide Angle Filter and Photomerge in Photoshop® CS6". Martin's bestselling Adobe Photoshop CS6 for Photographers is available from Amazon, Barnes & Noble and fine retailers everywhere!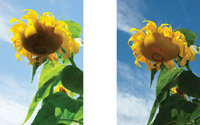 • Quick Tip
Fill Flash For Contrast Control
by George Schaub

Fill flash can be used for a quick fix for contrast problems that can be solved without further image processing. It is a powerful aid that can even trump today's in-camera or post-process heightening of shadow detail. It can handle the problem with one exposure, and not rely on HDR or other curve adjustment tricks. Keep in mind that the sensor in your camera has a certain dynamic range that cannot be expanded even with such processing magic, and with too much work on the shadows some noise may creep in.

Get The Full Story



Registration is now open for the 2012 PDN PhotoPlus International Conference + Expo brought to you by The Nielsen Photo Group. Please join us at the Javits Convention Center in New York City, October 24-27, for the ultimate experience in photography, video and digital imaging.


• Send Your Photographic Spirits Flying
Aviation Photography, Made Easy
by Moose Peterson

Aviation photography is on the rise, literally and figuratively. There are many reasons for this, from the ease and small expense of getting involved to the excitement and subject matter. I think it's also because it's a way we can all get in touch with our own history.

Get The Full Story







• Vote!
A number of companies offer so-called "tough" weatherproof/waterproof cameras.







• Digital Photography Workshop
Cruise Canada and New England in October. Contact: Patty, 800-652-2267

• AdoramaTV Watch, Learn , Create
We'd like you to know that our friends at Adorama have an exciting new resource that's a key part of their photographic education initiative. See host, Mark Wallace, present how-to videos for everyone from snapshooters to enthusiasts to professional photographers, plus product reviews, interviews with today's top professional photographers, and reviews of iPad apps. AdoramaTV is the newest part of the Adorama Learning Center, which has thousands of photo-related how-to articles, product reviews and buying guides. New videos are added daily. Visit us today and ignite your passion…

• Cavecreek Photographic Workshops
Courses offered each month. Contact: Alan Lowy's Cavecreek Photographic Workshops, 2135 E. Gaffney Road, Phoenix, AZ 85087, 623-465-1077.

• Adorama Photography Workshops
Various courses offered each month. Contact: Adorama, 800-223-2500.





•Newsletter Feedback
Let us know what you think about our Newsletter. Please send your comments to:
editorial@shutterbug.com

• To Change Your Email Address
Please send your request to: zachary.rizzuto@sorc.com


If you would prefer not to receive future communications from Shutterbug, unsubscribe here. You may also reach us by writing to the following address: Source Interlink Media, Inc., 261 Madison Avenue, New York, NY 10016 Att: Privacy Coordinator. Privacy Policy.

Shutterbug Home Page • Print & Web Media Kit • Contact Us
Copyright SOURCE INTERLINK MEDIA™ All Rights Reserved
1415 Chaffee Drive, Suite 10 | Titusville | FL | 32780