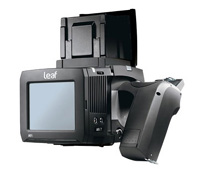 Leaf AFi Medium-Format Digital Camera
Leaf has announced the new Leaf AFi – a next-generation, medium-format digital camera.
Wintec Chosen by Eye-Fi for World's First Wi-Fi Memory Card Manufacturing for Digital Cameras
Wintec Industries, Inc. has been chosen by Eye-Fi, Inc. to manufacture the world's first wireless memory card for digital cameras..
Sony's Latest Camera Holds 40,000 Photos
Sony's new mega-capacity Cyber-shot® DSC-T2 digital camera is an 8-megapixel model that features 4GB of internal memory and can store up to 40,000 VGA-quality photos.
Interfit– 5 In 1 Reflector Kit
Interfit is pleased to announce the arrival of a simple solution for handling the remarkable qualities of reflected light out in the field or in studio environments.
onOne Software Announces Essentials 2 for Adobe Photoshop Elements
onOne Software, Inc., has announced the availability of Essentials 2 for Adobe Photoshop Elements.
Adorama's Affordable Carbon Fiber Tripods
Adorama has announced its new series of reasonably priced Flashpoint carbon fiber tripods.
Phase One and Mamiya Digital Imaging Form Strategic Alliance
Phase One A/S and Mamiya Digital Imaging Co., Ltd. today announced a strategic alliance to develop innovative, open platform-based medium format digital camera systems and solutions for professional photographers.