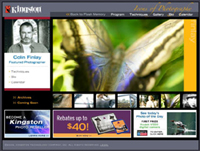 Award-Winning Documentary Photographer Colin Finlay Shares Techniques To Master Available Lighting
Kingston recognizes the importance of educating and informing photographers of all levels and is proud to offer its Icons of Photography.
REALVIZ Stitcher Unlimited 5.5 DS Includes 2-Shot Fisheye Stitching
REALVIZ is pleased to announce the availability of Stitcher Unlimited 5.5 DS ("Double Shot"), which offers the ability to automatically stitch 2-shot fisheye photos.
ATP Class-6 ProMax SDHC 4GB Memory Card
ATP Electronics Inc. has announced the release of a Class 6 ProMax SD High Capacity SDHC 4GB memory card.
Tamron's Pro Learning Center Puts How-To Videos On Your iPod
If a picture is worth 1,000 words, a how-to video must be as good as a book, especially if it compresses the knowledge contained in a 45-minute lecture into a concise, well-focused, viewer-friendly 4-minute format you can download to your iPod or computer and view again and again.
liveBooks 5.0 Portfolio Website
The new liveBooks 5.0 software builds on the intuitive navigation and professional aesthetic of its predecessor by adding new navigation options, website styling options, and features such as: slideshow movies, HTML gallery presentations, music upload, integration with other web services, and a robust shopping cart for selling prints.