November 30, 2010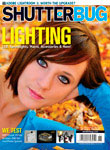 In This eNewsletter:
• How-To – Faux Infrared
• Industry Perspective – Wearable Cameras for the Masses
• What's New This Month – Tenba, Pluxtek, Black Widow, Andy Biggs, and Sigma
• How-To – Three Stages Of Macro Photography
• How-To – Metering Patterns
• Vote! – Comment on your experience with GPS devices and integration with software like Google Earth and iPhoto.
• Workshops – Learn and Show
• Shutterbug Forums – Your Photo & Digital Imaging Source
This eNewsletter Brought To You By: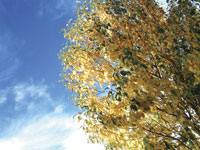 • Faux Infrared
Plug-Ins And Actions That Do The Job
by Joe Farace
Capturing digital infrared images using the appropriate filter or a camera that's been converted for IR capture can be lots of fun, but what about that huge library of film and digital shots you already have? With just a little bit of digital darkroom magic many of them would make great IR shots. Here are a few tips, tricks, and techniques for converting conventional— non-infrared—images using plug-ins and actions into what might be called faux IR.
Get The Full Story


Photobacks offers incredible collections of Photoshop Templates, Digital Backgrounds and Actions, perfect for portraits, Holiday Cards, Photo Books, weddings, seniors, and much more! Simply drag and drop your photos into our fully layered, customizable Photoshop templates. Print anywhere you choose! Save 50% on our complete packages today at www.photobacks.com!


• Wearable Cameras for the Masses
by Ron Leach, Publisher
Once solely the purview of those engaged in espionage, tiny wearable cameras have gone mainstream in the digital age and are now attracting attention by extreme sports enthusiasts, law enforcement professionals, soccer moms, medical practitioners and the general consumer.
Get The Full Story
Control your color from shoot to edit with Datacolor's New SpyderCheckr. You'll be amazed at how easy it is to get accurate predictable color right from the first shot all the way through to final prints! Learn more at www.datacolor.com. Plus, friend Spyder on Facebook and be the first to get updates on new products, like the SpyderCheckr, and education webinars and videos!
• Tenba Expands Messenger Collection
Tenba announced that it has expanded its urban-inspired Messenger collection to include a new Mini Photo/Laptop Bag and Small Camera Bag.
• Plustek Announces Film And Print Scanner
Plustek Technology Inc., is pleased to announce its extension in the photographic scanner arena with the launch of the Plustek OpticPro ST64+, a high performance film, slide and photo scanner.
• Andy Biggs Designed Gear Bags
Inspired by his extensive travel and career in wildlife photography, outdoor photographer Andy Biggs has launched Gura Gear; an innovative line of camera bags designed to help photographers get the perfect shot.
• Black Widow Camera Holster
Spider Holster, a company specializing in unique holster-style carrying solutions for photographers, today announced its new Spider Holster Black Widow Camera Holster, which offers entry-level DSLR camera users comfort and security combined with quick-draw access.
• Sigma 85mm F1.4 EX DG HSM Lens
Sigma Corporation of America is pleased to announce that the company's 85mm F1.4 EX DG HSM lens is now available for purchase in the United States for the MSRP of $1,400 and the estimated street price of $899.
Rogue FlashBenders are a system of unique shapeable light modifiers for shoe mount flash that enable unparalleled lighting control for small strobe lighting enthusiasts. FlashBenders' unique, patent pending design offers total freedom of form by providing complete control over the shape of the reflector. For more information visit www.expoimaging.com.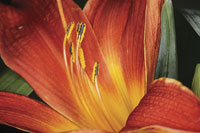 • Three Stages Of Macro Photography
When You Want To Get Up Close And Personal
by Joe Facace
I often hear people saying, "There's nothing to photograph!" but what they usually mean is that there are no beautiful blue skies filled with puffy clouds or they're not on the beach at Cancun. I wish I was in Mexico right now, but if you take the time to look there are great photographs all around just waiting to be captured. One of the least obvious photo ops is getting up close and personal with your subject and making macro images.
Get The Full Story
All Metal Prints are now on sale through December 31, 2010.
This includes Oval and Circle Metal Prints, Split Image Metal Prints and single Metal Prints! Metal Prints provide a durable, edgy presentation sure to excite any client. Choose from two unique printing styles: Vibrant and Metallic Fade.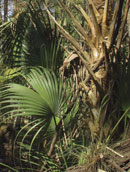 • Metering Patterns: Center-Weighted Averaging
A Quick Lesson On An Often Ignored Metering Pattern
by George Schaub
When light is directional—not over the shoulder and not the same brightness throughout the frame—try center-weighted averaging metering. The key is to aim the camera at an area that incorporates the brightest part of the scene but does not exclude other brightness levels. You then lock exposure using the automatic exposure lock button, recompose and shoot. I like this metering pattern because first it forces me to consider the way light falls in the scene and second because it helps me make exposure decisions based on how I want to interpret the scene. It is a very personal way to read light thus creates more engagement with the whole process.
Get The Full Story
With Bowens Gemini lighting there is no compromise on quality. The compact Gemini 500R features solid metal construction and the tough build quality for which Bowens is famous world-wide. Quality digital flash from only $579.99. Super-value kits available too. Only Bowens offer; Power, True portability and ultimate durability.

• Vote!
GPS is showing up in more and more cameras of late. The newest manifestation does not require any add-on devices or hot-shoe plug-ins, but comes integral to the camera body. Would the inclusion of GPS sway you favorably towards one camera or another. all else being fairly equal except a slight bump in price?
Please comment briefly on your experience with GPS devices and integration with software like Google Earth and iPhoto.

• John C. Campbell Folk School
Looking For Light. Free catalog with course descriptions. Contact: John C. Campbell Folk School, One Folk School Road, Brasstown, NC 28902, 800-Folk-SCH.
• Adobe Photoshop Lightroom Workshop
Lightroom Workshops, a series of 40 + two-day Adobe Photoshop Lightroom application intensives are being offered throughout the United States, Australia, UK, and Canada in 2010.
• Cavecreek Photographic Workshops
Courses offered each month. Contact: Alan Lowy's Cavecreek Photographic Workshops, 2135 E. Gaffney Road, Phoenix, AZ 85087, 623-465-1077.
• Adorama Photography Workshops
Various courses offered each month. Contact: Adorama, 800-223-2500.
Bay Photo has the Holiday Cards that will impress your clients!
Choose from a wide range of Holiday Cards on card stock or photo paper. Use our exclusive FREE templates or create your own! Large variety of premium paper surfaces and options, including 6-Color Printing and Envelope Imprinting.


•Newsletter Feedback
Let us know what you think about our Newsletter. Please send your comments to:
editorial@shutterbug.com
• To Change Your email Address
Please send your request to: Allyson.Fischgrund@sorc.com


If you would prefer not to receive future communications from Shutterbug, . You may also reach us by writing to the following address: Source Interlink Media, Inc., 261 Madison Avenue, New York, NY 10016 Att: Privacy Coordinator. Privacy Policy.

Subscribe to our other eNewsletter:
Home Theater

Shutterbug Home Page • Print & Web Media Kit • Contact Us

Copyright SOURCE INTERLINK MEDIA™ All Rights Reserved

1415 Chaffee Drive, Suite 10 | Titusville | FL | 32780