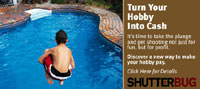 Turn You Hobby Into Cash
It's time to take the plunge and get shooting not just for fun, but for profit. Dicover a new way to make your hobby pay.
New Kodak Professional T-MAX 400 Black-and-White Film
Eastman Kodak Company enhances its black-and-white professional film portfolio with the introduction of an improved Kodak Professional T-MAX 400 Film.
Pentax Optio A40 With 12 Megapixels, 3 Inch Monitor
Pentax Imaging Company has announced the Pentax Optio A40, the latest model in the Optio A series of advanced compact digital cameras with superior image quality and performance.
DxO Optics Pro v5 Software Featuring a RAW Engine
DxO Labs has announced DxO Optics Pro v5, the latest version of its flagship software application for automatic image quality enhancement for Digital SLR camera users.
ACDSee 10 Photo Manager
ACD Systems International Inc. has unveiled ACDSee 10 Photo Manager, the latest update to its photo organization and sharing software.
JOBO GIGA One Ultra Image Storage Device
JOBO AG has announced the new GIGA one ultra portable image storage device featuring an ultra quick download speed of up to 5.47 MB per second and 1 GB of data in about three minutes.
SanDisk 8GB SDHC Card
More capacity and fast transfer speeds are the chief benefits of the SanDisk Extreme® III 8-gigabyte SDH (SD High-Capacity) flash memory card.