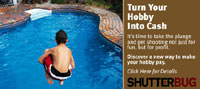 Turn You Hobby Into Cash
It's time to take the plunge and get shooting not just for fun, but for profit. Dicover a new way to make your hobby pay.
Epson Launches PictureMate Dash and PictureMate Zoom
For people who want a quick and easy way to print stacks of durable, professional quality photos, Epson America Inc. is launching its newest line of compact photo printers.
Shutterbug Learning Center
The Shutterbug Co-Op is a compilation of resources gathered by the Editors that allow you one-click access to an array of software free trail software, how-to tutorials from a variety of manufacturers and other information of interest to photographers.
Wacom's Bamboo Pen
Wacom Technology Corp. has introduced Bamboo, an all new family of pen tablets.
Distagon T* 2/28 SLR Lens from Carl Zeiss
The Zeiss Distagon T* 2/28 is a new, high-speed, wide-angle lens complementing the line of advanced SLR lenses from Carl Zeiss.
BenVista Releases PhotoArtist 2
BenVista has announced the release of PhotoArtist 2, software for creating picturesque artwork based on digital photos.
Ilford Launches Galerie Gold Fibre Silk For Inkjet Printing
In line with the market transition from the darkroom to the digital arena, Ilford set itself the benchmark of producing the equivalent of a classic air-dried, gloss, black and white fiber based silver image print using current inkjet digital technology.