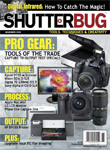 In This eNewsletter:

Camera Review - Impressions and Images: Panasonic DMC-L1 DSLR

Industry Perspective - Back to the Future

What's New This Month - Adobe, Phase One, Think Tank, Delkin, DxO

First Look- Canon Digital Rebel XTi

Vote! - In-Camera Processing

Workshops & Contests - Learn and Show

Shutterbug Forums - Your Photo & Digital Imaging Source

Impressions and Images: Panasonic DMC-L1 DSLR
by George Schaub


The Panasonic DMC-L1 DSLR is Panasonic's first digital single lens reflex camera. Priced at just under $2000 with a Leica D Vario Elmarit f/2.8-3.5 14-50mm zoom lens (equivalent to 28-100mm in 35mm format) and 7+ megapixel sensor, it is a member of the Four/Thirds family. That allows you to use any lens from the Olympus and Sigma 4/3 mount offerings on the camera as well. It uses SD cards, and takes the newest SDHC cards with greater storage capacity. And the Leica lens uses Panasonic's OIS (optical image stabilization) that helps you get steady shots in two to three less stops of light than usual when shooting handheld. The body also has a Live View mode similar to the feature found in Olympus' recent DSLRs.
What I really like about the Panasonic is that it takes a slightly different tack than other DSLR cameras, and seems proud of the road less traveled. It has two auto exposure modes—aperture and shutter priority, but that's not exactly what they seem to encourage. This is a camera with a mixed bag of tricks, one that had me shooting mostly in manual mode, something I hadn't done for years, but which I enjoyed. The shutter speed is controlled via a dial surrounding the shutter release; aperture is controlled by click stops on the lens itself with 1/3 stop indents. If you want to shoot in AV or TV you set either of those controls to "A" and then the camera will handle the exposure using spot, center-weight averaging or it's evaluative (multiple) system. I used the multiple in manual mode for most of my shots.
Get The Full Story