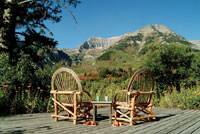 Pulitzer Prize-winning photojournalist brings her amazing, true story—and images—to the Sundance Photographic Workshop
Confronting hostile soldiers, armored tanks, food poisoning, 104 degree fever and the overwhelming misery of African refugees while on assignment in 1997, photojournalist Martha Rial encountered—and captured—human and social cataclysm on an unimaginable scale.
John Paul Caponigro and Mac Holbert To Host Encore "Fine Art of Digital Printing" Workshop
Epson America Inc. has announced that John Paul Caponigro and Mac Holbert, two of the pre-eminent leaders in digital photography and fine art printing, are joining forces to conduct the "Fine Art of Digital Printing" workshop for a second time in the state-of-the-art digital printing labs of Brooks Institute of Photography. Offered due to the overwhelming response to their first joint session in June, the encore workshop Oct. 29-Nov. 2 in Santa Barbara, Calif., will provide one-on-one instruction with access to today's leading digital printing technology.
Artistry Retreats Celebrate 4th Anniversary with Move to Paradise
Starting with the upcoming Artistry Retreat and The Artistry GARTEL Marketing Seminars September 24-28, 2007, the Artistry Retreats' 4th anniversary, photographers will not only learn techniques for creating paintings from photos and marketing them, but will also be privileged to bask in the spectacular views of the Pacific Ocean from the world-class luxury of the Villa Graziadio Executive Center at Pepperdine University, nestled in the tranquil Santa Monica mountains in exquisite Malibu, California.
Kubota Image Tools Announces Spring 2008 Digital Photography Bootcamp Workshop
Kubota Image Tools is pleased to announce its 15th Digital Photography Bootcamp workshop April 20-25, 2008. Bootcamp, taught by renowned photographer Kevin Kubota, is a 5-day workshop for professional photographers designed to supply all of the technical know-how to run a successful digital portrait/wedding studio; at the same time, it encourages continued development of a photographer's unique style and creativity.
Photographer/Publisher Andrew Hudson teaches "Successful Self-Publishing" at Sundance Photographic Workshop
Awarding-winning photographer and accomplished self-publisher Andrew Hudson will share the secrets of his success at the Sundance Photographic Workshop, November 8-12, 2007. Conducted in the creative, inspirational environment of the Sundance (Utah) Resort, Mr. Hudson's "Successful Self-Publishing" course will teach students all the elements of creating, printing and selling their own large-format coffee-table book.
The Photography Competition / Art Competition 2007 is an international contest organized by TCB-Cafe Publishing of San Francisco. The contest aims to develop and raise the visibility of photographic and creative graphics talent, in the form of a competition and the resulting book publication. The culmination will be a beautiful book publication, showcasing the competition winners, and gracing the libraries of museums, galleries, individuals and collectors, as well as appearing in stores throughout the world.