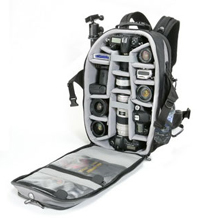 Calumet Backpacks
Calumet's new backpacks combine the comfort and protection necessary for transporting your digital SLR camera system and laptop computer anywhere in the world.
Lenovo ThinkPad W700
Lenovo has introduced the ThinkPad W700, a 17-inch widescreen mobile workstation engineered with technologies and innovations to exceed the demands of the most data and graphics-intensive users.
Kingston Technology High Capacity 32GB Card
Kingston Technology Company, Inc. announced it is shipping a 32GB Elite Pro SDHC Flash memory card for use with today's digital video camcorders and other high-resolution imaging devices.
COOLPIX P6000 Offers Digital SLR Shooting Control In A Compact Camera
Nikon Inc. has introduced its newest flagship COOLPIX compact camera, the COOLPIX P6000. Featuring 13.5 megapixels, a new, built-in global positioning system.
World's First Full Frame 645 Medium Format Camera System Based on Breakthrough Sensor Technology
Phase One A/S announced the P 65+ digital back and the P 65+ camera system based on Sensor+ CCD technology co-developed with DALSA Semiconductor.