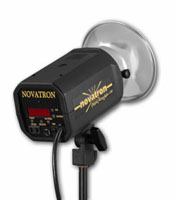 OmegaSatter Acquired The Assets Of Novatron Electronics Corporation
OmegaSatter of Hampstead, Maryland announced that effective June 1, 2008 it had acquired the assets of Novatron Electronics Corporation of Dallas, Texas, manufacturer of Novatron brand professional photographic lighting equipment.
Sinar eXposure
Sinar eXposure is a state-of-the-art, ICC based application for capturing, processing and exporting images shot with Sinar digital camera backs.
Tamrac Adventure 5
The Tamrac Adventure 5 is a messenger type bag designed to hold a digital SLR with up to 7-inch zoom lens attached, plus several addition lenses, flash and accessories.
WD'S New My Book Mirror Edition External Hard Drive
WD today introduced its new My Book Mirror Edition dual-drive storage systems, which can automatically store valuable personal content not once, but twice, to maximize data safety.
Phase One 645 Camera System Now Shipping
Phase One has confirmed that the Phase One 645 Camera system -- providing professional photographers freedom of choice -- is now in volume production and shipping to customers world-wide.