Digital SLR Sales are Booming
By Ron Leach, Publisher
Like most industries that thrive on innovation, the business of photography tends to be cyclical as new technologies are unveiled, refined, introduced at the high end of the market, and eventually made available to the mass consumer. And right now the photo industry is on an upswing thanks to booming sales of entry-level digital SLRs at prices that were unthinkable just three years ago. This development has also generated considerable interest in the myriad of related accessories like lenses, memory cards, storage devices, photo printers and other digital imaging gear.

The Photo Marketing Association predicts that sales of digital SLRs in 2006 will increase by 24% over last year, which saw a 36% increase as compared to 2004. It is estimated that total D-SLR sales this year will exceed 1.4 million units. The momentum for this robust growth is being supplied by photo enthusiasts who have seen prices drop to the point where digital SLRs are no longer viewed as expensive tools for the professional photographer.
Get The Full Story

<!- ------------------------MANAGING MEDIA SPONSOR---------------------------->
New York Institute of Photography offers home study training making you a great photographer in your spare time. Our course is a complete multi-media training system. Printed Lessons are enriched with audio and video. Students get feedback from professionals, bringing the classroom into the home. Click here for a FREE catalog!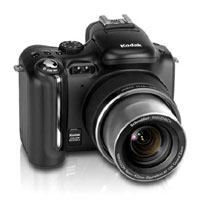 Kodak Easyshare P712 Digital Camera
Eastman Kodak Company has announced the Kodak Easyshare P712 zoom digital camera.
PhotoFiddle Online Image Manipulation
PhotoFiddle.com allows visitors to upload pictures on their computers and transform the image.
Super Wide Angle Camera
A joint venture between Rolleiflex and Horseman has announced one of the widest angle cameras on the market.
PocketWizard Plus II
PocketWizard has introduced their new Plus II Transceiver.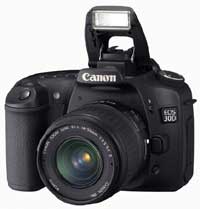 Canon's EOS 30D
by George Schaub

It's getting to the point where cameras are truly microprocessors with lenses. For those who have shot film in the past, today's digital SLRs give access to the look and feel of every film ever made at every speed with every color, contrast, and grain nuance you could imagine. While film builders create a combination of image attributes fixed in a micro-thin emulsion on a piece of acetate, today's digital SLRs emulate their art with the turn of a few dials and the push of a button or two. In addition, the image-processing program inside the digital SLR offers a whole kit bag full of filter effects, including options for those who enjoy black and white photography. Indeed, combined with the latest pigment ink printers and fine art paper surfaces, the latest digital SLRs have spawned a renaissance in black and white, digital style.
Get The Full Story





Bowens' Esprit Gemini Flash System
by George Schaub
The Travel-Pak battery is a take-anywhere power source that comes with a handy carrying handle and case with shoulder strap. Note the two outlets; both 500 ws heads or one at a time can be used.
The Gemini kit is composed of two flash heads (monoblocs), two heavy-duty 9-foot stands, two umbrella reflectors, two umbrellas, all cords, bulbs, and cables, as well as a strong duffle bag-like carrying case. The optional Travel-Pak battery was also utilized. The supplied stands come with an "L" bracket that allows you to mount the heads in vertical or horizontal positions. Once mounted you can choose from either AC or battery power; be sure to set the appropriate switch on the back and avoid connecting both at the same time. Once you do, the green "go" light comes on quickly and you're ready to shoot.
Get The Full Story


<!- ------------------------MANAGING MEDIA SPONSOR---------------------------->


Vote!
More and more colleges and photo schools are dropping their darkroom classes, and some have even stopped teaching photography using film. Do you think that learning about photography via film, and darkroom work, is essential, or should schools just head right for digital right now?
Please comment briefly on how you think photography is best taught.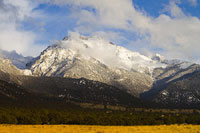 Digital Photography Workshops - Understanding Digital Photography
The mastery of digital imaging concepts and technology is essential for anyone working within the photographic arts today.
Anchell Photography Workshops
Steve Anchell is a contributing writer to Shutterbug and Rangefinder magazines. He is also the author of The Darkroom Cookbook and is working on a companion title, The Digital Cookbook. He has been teaching photography since 1979. For more information visit his website at www.anchellworkshops.com.





•
Newsletter Feedback
Let us know what you think about our Newsletter. Please send your comments to:
editorial@shutterbug.com


Subscribe • Unsubscribe




Shutterbug Home Page
• Contact Us

Copyright © Primedia Magazines, Inc. All rights reserved.