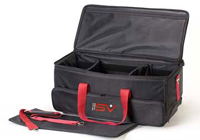 New Lighting and Tripod Cases
Promark International has introduced new lighting and tripod cases: The Photogenic OB42 Lighting Accessories Case, the Smith-Victor Soft Case on Wheels and the Smith-Victor TB990 Pro Tripod Case.
Olympus E-520 Digital SLR
The new Olympus E-520 digital single lens reflex (DSLR) camera offers Image Stabilization built into the camera body and Autofocus Live View.
Eye-Fi Unveils Family Of Products
Eye-Fi makers of the world's first wireless SD memory card, announced an extended product line-up designed to make photo sharing easier and meet the needs of individual users.
4305 Cullmann Grounder/Macro Tripod
Manufactured of high-strength, super light aircraft alloy, the black anodized leg segments feature a unique octagonal profile which enhances the rigidity of the tripod.
Humibox Dry Cabinets
Different cities in different states in the US and Canada have varying humidity levels, some of which can detrimental to the life of your photographic gears and lenses.