May 25 , 2010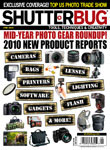 In This eNewsletter:
How-To – Low Light Photography

Industry Perspective – You Can Have an Impact on Future Lens Products

What's New This Month –
Imagenomics, Adobe, Tamron, and more

How-To – The "Other" Magical Hour

Vote! – How have you managed to manage all those images?

Workshops – Learn and Show

Shutterbug Forums – Your Photo & Digital Imaging Source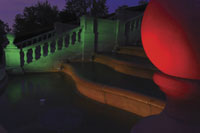 Low Light Photography
The Night Time Is The Right Time
by Fredrik Froman
Light is light. It doesn't matter if it comes from the sun, the moon, street lights, or even a flash. In very low light you can still get a photo; it might just take some time since you might have to expose the scene for minutes instead of fractions of a second. Indeed, the photos you get when shooting in low light are often very colorful and full of interesting shadows and highlights.
Get The Full Story

Calling all photographers! Our Creative Aperture Kit needs an update and weÕre looking to you for new disk designs.Ê Submit two photos taken with a Lensbaby lens and a home-designed Lensbaby Aperture Disk for a chance to win and have your picture on the product packaging! Click here for more!




You Can Have an Impact on Future Lens Products
by Ron Leach, Publisher

Regular readers of this column know that we frequently turn to InfoTrends, the Weymouth, MA research and consulting firm, when we need reliable statistics on trends within the photo industry. Now you have an opportunity to influence future products by participating in a new InfoTrends survey on the interchangeable lens market by going to this link: http://survey.infotrends.com/dslr2010_sb.htm.
Get The Full Story

Backdrop Outlet's Summer Photo Event and Warehouse Sale is June 11th - 13th and is one event you can't miss. Every item we carry will be on sale including Muslins from $19, Close out props from $5, Canvases 80% off, Lights, stands, and reflectors 75% off. Toll-Free 800-466-1755.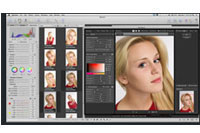 Imagenomic Portraiture 2 Update For Aperture 3
Imagenomic announced the release of its award-winning Portraiture 2 Plug-in for Aperture 3, Apple's latest version of its digital photography workflow application.
Adobe Photoshop CS5
Photoshop CS5 builds upon a rich history of innovation and leadership with groundbreaking features and performance gains that boost creativity and workflow efficiency.
Photographers File Class Action Against Google
The suit, which was filed by Mishcon de Reya New York LLP, relates to Google's illegal scanning of millions of books and other publications containing copyrighted images and displaying them to the public without regard to the rights of the visual creators.


GoingPro Educational Outreach
Marketing Essentials International and Bourne Media Group announce the formation of GoingPro, a totally new program providing educational opportunities and business advice for emerging professional photographers.


Tamron Events
Tamron has just announced a compelling new program of educational weekend events aimed at enhancing the picture-taking abilities and unleashing the creative potential of photo enthusiasts from beginners to advanced shooters.

What would you create with $10,000? You are invited to share your images with the world and have a chance at your choice of $10k or one year living rent free in a $1.2 million apartment. This opportunity is for photographers of all backgrounds. Deadline: 5/31. Click Here to Participate.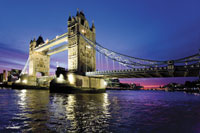 The "Other" Magical Hour
Blue Light Moods
by Lindsay Adler

Most photographers are familiar with the "golden hour" after sunrise or before sunset when the light is rich, warm, and stunning for photographs. But many photographers don't realize that there is another magical time—the blue hour. Twilight creates a stunning phenomenon when the sky records on camera as a deep and saturated blue. In the time after sunset and before total darkness you can capture this stunning effect that adds drama and impact to your images.
Get The Full Story

Introducing AluminArte(TM). High Definition Photographic Imaging on Aluminum. AluminArte uses a unique imaging technology that is able to fully exploit the latest digital camera technology and achieve an unmatched depth of field and a wider gamut of color and saturation. Simply send us your files then choose your finish and framing options. Visit ImageWizards.net and get your free samples.



Vote!
There are numerous programs now that allow you to catalog, edit and manipulate images. Digital allows us to shoot lots of images--the issue is getting to them later, and keeping them safe. In your work, how have you managed to manage all those images?
Please briefly describe what programs you use and how they have done the job for you.

Iceland Photo Tour
Join George Schaub on an Icelandic photo tour in August featuring hands-on techniques and travel adventures. Dates are August 1-7, 2010.
Digital Black and White Printing with George Schaub
August 22-September 4, 2010. Maine Media Workshops.
Adobe Photoshop Lightroom Workshop
Lightroom Workshops, a series of 40 + two-day Adobe Photoshop Lightroom application intensives are being offered throughout the United States, Australia, UK, and Canada in 2010.
Cavecreek Photographic Workshops
Courses offered each month. Contact: Alan Lowy's Cavecreek Photographic Workshops, 2135 E. Gaffney Road, Phoenix, AZ 85087, 623-465-1077.


Adorama Photography Workshops
Various courses offered each month. Contact: Adorama, 800-223-2500.


John C. Campbell Folk School
Looking For Light. Free catalog with course descriptions. Contact: John C. Campbell Folk School, One Folk School Road, Brasstown, NC 28902, 800-Folk-SCH.




If you would prefer not to receive future communications from Shutterbug, . You may also reach us by writing to the following address: Source Interlink Media, Inc., 261 Madison Avenue, New York, NY 10016 Att: Privacy Coordinator.
Privacy Policy
.


Copyright SOURCE INTERLINK MEDIA™ All Rights Reserved
1415 Chaffee Drive, Suite 10 | Titusville | FL | 32780