May 26, 2009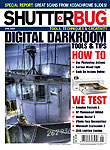 In This eNewsletter:
Commentary – Spring Cleaning: Some News Flashes from the Past

Industry Perspective – GPS-Enabled Cameras and Other Geotagging Options

What's New This Month – Phase One, Nik, ACD, Rm3d, and Tamron

How-To – Exposure Tips

Vote! – Comment on your thoughts on video and still combination D-SLR cameras.

Workshops – Learn and Show

Shutterbug Forums – Your Photo & Digital Imaging Source
This ENewsletter Brought To You By:

Spring Cleaning: Some News Flashes from the Past
by George Schaub

The rush of events in the past few years has left us all fairly breathless, what with the pace of change wrought by digital. As product trumps product, and new operating systems and formats rush to grab our attention, older systems and gear quickly fall by the wayside. Some have come to rest in my Museum of Photographic Obsolescence (MOPO). The halls of that hallowed institution have become quite crowded of late; a new wing is being built as you read this.
Get The Full Story


Nik Software and Shutterbug want to inspire your Summer photography!
Take your favorite images of "Warm Summer Days & Cool Nights" and bring out the best in your photos using any Nik Software product (free trial software available). Enter to win a grand prize package worth over $1500, iPods or cash. Full details at www.shutterbug.com/nikcontest.




GPS-Enabled Cameras and Other Geotagging Options
by Ron Leach, Publisher

Whether you're a backpacker, sailor, cyclist or simply a motorist, you are likely familiar with GPS devices which receive latitude, and longitude coordinates from global-positioning satellites to pinpoint your location. Applying this geographical information to digital images is called geotagging and it enables you to know not just when, but also where a photograph was taken.
Get The Full Story

The Samsung SL620 with Smart Auto allows you to capture a perfect shot every time. Samsung's innovative Smart Auto technology quickly and easily analyzes the shooting situation then selects from one of 11 optimized settings to capture your surroundings. Choose Samsung Smart Cameras – Innovation makes it easy.



Introducing AluminArte(TM). High Definition Photographic Imaging on Aluminum. AluminArte uses a unique imaging technology that is able to fully exploit the latest digital camera technology and achieve an unmatched depth of field and a wider gamut of color and saturation. Simply send us your files then choose your finish and framing options. Visit ImageWizards.net and get your free samples.


Exposure Tips
Bracketing And Processing Multiple Exposures

by George Schaub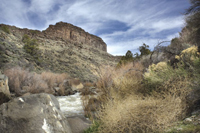 One technique to expand the dynamic range potential of an image, in other words, to overcome contrast problems, is to make a number of exposures at different settings of the same scene and combine them later to pull the best out of each exposure. There are various programs that do this automatically, each with their own foibles and charms. Another method is to use each exposure as a Layer, put one (or more) Layers on top of the other and "paint" one Layer into another using a Layer Mask. It's a simple, fun, and hands-on technique.
Get The Full Story



Learn Photoshop for 27¢ a Day and Get a $69 DVD as Our Gift to You! Want to learn how to make all those cool effects only Photoshop can do? No matter your skill level or which version of Photoshop you use, NAPP can help. Get started today.



Vote!
Video has become a standard feature on many new D-SLR cameras. Does inclusion of this feature sway you towards a D-SLR over anther that lacks it?
Please comment briefly on your thoughts on video and still combination D-SLR cameras.




Private Film Or Digital Workshops With Steve Anchell
Salem, 1-day, weekend, or 5-day workshops. Contact: Anchell Photography Workshops, 503-375-2163, website: www.anchellworkshops.com.


John C. Campbell Folk School
Looking For Light. Free catalog with course descriptions. Contact: John C. Campbell Folk School, One Folk School Road, Brasstown, NC 28902, 800-Folk-SCH, website: www.folkschool.org.
•
Newsletter Feedback
Let us know what you think about our Newsletter. Please send your comments to:
editorial@shutterbug.com
If you would prefer not to receive future communications from Shutterbug, . You may also reach us by writing to the following address: Source Interlink Media, Inc., 261 Madison Avenue, New York, NY 10016 Att: Privacy Coordinator.
Privacy Policy
.
Copyright SOURCE INTERLINK MEDIA™ All Rights Reserved
1419 Chaffee Drive, Suite 1 | Titusville | FL | 32780