Workshop Spotlight
D-65 Seminars & Your Digital Workflow
by Howard Millard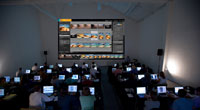 For anyone shooting digitally today, there are an almost overwhelming number of elements to keep track of: capture, downloading, color management, color and tonal correction and enhancement, captioning, storage, backing up and archiving, filing and retrieving, copyright, output, and delivery to the client. To negotiate this maze, and to achieve optimum quality and efficiency, veteran corporate/editorial photographer Seth Resnick (clients: Forbes, Business Week, Fidelity, Time) has teamed with workshop producer Jamie Spritzer to offer several seminars presenting solutions to these digital conundrums. I attended their four day "Digital Workflow, Not Workslow" workshop, which now focuses on Lightroom as well as CS3, and was duly impressed.
Get The Full Story
Photo Basics By Westcott/Shutterbug Photo Contest
Westcott is offering their Photo Basics by Westcott customers the chance to have their photos published in Shutterbug Magazine.
Hawk Mountain Paper 2007 Inkjet Print Contest
Hawk Mountain Papers holds a print contest every year, encouraging inkjet printers from all over the world to submit their best inkjet prints on Hawk Mountain paper.
Renovance.tv Picks the Legendary Italian Fashion Photographer Claudio Basso for Photography Workshops in New York City.
The Renaissance of Photography Training begins next month in NYC when Renovance.tv launches the first Reality Training Workshop, bringing a revolution to the way professionals and amateur photographers are trained.
John Paul Caponigro and Mac Holbert To Lead Digital Fine Art Printing Workshop
Epson America today announced that John Paul Caponigro and Mac Holbert, two of the pre-eminent leaders in digital photography and fine art printing, will be hosting a workshop in the state-of-the-art digital printing labs of Brooks Institute of Photography in Santa Barbara, Calif., June 25–29.
Festival of the Photograph
The Festival is a not for profit celebration of photography — created by photographers. With a program of exhibitions, workshops, interviews, outdoor screenings, and special events, the Festival will attract professional and amateur photographers from around the world to Charlottesville, Virginia's picturesque historic downtown. The Festival will be held on June 7-9 2007.
Panasonic Lumix To Launch Digital Photo Academy
Panasonic LUMIX will launch the Digital Photo Academy, a series of workshops for all digital camera owners who want to maximize their cameras' features and create more rewarding and enjoyable photo experiences.
Tamron Announces "Make You Mark" Photo Contest For Tamron Lens Users
The company is looking for images from photo enthusiasts that creatively capture a natural or manmade landmark.
LiveBooks Teaches National Geographic All Roads
LiveBooks, Inc. continues to support emerging, talented photojournalists with its sponsorship of National Geographic's "All Roads Photography Project" by providing the winners of this year's international competition with a hands-on workshop about web marketing best practices and their own liveBooks personalized website.
Digital Photography Workshops - Understanding Digital Photography
The mastery of digital imaging concepts and technology is essential for anyone working within the photographic arts today.
Anchell Photography Workshops
Steve Anchell is a contributing writer to Shutterbug and Rangefinder magazines. He is also the author of The Darkroom Cookbook and is working on a companion title, The Digital Cookbook. He has been teaching photography since 1979. For more information visit his website at www.anchellworkshops.com.