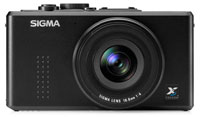 The Sigma DP1
The Sigma Corporation is pleased to announce the launch of the Sigma DP1 compact digital camera featuring a 14 megapixel FOVEON X3 direct image sensor (2652 × 1768 × 3 layers) as used in the Sigma SD14 digital SLR.
Nikon's New Interactive Website
Nikon Inc. has unveiled a completely redesigned Web site with a new visual user interface that among other features utilizes images to display information about Nikon's products and services.
Kodak and Wal-Mart Launch Nationwide Recycling Program
Eastman Kodak Company and Wal-Mart Stores, Inc. have announced the launch of a national program to recycle used materials from in-store picture kiosks.
Bron Powerbox 900 Battery System
Visatec USA has introduced the Powerbox 900 battery solution for powering strobes on location.
Corel Introduces The Painter Factory.com Online Community
Corel Corporation a leading developer of graphics, productivity and digital media software, today announced that it has launched The Painter Factory, a new online community open to all Corel Painter artists and enthusiasts.





It's (Way Past) Time for Some Standards
by George Schaub
One of the pleasures of this job is getting to work with a wide variety of cameras, printers and software. While the pace of change can be dizzying, and complicated, there's no lack of new materials and discoveries to be made. Unfortunately, the pitfall of this is that a lot of time is spent (wasted) getting everything to work together, particularly when a new technology comes into play. The experience lots of photographers had with Vista, for example, points this out more than anything—the lack of compatibility with current gear was glaring, and many folks simply gave up and returned to XP. But operating systems are not the only culprit—it's printers, papers and inks and especially Raw file formats. All seem made for a frustrating experience, one that calls out for some sanity and standards to be set.
Get The Full Story


  Vote!
Given that camera phones today offer multimedia connections, and often have 5MP sensors, would you consider using one instead of your small digicam? This does not mean that you might replace your DSLR with the camera phone, but the pocket digicam you might ordinarily throw into your bag when you leave the house.
Please comment briefly on your experiences with camera phones and their connectivity features.




2007 NATIONAL PHOTO AWARDS
Monthly Photo Contests. $500 top prize. Online & mail-in entry available. Contact: www.NationalPhotoAwards.com, $500 top prize. Online & mail-in entry available.
MONTHLY CUTEKID PHOTO CONTEST. Submit photos on the website to win various prizes. The categories are Baby, Toddler, Preschooler, Big Kid, and Pre-Teen. Contact: www.TheCuteKid.com.
OLYMPUS "PHOTOGRAPHERS OF TOMORROW" CONTEST FOR TOP PHOTOGRAPHY STUDENTS
Olympus has announced its inaugural "Photographers of Tomorrow" photo contest.





•
Newsletter Feedback
Let us know what you think about our Newsletter. Please send your comments to:
editorial@shutterbug.com


If you would prefer not to receive future communications from Shutterbug,
. You may also reach us by writing to the following address: Source Interlink Media, Inc. 261 Madison Avenue New York, NY 10016 Att: Privacy Coordinator
Privacy Policy
.





Copyright SOURCE INTERLINK MEDIA™ All Rights Reserved