March 30 , 2010
In This eNewsletter:
How-To – Macro Vs. Macro Zoom

Industry Perspective – The Passing of a Civil Rights Hero

What's New This Month –
Panasonic, Wacom, MemoryKick, Lowel, & Sigma

How-To – Raindrop Reflections

Vote! – Comment on your approach to adding light to low light scenes using flash.

Workshops – Learn and Show

Shutterbug Forums – Your Photo & Digital Imaging Source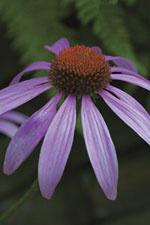 Macro Vs. Macro Zoom
Know The Difference
by Jon Sienkiewicz Every hobby has its own language, and photography is no different. It can take a while to learn all of the unintuitive abbreviations, unnatural acronyms, and shifting definitions. The term "shifting definition" refers to words like "automatic" which have had different meanings depending on the context and the era. Learning the language is vital to enjoying the hobby but can be a formidable obstacle for some. And misunderstanding the nuances can lead to poor purchasing decisions.
Marketing people compound this communication problem by stretching the limits of words to exaggerate certain functions and features. Most technical terms are unregulated, which means that a given company can legally use a word to mean almost anything they want. A prime example is "macro." Many macro lenses focus to "life size," which means that an object 1cm long in reality appears 1cm long on the recording medium. This relationship is expressed as a ratio, and life size is indicated as being 1:1 magnification, exactly the same size as the subject regardless whether it's on film or a digital imaging sensor.
Get The Full Story

Introducing AluminArte(TM). High Definition Photographic Imaging on Aluminum. AluminArte uses a unique imaging technology that is able to fully exploit the latest digital camera technology and achieve an unmatched depth of field and a wider gamut of color and saturation. Simply send us your files then choose your finish and framing options. Visit ImageWizards.net and get your free samples.




The Passing of a Civil Rights Hero
by Ron Leach, Publisher

America lost one of the heroes of the civil rights movement with the recent passing of photographer Charles Moore at the age of 79. Many historians credited Moore's images with shifting public opinion in favor of equality for all Americans as he traveled throughout the south documenting the civil rights movement and used his images to spur passage of the Civil Rights Act of 1964.
Get The Full Story

VANGUARD's Alta Pro tripod, winner of the prestigious 2009 TIPA Award for Best Accessory, features unmatched flexibility and stability. Its innovative Multi-Angle Central Column System lets users move the central column from 0 to 130-degree angles in variable vertical and horizontal positions, making macro-photography and special wide-angle shots a breeze.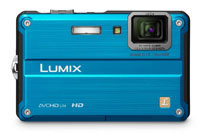 Panasonic LUMIX TS2 Features a Rugged Design
Panasonic introduced the new LUMIX DMC-TS2, a successor to the company's first rugged digital camera designed for active outdoor use, the LUMIX DMC-TS1.
Wacom Intuos 4 Wireless Pen Tablet
Wacom announces the Intuos 4 Wireless professional pen tablet, featuring Bluetooth wireless technology.
MemoryKick Si Backup
Argraph Corporation announces the MemoryKick Si, a photo backup, photo viewer, video player, MP3 Player, card reader and complete portable data backup solution in one device.


Lowel Blender LED Lighting
Lowel-Light Mfg., Inc., a division of The Tiffen Company, has announced that the new Lowel Blender, a perfect solution for today's "run & gun' video lighting needs, is now available through Lowel and Tiffen dealers.


Sigma Corporation Sponsors Student Magazine Photo Contest, Announces Winner
Sigma Corporation of America is pleased to announce the winner of the fourth annual, Sigma-sponsored Nature's Best Photography Students photography contest.

FREE Shipping on Epson Stylus Photo Printers
Upgrade your prints! The Epson Stylus Photo R1900 produces vibrant colors, natural skin tones and superior gloss. The Epson Stylus Photo R2880 is the choice for creating stunning exhibition-quality color and black-and-white prints. Both offer wide-format printing up to 13x19. Click to learn more and save up to $200!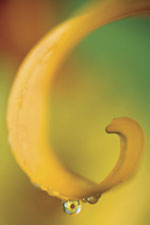 Raindrop Reflections
Just Add Water For Close-Up Magic
by Lindsay Adler

Flowers provide endless photographic opportunities and when you add rain into the mix the images become even more beautiful and mysterious. Whenever I show people images of my "raindrop reflections," they want to know how it was done. In truth, it isn't very hard to do and just takes practice, a few special tools, and patience. If you are patient and know a few simple tricks, you can come away with stunning raindrop reflection images as well.
It's often best to make these shots on a windless day. With the narrow depth-of-field of macro shooting and working with raindrops, any wind will create a headache situation.
Get The Full Story


Vote!
Most DSLRs these days come with built-in flash. While not very powerful they are fine for fill. Do you have an auxiliary hot shoe flash or other lighting gear yet?
Briefly comment on your approach to adding light to low light scenes using flash.

Come to the Nik Summit for a unique 2 ½ day educational event May 13-15 in San Diego. Learn camera techniques and photograph alongside leading pros, then hone your skills in digital image workflow.
Learn from McNally, Beck, Versace, Sammon, Sweet, Dubler, Sheppard, Corbell, & others. Relax "fireside" with peers each evening. More than a photographic experience www.niksummit.com.



Iceland Photo Tour
Join George Schaub on an Icelandic photo tour in August featuring hands-on techniques and travel adventures. Dates are August 1-7, 2010.
Cavecreek Photographic Workshops
Courses offered each month. Contact: Alan Lowy's Cavecreek Photographic Workshops, 2135 E. Gaffney Road, Phoenix, AZ 85087, 623-465-1077.


2010 World Press Photo Contest
World Press Photo invites professional photographers and photojournalists from around the world to enter the 53rd World Press Photo contest.


Adorama Photography Workshops
Various courses offered each month. Contact: Adorama, 800-223-2500.


John C. Campbell Folk School
Looking For Light. Free catalog with course descriptions. Contact: John C. Campbell Folk School, One Folk School Road, Brasstown, NC 28902, 800-Folk-SCH.



If you would prefer not to receive future communications from Shutterbug, . You may also reach us by writing to the following address: Source Interlink Media, Inc., 261 Madison Avenue, New York, NY 10016 Att: Privacy Coordinator.
Privacy Policy
.
Copyright SOURCE INTERLINK MEDIA™ All Rights Reserved
1415 Chaffee Drive, Suite 10 | Titusville | FL | 32780