March 25 , 2008


In This eNewsletter:
Test Report Preview - Sigma 4.5mm f/2.8 EX DC HSM (Motor-in) Lenses
Industry Perspective - Printing and Camera Trends
What's New This Month - Olympus. Mamiya, onOne, HP, and more
Commentary - Tomorrow's Tools and What They Mean To Today's Photographer
Vote! - Does the addition of image stabilization add value to a lens for your work?
Workshops & Contests - Learn and Show
Shutterbug Forums - Your Photo & Digital Imaging Source



This ENewsletter Brought To You By:

Sigma 4.5mm f/2.8 EX DC HSM (Motor-in) Lenses
by George Schaub

If you ever want a unique point of view try a "fisheye" lens. Like looking through a door peephole (which in fact is a "fisheye" type) this order of lens sacrifices linear correction in favor of a very wide angle of view. Originally made for creating "full sky" images when pointed straight up, they had long ago been adopted by photographers for creation of decidedly different points of view, and, today, even doing QuickTime movies to display the interior of a condo or vacation home.
Get The Full Story

Epson Stylus® Photo R1900 Printer gives you unprecedented glossy prints. It's 8-color UltraChrome Hi-Gloss2® inks, including red and orange, are fifth generation pigment inks for improved gloss, versatility and longevity. It offers vibrant color and gallery-quality on borderless prints up to 13" x19", or 13" x 44" panoramas.
www.epson.com/SPR1900



Printing and Camera Trends
By Ron Leach, Publisher
Once or twice a year we like to take a look at what types of cameras are being purchased and how photographers are printing their images. The latest report from the Photo Marketing Association (PMA) provides an interesting overview of these trends through the end of 2007, so let's take a look.
Get The Full Story

The EIZO ColorEdge CG241W is suited to photographers looking for accurate and stable on-screen display of color and near-perfect color matching with their prints. Advanced features include a wide color gamut with 96% Adobe RGB coverage, 12-bit hardware calibration, and a digital uniformity equalizer function that ensures brightness and chroma are displayed evenly across the entire screen.





Olympus E-420 Digital SLR Delivers Enhanced Autofocus Live View
Olympus has announced the extremely portable E-420. Weighing 380 grams (13.4 ounces), the E-420 is 20 to 40 percent lighter than competing DSLRs.
Mamiya Lens Adapters for Hasselblad Lenses
Mamiya has announced the release of two Mamiya Lens Mount Adapters that allows the use of Hasselblad V-series medium format lenses on Mamiya 645AF series cameras (645AF, 645AFD, and 645AFD II).
ExpressDigital Expands Darkroom Software
ExpressDigital has announced the next generation of its powerful workflow software, Darkroom v8.9, designed to help photographers make more money in their business.
onOne Software Announces Acquisition of Liquid Resize Technology
onOne Software, Inc. has announced the technology acquisition of Liquid Resize, which introduces a ground-breaking new way to resize images.
HP Expands Professional Photo Printer Offerings
HP has unveiled the Photosmart Pro B8850 Photo Printer, rounding out the company's growing portfolio of printing solutions for the advanced amateur market.


ColorVision|Datacolor products have become the most recognizable and honored color calibration brand in the world. ColorVision creates digital imaging innovations for graphic designers, creative professionals and professional photographers that are affordable. Each product is designed to take the "work" out of a color managed workflow so you can concentrate on what really matters - your creativity.






Tomorrow's Tools and What They Mean To Today's Photographer
by George Schaub
There may come a time when the machines don't need us anymore, when they might become self-generative and self-sustaining, when inventors become vestigial to inventions. This will not, I imagine, happen overnight, but could be a slow progression—or degeneration on the part of our species—to the point where the data on someone becomes more important than the person themselves, or even when the actions we take are redundant to what the machine can accomplish, with considerably less consternation.
I am not suggesting that we are at this precipice, yet, some things I've seen recently in our little corner of the world make me wonder where this digital thing might be heading, why we might or might not want to go there and where it might all end up.
Get The Full Story

"Turn your talents into cash. With FotoStudio from FotoTime, you get more time to do what you do best - take photos. Upload photos to your FotoStudio gallery, set your prices, and we do the rest. When your customers place orders, our professional print lab fullfills them for you."



Vote!
Now that independent lens makers like Tamron and Sigma have announced "shake-free" lenses it seems that vibration reduction lenses are becoming more common and available for all. Does the addition of image stabilization add value to a lens for your work?
Please briefly comment on the addition of image stabilization.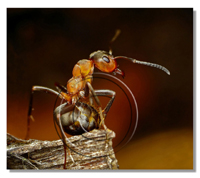 2007 NATIONAL PHOTO AWARDS
Monthly Photo Contests. $500 top prize. Online & mail-in entry available. Contact: www.NationalPhotoAwards.com, $500 top prize. Online & mail-in entry available.
Fujifilm Sponsors Rainforest Alliance Photo Contest
Fujifilm announced its sponsorship of the Rainforest Alliance's first annual 'Picture Sustainability Photo Contest' to raise awareness around issues of sustainability and conservation. US residents are invited to submit photos illustrating sustainable agriculture, forestry and tourism. The Rainforest Alliance is an international nonprofit conservation organization.
Olympus "Photographers Of Tomorrow" Contest For Top Photography Students
Olympus has announced its inaugural "Photographers of Tomorrow" photo contest.
Kubota Image Tools Announces Spring 2008 Digital Photography Bootcamp Workshop
Kubota Image Tools is pleased to announce its 15th Digital Photography Bootcamp workshop April 20-25, 2008. Bootcamp, taught by renowned photographer Kevin Kubota, is a 5-day workshop for professional photographers designed to supply all of the technical know-how to run a successful digital portrait/wedding studio; at the same time, it encourages continued development of a photographer's unique style and creativity.



•
Newsletter Feedback
Let us know what you think about our Newsletter. Please send your comments to:
editorial@shutterbug.com







Copyright SOURCE INTERLINK MEDIA™ All Rights Reserved