Breaking the Four-Minute Mile
By Ron Leach, Publisher
We recently returned from the 2006 PMA Convention and Trade Show in Orlando, FL—the largest annual international trade show in our industry. With over 600 exhibitors, 20,000 attendees, and more than 200 educational sessions, this four-day event is pretty much a "must see" for everyone in the imaging business.

As always, an abundance of new software and hardware technologies were introduced at PMA, as well as even a few film-related products. Perhaps the most striking trend this year was the accelerating reduction in the prices of entry-level digital SLRs from a number of manufacturers. With several digital SLR kits (a body and a zoom lens) priced under $600, photographers can now step up to the versatility of digital SLR photography for less than the cost of last year's full-featured, fixed-lens "prosumer" cameras.
Get The Full Story

<!- ------------------------MANAGING MEDIA SPONSOR---------------------------->
ProShow Producer allows you to create stunning DVD slide shows to sell to clients or use as a marketing tool for your photography business. Add photos, videos, and music to any show. Producer has helped thousands of photographers to make more money and get maximum exposure. Download a free trial today. www.photodex.com.





Launch of Limited Edition Hasselblad 503CWD Anniversary Kit
In recognition of the centenary of Victor Hasselblad's birth on March 8, 2006, Hasselblad has announced the Hasselblad 503CWD Anniversary Kit.
Easy-to-Use Monitor Calibration Tool From Pantone
Pantone, Inc. has announced the availability of huey, an easy-to-use monitor calibration tool developed in partnership with GretagMacbeth.
New Panasonic Digital Camera Features Optical Image Stabilization And 12X Optical Zoom
Panasonic has introduced the latest of their "super zoom" models, the six-megapixel DMC-FZ7.
SanDisk Doubles Capacity Of Its SanDisk Extreme III
SanDisk Corporation announced the addition of new card capacities to its Extreme III line of flash cards for professional digital cameras that are double the highest capacity points currently available.
Tamron AF70-300MM F/4-5.6 Di LD Macro 1:2
Coming this spring, the new Tamron AF70-300mm F/4-5.6 Di LD Macro 1:2 features a Di optical system designed for both digital and film cameras.
Sigma 17-70mm F2.8-4.5 DC Macro
MACRO lens, an ideal large aperture standard zoom lens for digital SLR cameras featuring an APS-C size image sensor.



Your all inclusive guide to Paint Shop Pro X! Master all the new features in version X. Focal Press provides you with the basics and extra tips to help you build upon those to create perfect images.

Visit Focal Press to take advantage of this special offer and save 15%.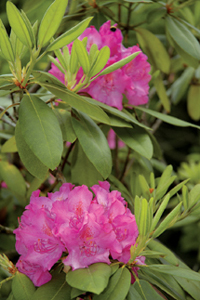 DCF Full Spectrum
Does It Bridge The Gap Between RGB And The Eye?
by George Schaub
According to the folks at Tribeca Imaging Laboratories (TIL), digital cameras (and I might add many types of film) "can't see purple." They go on to say, "The digital color model generates a limited spectrum. Any user can confirm this by simply pointing a camera at a deep blue or purple object and comparing the colors on the camera's LCD or computer screen to the original subject."

While those of us who have tried to photograph chrysanthemums on film in the past know about this purple thing, the TIL crew decided to do something about it. They conducted years of research and came to the conclusion that the issue is not camera specific. Indeed, they concluded that the limited spectrum response was common to all digital cameras, dubbing digital color "universally inaccurate." Their response is the DCF Full Spectrum plug-in for Adobe's Photoshop, which works on both Mac and PC platforms. They claim that by using DCF Full Spectrum in Default mode that the photographer will get the most accurate possible colors from digital images, shot in sRGB or Adobe RGB.
Get The Full Story


Over 8,000 photographers choose Collages.net as their complete posting, marketing, printing, and workflow solution for their weddings, portraits, seniors, sports, Bar/Bat Mitzvahs, and corporate events. Your first two weeks are FREE! Call today (877) 638-7468 .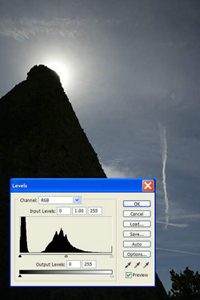 Histograms in Levels: Diagnostic Tool and Quick Fix in One
by George Schaub

While some images demand lots of time to get right after exposure, some require just a quick move of a slider to reveal all their potential color and tonal quality. Of course, you can always go in and refine the image after the initial fix, but laying a good foundation for further work is always the best course. In this quick web how-to we'll explore one of the easiest and most efficient ways to get exposure and often color and contrast right in one easy step.
This technique has been called "filling the gamut" and it uses a tool available in both full Photoshop and Elements called Levels. When you open Levels (either from Image>Adjust or Layer>New Adjustment Layer>Levels) you get a Histogram with three sliders underneath it. A Histogram is a graphic representation of the tonal values in the image. The left side is the darker values, and the slider on the left is called the Black Point slider; in the center is the medium tonal values, with a Gray slider; and on the right are the highlights, with the White point slider. The way you manipulate these sliders is key to image control.
Get The Full Story

<!- ------------------------MANAGING MEDIA SPONSOR---------------------------->
With the onOne Software Photoshop Plug-In Suite, you get 4 must-have plug-ins for Adobe Photoshop CS and CS2 including the all-new Genuine Fractals 4.1 that allows you to create extraordinary enlargements from your digital images. You also get Mask Pro, PhotoFrame and Intellihance Pro all for one low price.




Vote!
At the recent PMA Show both Canon and HP introduced pigment-ink desktop printers, joining Epson in that arena. From what you understand as the difference between dye-based and pigment inkjet printers, will you make the choice on your next inkjet printer based upon the ink type it uses?
Please comment briefly on the features you look for in a desktop photo printer.


SilverOxide.com introduces its first color enhancing filter, Color Landscape. The filter acts on digital images the way the polarizer does in the analog world. Use the coupon code of COLORL06 to save $40. And check out our new printing demos for Tri-X and HP5. Visit us at www.silveroxide.com.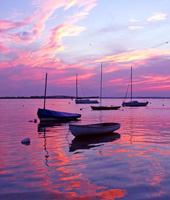 Blue Pixel Presents Nature's Best Photography Experience
Nature's Best Photography™ Experience is a Unique Educational and Instructional Event Appropriate for Digital Photographers of All Experience Levels.
"Capture the Coast" Photo Contest
Photographs, taken by amateurs, may include landscape, lifestyle, portrait, motifs (coastal details), and people.
Digital Photography Workshops - Understanding Digital Photography
The mastery of digital imaging concepts and technology is essential for anyone working within the photographic arts today.
Anchell Photography Workshops
Steve Anchell is a contributing writer to Shutterbug and Rangefinder magazines. He is also the author of The Darkroom Cookbook and is working on a companion title, The Digital Cookbook. He has been teaching photography since 1979. For more information visit his website at www.anchellworkshops.com.





•
Newsletter Feedback
Let us know what you think about our Newsletter. Please send your comments to:
editorial@shutterbug.com


Subscribe • Unsubscribe

Shutterbug Home Page

• Contact Us

Copyright © Primedia Magazines, Inc. All rights reserved.