Framing Techniques
By Ron Leach
Framing your subjects with natural or man-made objects is a classic compositional technique that can be used in a variety of ways to add impact and focus to your photographs. We're not talking about the abundant software products that enable you to add frames to your images (although these can be very impactful too), but rather elements within your scene itself, like foliage, doorways, windows, and the like.
Get The Full Story

<!- ------------------------MANAGING MEDIA SPONSOR---------------------------->
ProShow Producer allows you to create stunning DVD slide shows to sell to clients or use as a marketing tool for your business. Add photos, videos, and music to any show. Producer has helped thousands of photographers to make more money and get maximum exposure. Download a free trial today. www.photodex.com.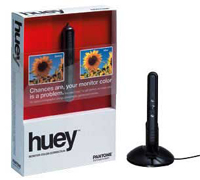 Easy-to-Use Monitor Calibration Tool From Pantone
Pantone, Inc. has announced the availability of huey, an easy-to-use monitor calibration tool developed in partnership with GretagMacbeth. The unique, affordable device is about the size of a small marker and delivers excellent results on LCD, laptop and CRT displays without requiring users to have any knowledge of color management.
Alien Skin Software Releases Exposure Plug-In
Alien Skin Software has released a new plug-in for Adobe Photoshop and other compatible host programs called Exposure which is designed to bring the look and feel of film to digital photography. Photographers can now simulate current and discontinued film stocks, as well as recreate their signature look as a one-click effect. Exposure also simulates darkroom and studio effects such as push and cross processing.
Adobe Expands Raw File Support in Photoshop CS2
Adobe Systems has announced an update to the Camera Raw plug-in for Photoshop CS2, extending raw file support to 17 additional digital camera models. The free download expands on the raw file support integrated in Photoshop CS2 for digital cameras from leading manufacturers.



Want a fun little lens that will add a creative spark to your repertoire? Lensbabies bring one area of your photo into sharp focus, with that 'sweet spot' surrounded by graduated blur. You can move the sweet spot to any part of your photo by bending the flexible lens tubing.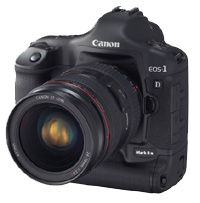 Canon's EOS-1D Mark II N
Speedy Framer Sports Dual Slots, New Image Options
by George Schaub
The decisive moment could be described as the instant when photographer's instinct meets a picture and the shutter is released at the height of that honed perception. The digital decisive moment is now about 5 seconds long. If you happen to see more sports shots of the ball just coming off the bat, or the pass as it just begins to graze the fingertips of a tight end, you might be seeing the results out of one of the new high-speed framing rate digital SLRs.
Get The Full Story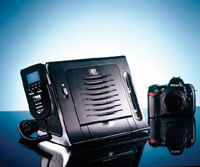 The HiTi S400
A Dye Sub Printer For 4x6 Prints With Style
by George Schaub

The line-up of quality 4x6 desktop printers now includes a number of models in the dye sublimation realm. These printers offer computer- or computer-less printing with a host of input options. Smaller than your inkjet, they offer convenience, fast printing, and, increasingly, fairly sophisticated processing options. We recently had the opportunity to work with a new printer from Hi-Touch, a company that's consistently scored high and earned top honors at the annual photo trade show "shootouts," print competitions voted on by photo industry show attendees.
Get The Full Story

<!- ------------------------MANAGING MEDIA SPONSOR---------------------------->
With the onOne Software Photoshop Plug-In Suite, you get 4 must-have plug-ins for Adobe Photoshop CS and CS2 including the all-new Genuine Fractals 4.1 that allows you to create extraordinary enlargements from your digital images. You also get Mask Pro, PhotoFrame and Intellihance Pro all for one low price.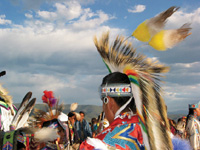 Genuine Fractals 4.1
Resampling With GF Might Make The Megapixel Race Moot
by George Schaub

I have a bunch of prints on the walls and desktops of my studio, and I almost can't believe my eyes. For years I have been stubbornly teaching that image resolution (in pixel dimensions) and physical print size were in lock step, and even scoffed at a camera maker for claiming that their 5-megapixel digicam could produce 20x24 prints. Make a good 13x19 from anything less than a 10-megapixel camera? Couldn't be done. Make a 20x24 print from anything less than a high-res scan or 16-megapixel digital SLR with some resampling thrown in for good measure? Don't be silly. I had been solidly behind the max +30 percent rule for resampling, and if I ventured beyond that I would resample in 10 percent steps, not all at once.
Get The Full Story





Vote!
There are many options for making prints from digital files these days—online, online uploads with in-store pickup, kiosks and of course home and studio printing. Have you tried any online printing services yet, and what has been your experience with quality and speed of delivery?
Please supply a brief comment on your experiences, if any, with online digital printing services, and how you use it in your work.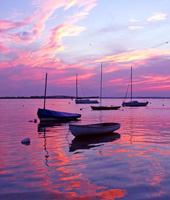 "Capture the Coast" Photo Contest
Photographs, taken by amateurs, may include landscape, lifestyle, portrait, motifs (coastal details), and people.
Digital Photography Workshops - Understanding Digital Photography
The mastery of digital imaging concepts and technology is essential for anyone working within the photographic arts today.
Anchell Photography Workshops
Steve Anchell is a contributing writer to Shutterbug and Rangefinder magazines. He is also the author of The Darkroom Cookbook and is working on a companion title, The Digital Cookbook. He has been teaching photography since 1979. For more information visit his website at www.anchellworkshops.com.






Photo Buy/Sell is a great place to buy quality used equipment cheap and to sell your used gear. Clear your shelves for new stuff or find a bargain. No more wading through thousands of irrelevant listings. The Photo Buy/Sell marketplace sorts cameras, lenses, accessories and more into easy to use categories.
Shutterbug Forums



•
Newsletter Feedback
Let us know what you think about our Newsletter. Please send your comments to:
editorial@shutterbug.com


Subscribe • Unsubscribe

Shutterbug Home Page

• Contact Us

Copyright © Primedia Magazines, Inc. All rights reserved.