January 26, 2010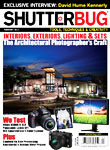 In This eNewsletter:
How-To – Photograph Women

Industry Perspective – Can Photography Save the World?

What's New This Month –
Lensbaby, Brightscreen, photokina, and more

How-To – Natural Light Reflectors

Vote! – Briefly comment on your engagement with social networks and photography.

Workshops – Learn and Show

Shutterbug Forums – Your Photo & Digital Imaging Source
How I Photograph Women
Using The Least Amount Of Equipment
by Joe Farace

It may come as a surprise to some of you but I didn't start out to be a people photographer. When Mary and I opened our studio in 1982, we divided the workload based on the type of images that clients wanted. It turned out to be a simple division of labor: she photographed people and I photographed things, mostly architecture and some products. Every now and then because of scheduling and availability I would shoot a few business portraits, but people were really Mary's game. When she took an extended sabbatical from the studio's day-to-day operations, things changed, and after looking at some of the new glamour photography appearing on the Internet I got interested in photographing people, especially women. I had to start from scratch after selling all the lighting equipment because "I was never going to photograph people." That was when I learned to never, say "never."
Get The Full Story




Can Photography Save the World?
by Ron Leach, Publisher

Ten years ago PBS debuted a moving documentary entitled "American Photography: A Century of Images." The program traced photography's profound influence upon life in America, and I recall being particularly struck by the camera's potential for social change.
Get The Full Story

Introducing AluminArte(TM). High Definition Photographic Imaging on Aluminum. AluminArte uses a unique imaging technology that is able to fully exploit the latest digital camera technology and achieve an unmatched depth of field and a wider gamut of color and saturation. Simply send us your files then choose your finish and framing options. Visit ImageWizards.net and get your free samples.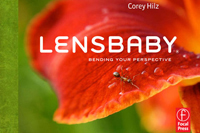 Lensbaby Call for Image Submissions
Lensbaby announced an open call for photographers to submit their best images created using a Lensbaby lens for a chance to be published in the new book "Lensbaby: Bending Your Perspective" by Lensbaby Guru and author/photographer Corey Hilz.
Brightscreen 2010 New Products

Brightscreen USA has announced a new recently patented product "Nondeteriorating Mirror Cushion" which targets the elimination of the majority of in camera particles in the form of dust or black spots
.


Photokina and The New Center for the Imaging Professional
In the coming year, photokina will further intensify its strong support for imaging professionals. The supporting program, which is targeted at professional trade visitors, will also have a new concept.


Sigma Corporation Adds Anti-Shake to 17-70mm Lens
Sigma Corporation is pleased to announce its newly upgraded 17-70mm F2.8-4 DC Macro OS HSM lens.


Tamron Teachable Moments

Starting on January 18, 2010, and every Monday for 12 weeks, Tamron will release an entertaining and informative one-minute episode of "DSLR Know How with Tamron"
.



Tamrac recently announced a new ultra-light, compact tripod called the ZipShot™. It weighs only 11 oz., stands 44" tall and assembles itself in about 3 seconds. Because it will hold up to 3 pounds, this is an ideal product for entry-level SLRs, compact cameras and camcorders. www.zipshottripod.com.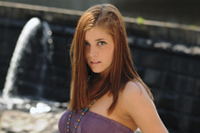 Natural Light Reflectors
"Found" Light For Outdoor Portraiture
by Steve Bedell

Photographers love equipment. They'll attend any seminar and buy any piece of equipment they can in the hopes that it will elevate their work to a higher plane. Now that's all well and good, but before you start buying all that lighting gear I suggest that you first develop the most important piece of equipment that you have—your eye!

Most of my outdoor portraiture is done using just daylight. No reflectors, no flash. My style is very natural looking portraits that make my subject look good. In order to produce this kind of work, I've had to learn how to become very adept at "seeing the light."
Get The Full Story

Vote!
Photography and so-called "social networking" are becoming intertwined. Have you, or how have you gotten involved with these networks?
Please briefly comment on your engagement with social networks and photography.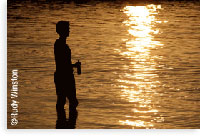 Cavecreek Photographic Workshops
Courses offered each month. Contact: Alan Lowy's Cavecreek Photographic Workshops, 2135 E. Gaffney Road, Phoenix, AZ 85087, 623-465-1077, website: www.cavecreek-photo.com.


2010 World Press Photo Contest
World Press Photo invites professional photographers and photojournalists from around the world to enter the 53rd World Press Photo contest.


Adorama Photography Workshops
Various courses offered each month. Contact: Adorama, 800-223-2500, website: www.adorama.com/catalog.tpl?op=WS_List.


John C. Campbell Folk School
Looking For Light. Free catalog with course descriptions. Contact: John C. Campbell Folk School, One Folk School Road, Brasstown, NC 28902, 800-Folk-SCH, website: www.folkschool.org.



If you would prefer not to receive future communications from Shutterbug, . You may also reach us by writing to the following address: Source Interlink Media, Inc., 261 Madison Avenue, New York, NY 10016 Att: Privacy Coordinator.
Privacy Policy
.
Copyright SOURCE INTERLINK MEDIA™ All Rights Reserved
1415 Chaffee Drive, Suite 10 | Titusville | FL | 32780