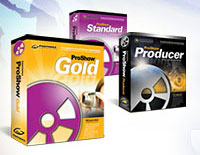 Photodex ProShow Gold 3.0
ProShow Gold 3.0 makes it easy to turn ordinary digital photos into a slide show. Motion effects, like pan, zoom and rotate, make still photos come to life.
Delkin's SensorScope for Cleaning Your Digital SLR Image Sensor
Delkin Devices, Inc. has announced the SensorScope£ System, said by the company to be the safest and most effective system for cleaning your digital SLR image sensor.
Brooks Institute Participates in '5 x 5', A Fine Art Photography Exhibition
Brooks Institute of Photography has announced that it's "5 x 5" fine art photography exhibition will be the school's featured event as a participant in the Downtown Organization's 1st Thursday initiative.
MediaStreet Prints Photo Exhibit To Raise Money And Awareness For Cystic Fibrosis Foundation
MediaStreet Inc. has used its award-winning photo inks and papers to produce a magnificent photo exhibit to raise money to help find a cure for Cystic Fibrosis.
Ilford Black-And-White Challenge
The HP5 Plus Challenge, which applies only to Canada and the USA, runs until May 31, 2007, and is open to any Photographer using Ilford HP5 Plus. The special promotional boxes of Ilford Multigrade IV RC Deluxe, which are available from all Ilford Photo dealers while supplies last, include three free rolls of HP5 Plus film, whether or not the purchaser is willing to take up the challenge.
onOne Software Spring 2007 Availability
onOne Software, Inc. has announced the spring 2007 availability of Genuine Fractals 5. In addition, anyone who purchases Genuine Fractals 4.1 or Genuine Fractals Print Pro 4.1 on or after December 18, 2006 will receive a free upgrade to Genuine Fractals 5 once it becomes available.