December 31, 2013
Please visit Shutterbug's Facebook page to read about what's coming up in the magazine, share your images, and interact with other readers. And be sure to "like" our page while you're there so you don't miss any exciting news!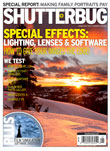 In This eNewsletter:

• How-To – One Flash Portraits
• Industry Perspective – Apologies: We've Been Hacked!
• What's New This Month – FUJIFILM, Fotodiox, Shutterbug, Nikon and Panasonic
• How-To – Camera Settings For Black And White
• How-To – Pop-Up Flash
• How-To – Capture Cultural Details
• Vote! – A recent news item claims picture sharing on "social" sites has flattened out.
• Workshops – Learn and Show
• Shutterbug Forums – Your Photo & Digital Imaging Source
This eNewsletter Brought To You By: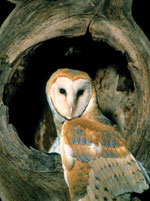 • One Flash Portraits
A Single Light Can Do It Right
by Jim Zuckerman

Many people think that professional looking portraits of either people or animals require a multiple light setup in a studio. The traditional configuration consists of a main light, a fill light, sometimes a hair light depending on the hair—or lack of hair—of the subject, and two lights on the background. You can see what this type of lighting looks like in where I used a 4-light setup. The background was black paper and the two subtle background lights made it look gray. I set the studio strobes to provide a 3:1 lighting ratio on the model's face.

Get The Full Story






• Apologies: We've Been Hacked!
by Ron Leach, Publisher

In perhaps an unfortunate sign of the times, we recently learned that an unauthorized telemarketer has illegally obtained a portion of Shutterbug's subscriber file and is contacting readers in a fraudulent attempt to collect funds for past, current or future subscriptions. We've heard from a number of angry readers, upset by the rude, harassing (and illegal) telephone calls from someone they perceived to be one of our authorized subscription representatives.

Get The Full Story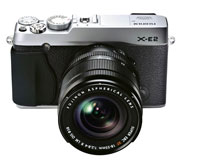 • FUJIFILM X-E2
FUJIFILM North America Corporation announced the new FUJIFILM X-E2, a premium interchangeable lens camera featuring the latest generation 16.3 Megapixel APS-C X-Trans CMOS II sensor and the segment's fastest autofocus of 0.08 seconds.

• New Fotodiox New High-Intensity LED Lights
Fotodiox has announced the availability of its next generation LED light panels; the Fotodiox LED-312D, LED-312DS, and LED-1024AL. The new LED lights are compact and powerful, while remaining lightweight – perfect for both studio and location shooting. Fotodiox's LED panels generate little heat, use little power, and now the reduced bulk of these newest lights maximize portability and mounting possibilities to capture the perfect shot.

• Notice to Shutterbug Subscribers
The subscription department of the company that owns Shutterbug has alerted me that an unauthorized telemarketer has illegally obtained a small portion of our subscriber file and has been attempting to contact some subscribers for unsolicited renewals and payment of invoices.

• Nikon D5300
Nikon Inc. announced the latest addition to its digital SLR lineup, the Nikon D5300. Offering the benefits of SLR performance with the versatility of wireless connectivity, the D5300 allows users to easily capture and share images and videos. Though compact and lightweight, the Nikon D5300 packs an enhanced 24.2-megapixel DX-format CMOS sensor, EXPEED 4 image processing and the convenience of built-in Wi-Fi*(1). Users now have the power to take both frame-worthy and share-worthy photos and HD videos with one device no matter where they are.

• Panasonic LUMIX GM Series
Panasonic is proud to announce the new fashionable compact line GM series to its LUMIX Digital Single Lens Mirrorless (DSLM) cameras. The new DMC-GM1 incorporates a large Digital Live MOS Sensor based on the Micro Four Thirds system standard. The LUMIX GM1's 16 megapixel sensor delivers a modern hybrid approach to image capture with both high quality HD movies and dynamic photos, and all with the press of a button. The LUMIX GM1's exterior offers a refined, classic style with aluminum dials and brushed metal.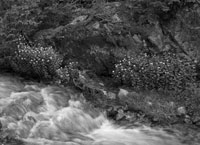 • Camera Settings For Black And White
Shoot Raw And Do It Later, Or Shot JPEG And Lock It In
by George Schaub

Think of a digital camera as a microprocessor with a lens. Along with doing all the things a camera does there is an immense amount of image processing that goes on inside before the image is recorded on the memory card. There are many ways to change the character of an image using the camera's processor.

Get The Full Story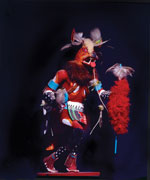 • Pop-Up Flash
A Convenient "Taste Of Light"
by Jim Zuckerman

This story is oriented to photographers who are serious about their photography, and who want to learn to use flash creatively. However, I know there are a lot of people who are very happy with their camera and who aren't interested in buying sophisticated flash units. Admittedly, there is a lot to be said for being able to use one unit for both exposure and illumination. In this section I will address the issue of pop-up flash units and tell you how to get the most out of these small and convenient types of flash.

Get The Full Story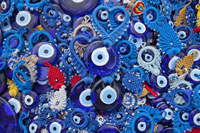 • Capture Cultural Details
A Photographer's Eye
by Jim Zuckerman



After I had been taking pictures seriously for two or three years, I realized that photography taught me to see things I had never noticed before I picked up a camera. I had been fairly oblivious to contrast, the shapes of shadows, details, texture, light, color, and graphic design. The camera helped me finally pay attention to all of these things. It is truly remarkable how much you can miss. For example, BP (Before Photography) I would have walked right past the overturned cart in a rural area of Missouri and not given it a second thought. It wouldn't have occurred to me that this had any artistry or beauty. Similarly, BP I would have missed the bold graphic design, warm color, and rich texture in the detail of a cathedral door in Strasbourg, France.

Get The Full Story







• Vote!
A recent news item claims picture sharing on "social" sites has flattened out.






• AdoramaTV Watch, Learn , Create
We'd like you to know that our friends at Adorama have an exciting new resource that's a key part of their photographic education initiative. See host, Mark Wallace, present how-to videos for everyone from snapshooters to enthusiasts to professional photographers, plus product reviews, interviews with today's top professional photographers, and reviews of iPad apps. AdoramaTV is the newest part of the Adorama Learning Center, which has thousands of photo-related how-to articles, product reviews and buying guides. New videos are added daily. Visit us today and ignite your passion…

• Adorama Photography Workshops
Various courses offered each month. Contact: Adorama, 800-223-2500.


•Newsletter Feedback
Let us know what you think about our Newsletter. Please send your comments to:
editorial@shutterbug.com

• To Change Your Email Address
Please send your request to: zachary.rizzuto@sorc.com


If you would prefer not to receive future communications from Shutterbug, unsubscribe here. You may also reach us by writing to the following address: Source Interlink Media, Inc., 261 Madison Avenue, New York, NY 10016 Att: Privacy Coordinator. Privacy Policy.

Shutterbug Home Page • Print & Web Media Kit • Contact Us
Copyright SOURCE INTERLINK MEDIA™ All Rights Reserved
1415 Chaffee Drive, Suite 10 | Titusville | FL | 32780