November 25, 2013
Please visit Shutterbug's Facebook page to read about what's coming up in the magazine, share your images, and interact with other readers. And be sure to "like" our page while you're there so you don't miss any exciting news!



In This eNewsletter:

• How-To – Aquarium Photography
• Industry Perspective – Don't Blame the Smartphone
• What's New This Month – Tamarkin, Tenba, Photobacks, WD, and NYIP
• How-To – Amusement Parks At Night
• How-To – Black Acrylic Glass
• How-To – Tree Bark
• Vote! – Sony has introduced a full frame sensor mirrorless camera.
• Workshops – Learn and Show
• Shutterbug Forums – Your Photo & Digital Imaging Source
This eNewsletter Brought To You By: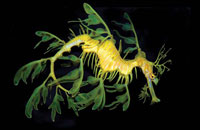 • Aquarium Photography
Getting Close Without Getting Wet
by Jim Zuckerman

Underwater photography is a specialty that most of us don't delve into, but I think it's fair to say that most nature photographers are intrigued with the creatures seen in public and private aquariums. They are beautiful, bizarre, mysterious and often ethereal. Photographing them can be challenging because there are technical issues to deal with in order to get the best possible images.

Get The Full Story






• Don't Blame the Smartphone
by Ron Leach, Publisher

I just read an amusing piece by a tech blogger and self-proclaimed photography expert who worried about an impending demise of the interchangeable lens digital SLR camera. I say "amusing" because the basis for his concern was a recent Wall Street Journal report indicating that DSLR shipments could fall 9% by the end of this year as compared to a year ago. From this, the prognosticator made the cognitive leap that "smartphones are likely the culprit when it comes to the declining fortunes of the DSLR market."

Get The Full Story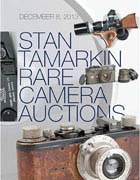 • Rare Camera Auction: Dec 8
Tamarkin Auctions will be having an exciting auction on December 8, 2013 including many extremely rare and interesting items. Featured will be a Leica M4-2 Safari outfit, a prototype which was not eventually manufactured by Leica, a mint Leica M4 KE-7A with a mis-engraving, two 50mm Noctilux f1.2 lenses, E. Leitz Canada prototypes lenses, a grey Leica IIIc(K), rare Nikon rangefinder reflex housings, and much, much more.

• Tenba Messenger DNA Bags
Tenba has announced that it has expanded their popular Messenger collection. Messenger DNA bags which are available in 2 convenient sizes, contain all the crucial building blocks of a great everyday bag combined with the protection of a camera bag and the ability to use it while riding a bicycle. These new bags feature uncompromising weatherproof materials and durable hardware, lightweight yet protective padding, style and comfort, and great functionality.

• Photobacks Clarity Package for Image Enhancement
Photobacks, LLC is pleased to announce the release of the all new Photobacks Clarity Package – a diverse collection of more than 130 Photoshop Templates, Digital Backgrounds, Photoshop Actions and Video Tutorials to enhance your photos like never before. Like all Photobacks Packages, the Clarity Package allows you to easily customize your photos in Photoshop in an endless number of ways to create outstanding custom portraits, photo books, portfolios, cards, promotions and more.

• WD's New Line Of External Desktop Drives
WD, a Western Digital (NASDAQ: WDC) company, has redesigned its popular My Book® and My Book for Mac lines of external desktop drives to provide as much as 4 TB storage capacity and enhanced data protection for those who create and collect large volumes of data, video, music and photos.

• NYIP's Professional Photography Course
The New York Institute of Photography this week launched a completely revised and updated version of their flagship course, the Complete Course in Professional Photography. The process of updating the Professional Photography Course concluded with the introduction of 11 hours of brand new DVD video training, which feature professional photographers demonstrating techniques and sharing their wisdom and advice with students in the course.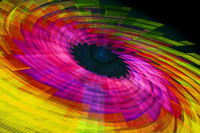 • Amusement Parks At Night
Lights At Night Are Fantastic!
by Jim Zuckerman

Multicolored neon lights turning and spinning at night are irresistible to a photographer. Even though I have photographed amusement parks at night for years, it's still exciting to do it again because the pictures I take are never the same. The colors are always dazzling, and the abstracts are captivating. Sometimes I am happy with these images as I shoot them, and other times I use them as composites. When I took the latter image I immediately thought of a black hole, so I added "stars" to complete the concept. The star field is actually a picture of glitter sprinkled on black velvet.

Get The Full Story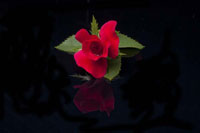 • Black Acrylic Glass
Magical Reflections
by Jim Zuckerman

Studio photographers have used black acrylic glass to create subtle reflections in product shots and portraits for many years. It's a wonder prop because it adds an elegant quality to the photographs of many different types of subjects, from people to glassware to flowers.

Get The Full Story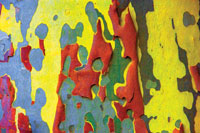 • Tree Bark
Finding Patterns Everywhere
by Jim Zuckerman



I have always found tree bark intriguing. It comes in myriad colors, patterns, designs and textures, and it reminds me of photographing abstract art. I am always looking at tree trunks and branches when I travel, and at home when I visit a botanical garden I know there will be a lot of photographic material. The abstract images you can photograph run the gamut from brilliant and saturated "works of art" to those that are much more subtle.

Get The Full Story







• Vote!
Sony has introduced a full frame sensor mirrorless camera.






• AdoramaTV Watch, Learn , Create
We'd like you to know that our friends at Adorama have an exciting new resource that's a key part of their photographic education initiative. See host, Mark Wallace, present how-to videos for everyone from snapshooters to enthusiasts to professional photographers, plus product reviews, interviews with today's top professional photographers, and reviews of iPad apps. AdoramaTV is the newest part of the Adorama Learning Center, which has thousands of photo-related how-to articles, product reviews and buying guides. New videos are added daily. Visit us today and ignite your passion…

• Adorama Photography Workshops
Various courses offered each month. Contact: Adorama, 800-223-2500.


•Newsletter Feedback
Let us know what you think about our Newsletter. Please send your comments to:
editorial@shutterbug.com

• To Change Your Email Address
Please send your request to: zachary.rizzuto@sorc.com


If you would prefer not to receive future communications from Shutterbug, unsubscribe here. You may also reach us by writing to the following address: Source Interlink Media, Inc., 261 Madison Avenue, New York, NY 10016 Att: Privacy Coordinator. Privacy Policy.

Shutterbug Home Page • Print & Web Media Kit • Contact Us
Copyright SOURCE INTERLINK MEDIA™ All Rights Reserved
1415 Chaffee Drive, Suite 10 | Titusville | FL | 32780