November 29, 2011
In This eNewsletter:

• How-To – Splash Of Color
• Industry Perspective – It's the Photographer, Stupid!
• What's New This Month – ArcSoft, Seculine, Sigma, Arca-Swiss, and Canon
• How-To – Shocking Colors =Maximum Drama
• How-To – Mixing Color With Black And White
• Vote! – Comment briefly on how you use a scene mode in your exposures.
• Workshops – Learn and Show
• Shutterbug Forums – Your Photo & Digital Imaging Source

This eNewsletter Brought To You By:




• Splash Of Color
Contrast Color With More Muted Tones
by Jim Zuckerman

One of the ways to draw attention to a subject is to find—or set up—brightly colored objects in an environment of a muted or earth-toned background. The eye is immediately drawn to color, and this is a poignant way to make a powerful and dynamic visual statement.

Get The Full Story






• It's the Photographer, Stupid!
by Ron Leach, Publisher

When industry mavens get together to ponder the future of photography, all too often the discussion centers around megapixels, file formats, sensor configurations, optical design, storage options, and other technical minutiae. Of course there's nothing wrong with those prognostications, particularly since many of us are techno-nerds. It's also true that sophisticated tools undoubtedly play an important role in a photographers results.

Get The Full Story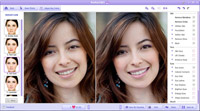 • Free ArcSoft Perfect365 for One-Touch Photo Makeovers
ArcSoft, Inc.'s Perfect365 is a free photo makeover software application that lets users adjust up to 21 individual facial features on their pictures and portraits with a single click of a button. Perfect365 is immediately available as a free download for Windows PC at www.perfect365.com. The iPad and iPhone versions are currently available, and the Facebook and Mac versions will be available before the end of the year.

• Seculine LED Lighting
Interfit announced the Seculine LED lighting panel, said to be ideal for photographers or videographers on the move or in the studio. LED panel lighting offers portability yet a wide range of lighting potential from a high powered, high definition source. Each panel is fully controllable in 1 to 30 steps with fan cooling to keep the electronics and lamps cool. Two module versions are available to suit your preferred shooting style from Tungsten lighting or Daylight balanced, or the dual controlled Tungsten and Daylight unit. Each has an LCD control panel to keep you informed. Each unit comes with Battery, Battery Charger, Ball & Socket, Honey Comb Grid.

• Updated Sigma 18-200mm F3.5-6.3 II DC OS HSM
Sigma Corporation of America has announced that its updated 18-200mm F3.5-6.3 II DC OS HSM is now available in Canon and Nikon mounts for the MSRP of $720.
Sigma's 18-200mm F3.5-6.3 II DC OS HSM is the successor to the Sigma 18-200mm F3.5-6.3 DC OS , which was launched in 2007. The lens has been updated to include the company's new "F" Low Dispersion (FLD) glass elements, which perform like fluorite glass and significantly improve lens performance. The FLD glass now complements the lens' other, Special Low Dispersion (SLD) glass elements and aspherical lenses, which already provide excellent correction of color aberration.

• L-Bracket for Nex Cameras
Arca-Swiss previously released the Mini L-bracket for compact cameras such as the
Olympus E-PL1, E-PL2, Panasonic Lumix GF and LX3, Samsung NX-100, and Canon G10.
Their latest offering is a new mini L-bracket specifically designed for the Nex 3 and Nex 5 cameras from Sony.

• New Canon EOS-1D X Digital SLR Camera
Canon U.S.A., Inc. is proud to introduce a completely revolutionized EOS-1D series camera, the Canon EOS-1D X Digital SLR camera.* As the new leader in Canon's arsenal of professional DSLRs, the EOS-1D X will be a high-speed multimedia juggernaut replacing both the EOS-1Ds Mark III and EOS-1D Mark IV models in Canon's lineup. Enhancing the revolutionary image quality of the EOS-1Ds and speed capabilities of the EOS-1D series, the EOS-1D X DSLR features an 18-megapixel full-frame Canon CMOS sensor, Dual DIGIC 5+ Imaging Processors, 14-bit A/D data conversion and capable of shooting an incredible 12 frames-per-second (fps). Canon's EOS DSLR cameras and accessories have a long-standing legacy of providing high-quality results to professionals in a wide range of markets, including sports, nature, cinematography, wedding and commercial studios. The addition of this new model will help take this tradition to a whole new level.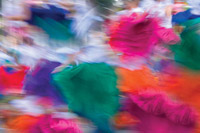 • Shocking Colors =Maximum Drama
Surprising Combinations Can Dazzle The Eye
by Jim Zuckerman



Photographing subjects with outrageous combinations of colors is a lot of fun. As great as complementary colors are, and as pleasing as subtlety and mood are, there's nothing quite like color combinations that virtually knock your eyeballs out of their sockets! Combinations like orange and lime green, deep purple and red, and orange and magenta are extremely potent in drawing attention. Sometimes these juxtapositions of color are found in nature (surprisingly enough) but often they can only be found in man-made objects. One of the reasons I love photographing festivals is because the costuming is frequently shocking and outlandish.

Get The Full Story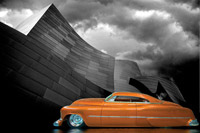 • Mixing Color With Black And White
A Great Combo That's Easy To Create
by Jim Zuckerman

Combining color with black and white is a way to focus attention on a subject or one aspect of a picture. This is similar to throwing a background out of focus so our concentration is directed to the in-focus part of an image, or placing a black background behind something so we have nothing else to look at except the subject. You make one area of a picture color and convert the rest of it to black and white, and it is a very unique way to direct a viewer's attention where you want it.

Get The Full Story



Giottos High performance is always a value.
Tripods*
Monopods*
Ballheads*
Panheads; Quick Releases; Lightstands; Cleaning Kits; Screen Protectors; Accessories
* 5-Year Warranty





• Vote!
Special effects scene modes and Art filters are becoming more common.
How often do you use a scene mode when making exposures?
Comment briefly on how you use a scene mode in your exposures.







• AdoramaTV Watch, Learn , Create
We'd like you to know that our friends at Adorama have an exciting new resource that's a key part of their photographic education initiative. See host, Mark Wallace, present how-to videos for everyone from snapshooters to enthusiasts to professional photographers, plus product reviews, interviews with today's top professional photographers, and reviews of iPad apps. AdoramaTV is the newest part of the Adorama Learning Center, which has thousands of photo-related how-to articles, product reviews and buying guides. New videos are added daily. Visit us today and ignite your passion…

• Cavecreek Photographic Workshops
Courses offered each month. Contact: Alan Lowy's Cavecreek Photographic Workshops, 2135 E. Gaffney Road, Phoenix, AZ 85087, 623-465-1077.

• Adorama Photography Workshops
Various courses offered each month. Contact: Adorama, 800-223-2500.





•Newsletter Feedback
Let us know what you think about our Newsletter. Please send your comments to:
editorial@shutterbug.com

• To Change Your Email Address
Please send your request to: Allyson.Fischgrund@sorc.com


If you would prefer not to receive future communications from Shutterbug, unsubscribe here. You may also reach us by writing to the following address: Source Interlink Media, Inc., 261 Madison Avenue, New York, NY 10016 Att: Privacy Coordinator. Privacy Policy.

Shutterbug Home Page • Print & Web Media Kit • Contact Us
Copyright SOURCE INTERLINK MEDIA™ All Rights Reserved
1415 Chaffee Drive, Suite 10 | Titusville | FL | 32780