October 30, 2012
Please visit Shutterbug's Facebook page to read about what's coming up in the magazine, share your images, and interact with other readers. And be sure to "like" our page while you're there so you don't miss any exciting news!


In This eNewsletter:

• How-To – Super Telephoto Primer
• Industry Perspective – Is Photographic Time Travel, the Next Big Thing?
• What's New This Month – Datacolor, Vanguard, Lensbaby, Broncolor, and Canon
• How-To – Shooting Stars
• How-To – Freestyle
• Vote! – There's a strong trend towards fast lenses for both DSLR and mirrorless cameras.
• Workshops – Learn and Show
• Shutterbug Forums – Your Photo & Digital Imaging Source
This eNewsletter Brought To You By: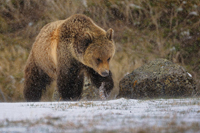 • Super Telephoto Primer
An FAQ On Long Lenses
by Stan Trzoniec

In all my years of shooting in the field, I have yet to meet a photographer who did not like the look, isolation qualities or the sharpness modern telephoto lenses offer.

When it comes to possibilities, they seem endless. Wildlife is at the top of the list for many, perhaps to focus in on that bright cardinal outside your window or to record that special wolf pack in Yellowstone. Whatever your subject, a long telephoto will bring it in closer, sharper and with more detail than you've ever experienced before. Buying a telephoto lens might mean spending as much or more than the camera in your hands right now, so knowing what to get, and what it will get you, is an important part of making any purchasing decision. With that in mind, here's a number of frequently asked questions on the subject of telephotos.

Get The Full Story






• Is Photographic Time Travel, the Next Big Thing?
by Ron Leach, Publisher

Given the impressive pace of technological innovation in the photographic industry, there's very little that makes us pause and say, "Really, you're kidding, right?" But that was exactly my response after hearing from the head of Swedish startup Memoto who is preparing to launch a truly unique micro-device intended to let you "effortlessly travel back in time to that moment when you met the first love of your life, the day your daughter took her first step, or that night you laughed away the night with friends."

Get The Full Story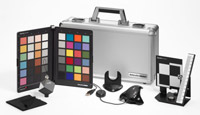 • Datacolor SpyderCAPTURE PRO
Datacolor announced the availability of SpyderCAPTURE PRO, a bundled product package featuring essential tools for photographers to manage color throughout the digital workflow process. The kit, which allows photographers to reliably assess and adjust images from capture to post-production, enabling true-to-life reproduction of images, includes four popular Datacolor Spyder products: Spyder4ELITE, SpyderCHECKR, SpyderCUBE and SpyderLENSCAL.

• Vanguard Abeo Plus Tripods
Introducing Abeo Plus, a versatile and durable tripod that provides exceptional support with a host of user-friendly features for a combination of strength and convenience.

• Lensbaby Spark
Lensbaby announced the release of Spark, a fun and affordable addition to the Lensbaby lens family. Spark is geared toward young photo enthusiasts who are looking for a creative spark to help break out of the box of traditional photography. It retails for $80 and is available for Canon and Nikon DSLRs.

• Broncolor Move 1200 L Power Pack
Hasselblad Bron, Inc., announced the new broncolor Move 1200 L mobile power pack. No bigger than a camera bag, the Move is a lightweight athlete at an impressive price point.

• Canon EOS 6D
Canon U.S.A., Inc.introduced the EOS 6D Digital SLR Camera, a versatile mid-range full-frame camera with the durability and performance professionals require and the creative imaging options serious photographers crave. Canon has coupled the incredible image quality of a newly designed 20.2-megapixel full-frame CMOS sensor and DIGIC 5+ Image Processor with the creative potential of built-in wireless transmitter and GPS features. The camera also includes an 11-point AF array and 63-zone dual-layer iFCL metering sensor together with 1080p Full HD video capabilities, in an affordable camera body. Building upon the qualities that made the EOS 5D Mark II camera so successful, the EOS 6D bridges the gap for budget-minded photographers, videographers and cinematographers who are eager to step up into the world of full-frame imaging.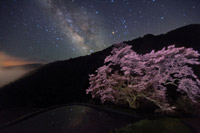 • Shooting Stars
Night Sky Tips & Techniques
by Skye Hohmann

On a clear, moonless night, far away from the glow of city lights, the universe opens up above me. Pinpricked with ancient points of light, the night is breathtaking. Lying on the ground and looking up at the sky on clear nights, it's obvious that the universe is three dimensional. I've had moments of vertigo. I've had moments of awe. Our galaxy sweeps away in the bright clear arc of the Milky Way, so beautiful and complicated and ancient and unlikely that it makes my heart race. The sky is unforgettable.

Get The Full Story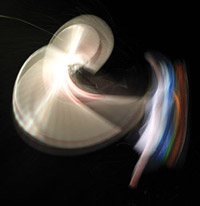 • Freestyle
So Many Skiers, So Much Time
by Barry Tanenbaum

All the elements were right for Robert Beck to try something different. Shooting for Sports Illustrated at the 2010 Winter Olympics in Vancouver, Robert's coverage included both the qualifying and medal rounds of the men's aerials event in freestyle skiing, so there was plenty of opportunity for him to capture not only the razor-sharp peak-action images that typify SI coverage, but also to modify his technique to take a shot or two at turning prose into poetry.

Get The Full Story







• Vote!
There's a strong trend towards fast lenses for both DSLR and mirrorless cameras.







• AdoramaTV Watch, Learn , Create
We'd like you to know that our friends at Adorama have an exciting new resource that's a key part of their photographic education initiative. See host, Mark Wallace, present how-to videos for everyone from snapshooters to enthusiasts to professional photographers, plus product reviews, interviews with today's top professional photographers, and reviews of iPad apps. AdoramaTV is the newest part of the Adorama Learning Center, which has thousands of photo-related how-to articles, product reviews and buying guides. New videos are added daily. Visit us today and ignite your passion…

• Cavecreek Photographic Workshops
Courses offered each month. Contact: Alan Lowy's Cavecreek Photographic Workshops, 2135 E. Gaffney Road, Phoenix, AZ 85087, 623-465-1077.

• Adorama Photography Workshops
Various courses offered each month. Contact: Adorama, 800-223-2500.



•Newsletter Feedback
Let us know what you think about our Newsletter. Please send your comments to:
editorial@shutterbug.com

• To Change Your Email Address
Please send your request to: zachary.rizzuto@sorc.com


If you would prefer not to receive future communications from Shutterbug, unsubscribe here. You may also reach us by writing to the following address: Source Interlink Media, Inc., 261 Madison Avenue, New York, NY 10016 Att: Privacy Coordinator. Privacy Policy.

Shutterbug Home Page • Print & Web Media Kit • Contact Us
Copyright SOURCE INTERLINK MEDIA™ All Rights Reserved
1415 Chaffee Drive, Suite 10 | Titusville | FL | 32780