August 27, 2013
Please visit Shutterbug's Facebook page to read about what's coming up in the magazine, share your images, and interact with other readers. And be sure to "like" our page while you're there so you don't miss any exciting news!



In This eNewsletter:

• How-To – Create A Virtual Sunset
• Industry Perspective – A Rare Artist Who Practiced What He Taught
• What's New This Month – Photoplus, Winogrand Show, Pelican, Manfrotto, and Panasonic
• How-To – Alien Skin's Blow Up 3
• How-To – A Special Effects Toolkit
• How-To – Skin Tone And Lighting Techniques
• Vote! – A number of photo schools still teach black and white film developing and printing.
• Workshops – Learn and Show
• Shutterbug Forums – Your Photo & Digital Imaging Source
This eNewsletter Brought To You By: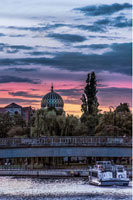 • Create A Virtual Sunset
Software Tools For Image Enhancement: A Case Study
by Jack Neubart

As the sun was setting, I continued to photograph the historic Neue Synagogue in the eastern sector of Berlin, making sure to include the sightseeing boat on the river. I set my framing and exposure to capture some detail in the foreground but in the process I lost any hint of the colorful tapestry I'd hoped to capture in the sky. I took another exposure, this time underexposing by 1 stop. There was more of a hint of sunset, but still not as much as I'd wanted and I'd lost the boat, which had moved on. Worse yet, the foreground was now muddy, practically entirely devoid of detail.

Get The Full Story






• A Rare Artist Who Practiced What He Taught
by Ron Leach, Publisher

The visual arts world has lost a rare visionary with the recent passing of renowned photographer, educator, essayist and critic Allan Sekula. Acclaimed for his unique, multidisciplinary approach, Sekula devoted his life to writing, photography and film, and encouraging scholars and students to think critically about how the visual arts interact with the social and political realities of our time.

Get The Full Story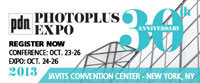 • PhotoPlus Expo 2013
Register now for the PDN PhotoPlus Conference + Expo. October 24-26, 2013, Javits Convention Center - New York City. Designed for photo enthusiasts and professional photographers, PhotoPlus showcases the latest in photography, digital imaging and video. Experience an inspiring array of photography and imaging products and services from the industry's leading manufacturers. The show also offers photography, video and digital imaging seminars with a focus on cutting-edge innovations in digital imaging products and techniques.

• Winogrand Show At Worcester Art Museum
Worcester Art Museum is pleased to announce the photography exhibition, Winogrand's Women are Beautiful, on view August 10 through November 10, 2013. Worcester Art Museum owns a complete portfolio of the Women are Beautiful series by photographer Garry Winogrand (American, 1928-1984). 68 of the 85 images will be on view. Photographs feature black and white images of young adult women taken primarily during the 1960s and early 1970s.

• Pelican S115 Sport Elite Laptop/Camera Pro Pack
The S115 is a camera pack that features a legendarily tough Pelican laptop case integrated with a water resistant, front compartment with padded dividers that hold and protect multiple camera bodies, lenses, flashes and other camera equipment. Its built-in laptop case is a watertight, crushproof and impact resistant compartment that can fit an Ultrabook or any 15" notebook up to 1" thickness or any 17" MacBook.

• Manfrotto PIXI Mini Tripod
Manfrotto is proud to announce an innovative new mini tripod designed to satisfy the needs of photographers looking for a support that is light, portable and easy to use for every occasion. PIXI offers a stylish, functional option for all photographers, making it easy to capture memories without the hassle of bulky photography equipment. Its compact size and lightweight design make it an effortless tool to pack. PIXI has a secure base, offering indispensable stability allowing users to create excellent images.

• LUMIX G 20mm / F1.7 II ASPH Lens
Panasonic announced the addition of a new single focal length lens, the LUMIX G 20mm / F1.7 II ASPH (H-H020A) featuring a new metallic profile in the Micro Four Thirds standard. It boasts dramatic compactness and light weight despite its f/1.7 aperture that enables beautiful soft focus in the background, allowing the subject to stand out impressively.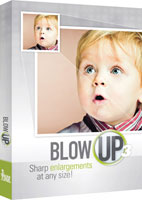 • Alien Skin's Blow Up 3
Resampling Made Easy
by George Schaub

There's a considerable difference between resizing, which means maintaining the same pixel dimensions and adapting to different document sizes at the same print resolution, and resampling, which means building additional pixels from the original file to enable printing larger documents at the same resolution. Say you have a 24MB file, obtained from an 8 megapixel digicam, that will normally fill an 8.5x11" print at 300 dpi when printing. But you just got a 13x19" printer and want to try your luck at that size, still at 300dpi. Well, for that you would need a 62MB file.

Get The Full Story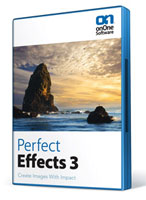 • A Special Effects Toolkit
OnOne Software's Perfect Effects 3
by Howard Millard

OnOne Software's Perfect Effects 3 offers more than 300 effects in 14 categories: Vintage, Darkroom, Borders, Portrait, Color and Tone, Film, Glow, Detail, Black and White, Landscape, Movie Looks, Photo Filters, Textures and Vignettes. For maximum flexibility in your workflow, Perfect Effects 3 works as a standalone program, or as a plug-in. Perfect Effects 3 integrates as an external editor for Lightroom and Aperture or as a plug-in for Elements or Photoshop. If you are using PE3 as a Photoshop plug-in, the effects appear under the File>Automate menu.

Get The Full Story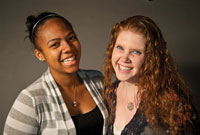 • Skin Tone And Lighting Techniques
Fair & Balanced
by Chuck Gloman



Lighting fair-skinned subjects can be a challenge, but when working outdoors or indoors, controlling the flash, managing external illumination or simply shading the areas you don't want highlighted can yield great results. Here are some tips on lighting that also includes groups where skin tone varies. As we'll see, fair-skinned people have a beauty all their own that can easily be brought out in correctly exposed portraits. Play around with the color temperature and see what can be done with a little extra warmth or coolness.

Get The Full Story







• Vote!
A number of photo schools still teach black and white film developing and printing.







• AdoramaTV Watch, Learn , Create
We'd like you to know that our friends at Adorama have an exciting new resource that's a key part of their photographic education initiative. See host, Mark Wallace, present how-to videos for everyone from snapshooters to enthusiasts to professional photographers, plus product reviews, interviews with today's top professional photographers, and reviews of iPad apps. AdoramaTV is the newest part of the Adorama Learning Center, which has thousands of photo-related how-to articles, product reviews and buying guides. New videos are added daily. Visit us today and ignite your passion…

• Cavecreek Photographic Workshops
Courses offered each month. Contact: Alan Lowy's Cavecreek Photographic Workshops, 2135 E. Gaffney Road, Phoenix, AZ 85087, 623-465-1077.

• Adorama Photography Workshops
Various courses offered each month. Contact: Adorama, 800-223-2500.


•Newsletter Feedback
Let us know what you think about our Newsletter. Please send your comments to:
editorial@shutterbug.com

• To Change Your Email Address
Please send your request to: zachary.rizzuto@sorc.com


If you would prefer not to receive future communications from Shutterbug, unsubscribe here. You may also reach us by writing to the following address: Source Interlink Media, Inc., 261 Madison Avenue, New York, NY 10016 Att: Privacy Coordinator. Privacy Policy.

Shutterbug Home Page • Print & Web Media Kit • Contact Us
Copyright SOURCE INTERLINK MEDIA™ All Rights Reserved
1415 Chaffee Drive, Suite 10 | Titusville | FL | 32780