July 30, 2013
Please visit Shutterbug's Facebook page to read about what's coming up in the magazine, share your images, and interact with other readers. And be sure to "like" our page while you're there so you don't miss any exciting news!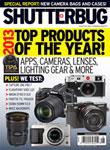 In This eNewsletter:

• How-To – Digital Tools For Low Light Photography
• Industry Perspective – How About a Digital Camera Without A Body, Viewfinder or LCD Display?
• What's New This Month – jAlbum, Pelican, Flashpoint, Nikon, and Manfrotto
• How-To – Macro Light Painting
• How-To – Photogenic's StudioMax III Soft Box Portrait Kit
• Vote! – New sensors and processors yield better quality at higher ISO settings.
• Workshops – Learn and Show
• Shutterbug Forums – Your Photo & Digital Imaging Source
This eNewsletter Brought To You By: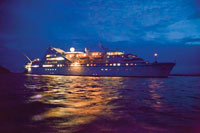 • Digital Tools For Low Light Photography
Post Exposure Image Enhancement
by Jim Zuckerman

Digital cameras allow photographers to stretch the boundaries of what we can capture like never before. Using extremely high ISO settings like 25000, in-camera noise reduction algorithms, and expanded dynamic range capability, we can now photograph in low light situations and expect to use shutter speeds fast enough to take sharp pictures. This is truly revolutionary. However, there is a price to be paid, and that price is image quality. You just can't expect a picture taken at ISO 25000 to be as sharp and to show fine detail with tack sharp clarity like a picture taken at ISO 200. There are limits to what advanced technology can deliver.

Get The Full Story








• How About a Digital Camera Without A Body, Viewfinder or LCD Display?
by Ron Leach, Publisher

There's an intriguing rumor making the rounds that, if true, could dramatically alter the way in which photographers interact with wireless devices like smartphones, tablets and laptops. According to Sony Alpha Rumors, a typically reliable source of information regarding future digital imaging technology from Sony, we may soon see the unveiling of a high-quality lens featuring WiFi connectivity, a built-in imaging sensor and its own power source.

Get The Full Story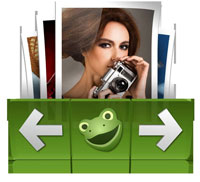 • jAlbum 11
The newly released jAlbum 11 introduces an easy way to share your videos. Drop photos, videos, and even folders onto jAlbum and it will create stunning web galleries for you. Your photos and videos are downscaled, decreasing their size by about 90%. This means faster uploads and a smart way to share both photos and videos. With the built-in FTP uploader, jAlbum lets you publish your albums on your own hosting and domain. jAlbum does not claim any rights to your images, and never will.

• Pelican Case
Pelican Products, Inc. announced the introduction of Pelican ProGear U160 Urban Elite Half Case Camera Pack as the newest addition to its series of photography-styled, Pelican ProGear backpacks.

• Flashpoint 180
Adorama is now selling the new Flashpoint 180 Monolight Kit. The Flashpoint 180 Monolight is compact and ideal for on-location shooting. Lightweight and versatile, the complete lighting kit comes pre-loaded with all the accessories needed to achieve the perfect lighting for any shoot, including a case to carry it all. Two readily available NP-F960 batteries power the light, providing up to 700 flashes at a full 180w/s and giving photographers ultimate control for all of their lighting needs.

• 1 NIKKOR 32mm f/1.2
Nikon Inc. has introduced the newest addition to the Nikon 1 system, the 1 NIKKOR 32mm f/1.2 lens, a fast medium-telephoto lens. With a fixed focal length of 32mm and a maximum aperture of f/1.2, the new 32mm lens is the fastest in the ever expanding 1 NIKKOR lens lineup. An ideal lens for portraiture, the 1 NIKKOR 32mm f/1.2 lens is capable of rendering breathtaking images that capture every detail.

• Manfrotto BeFree Compact Tripod
Manfrotto announced an innovative tripod dedicated to photographers who love to travel. BeFree is a light, compact, intuitive to use, stable option for capturing stunningly precise and sharp images.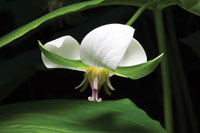 • Macro Light Painting
Studio Quality Macro, Outdoors
by Kimball Wilcox

The Litepanel MicroPro is a small LED 5600K constant light made for D-SLR cameras. Although it is primarily for shooting video I've found it can also be very effective for macro lighting where the light is very close, nearly touching to about a foot away.

Get The Full Story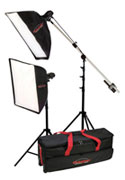 • Photogenic's StudioMax III Soft Box Portrait Kit
An All-In-One Lighting Solution
by Joe Farace



Photogenic Professional Lighting is one of the classic names in portrait lighting and has been making studio equipment for more than 100 years. A lot has changed in technology since 1903 but one thing that hasn't is Photogenic's manufacturing their lighting gear for studio or location portrait photography here in the USA. I chose the AKC55K 640 WS Soft Box Portrait kit for this review because it was a 2-light system that includes a soft box on a boom, something beginning portrait photographers sometimes overlook because they think this particular lighting tool is too expensive and too complex to use. My experience with this kit demonstrated otherwise.

Get The Full Story







• Vote!
New sensors and processors yield better quality at higher ISO settings.







• AdoramaTV Watch, Learn , Create
We'd like you to know that our friends at Adorama have an exciting new resource that's a key part of their photographic education initiative. See host, Mark Wallace, present how-to videos for everyone from snapshooters to enthusiasts to professional photographers, plus product reviews, interviews with today's top professional photographers, and reviews of iPad apps. AdoramaTV is the newest part of the Adorama Learning Center, which has thousands of photo-related how-to articles, product reviews and buying guides. New videos are added daily. Visit us today and ignite your passion…

• Cavecreek Photographic Workshops
Courses offered each month. Contact: Alan Lowy's Cavecreek Photographic Workshops, 2135 E. Gaffney Road, Phoenix, AZ 85087, 623-465-1077.

• Adorama Photography Workshops
Various courses offered each month. Contact: Adorama, 800-223-2500.



•Newsletter Feedback
Let us know what you think about our Newsletter. Please send your comments to:
editorial@shutterbug.com

• To Change Your Email Address
Please send your request to: zachary.rizzuto@sorc.com


If you would prefer not to receive future communications from Shutterbug, unsubscribe here. You may also reach us by writing to the following address: Source Interlink Media, Inc., 261 Madison Avenue, New York, NY 10016 Att: Privacy Coordinator. Privacy Policy.

Shutterbug Home Page • Print & Web Media Kit • Contact Us
Copyright SOURCE INTERLINK MEDIA™ All Rights Reserved
1415 Chaffee Drive, Suite 10 | Titusville | FL | 32780