July 31, 2012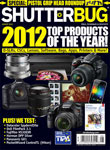 In This eNewsletter:

• How-To – Get Your Head Into The Clouds
• Industry Perspective – Making A Difference With Photography
• What's New This Month – Pelican, Quantum, Canon, and photoFXlab
• How-To – "Canvas-Plus": An Old Craft Made New
• How-To – Backlit Swipes
• Vote! – Off camera" flash opens the door to many creative lighting setups.
• Workshops – Learn and Show
• Shutterbug Forums – Your Photo & Digital Imaging Source

This eNewsletter Brought To You By: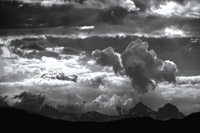 • Get Your Head Into The Clouds
Tips For Capturing Brilliant Skies
by Moose Peterson

The winds are kicking up and there is a chill in the air, a storm is coming. The afternoon light flickers bright to dim as the first clouds block the sun, racing east with the wind. The moments of sunshine get less and less as more and more clouds join the parade. The light changes from mellow to dramatic. I grab the camera and truck keys and make a dash down to the flats. This is not the first time, I've done it so much in fact that with the wind and light I know exactly where I want to be to shoot, so I step on the gas. Within a couple of minutes I'm in place and admiring the big battleships of gray ready to dump their load of snow on our home. A break comes in the clouds, the light comes streaming in as the camera goes click. It's the perfect end to a fun chase.

Get The Full Story



Around the World with Adobe® Photoshop® Lightroom® 4. Win a photo expedition to Thailand. Share your best shot for the chance of a lifetime. Submit your photo.

(last "Submit your photos" part is only if they can include a click-through to the FB app).




• Making A Difference With Photography
by Ron Leach, Publisher

Most of us who are passionate about photography pursue the craft as either a career or a hobby for the simple enjoyment of creating beautiful or impactful images. Occasionally, however, a photographer picks up her camera with the lofty goal of changing lives or improving the world in which we live. Betsey Chesler is one such person.

A self-taught fine-art photographer and photojournalist, Chesler founded the Cameras For Kids Foundation (CFKF) in 2009—a non-profit organization dedicated to improving the plight of underprivileged teens. Her program is now available in New York, Atlanta, Los Angeles and in many Florida locations where CFKF is based. The Foundation uses cameras to awaken and develop the artistic expression of participants, while at the same time heightening their social awareness, self-esteem and confidence.

Get The Full Story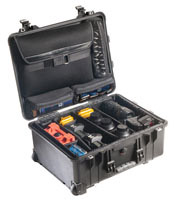 • Pelican Products 1510SC and 1560SC Studio Cases
Pelican Products 1510SC and 1560SC Studio Cases are legendarily tough, watertight cases designed for photography and video production professionals who want to protect their laptops, lenses and any sensitive equipment and not waste time at the airport luggage carrousel.

• Quantum CoPilot TTLFlash Controller
Photographers can now trigger and quickly set ratios for three groups of radio controlled Qflashes and/or Trios. Set lighting ratios on the fly, right from your camera. Simply turn three controls on the CoPilot to instantly adjust lighting ratios as you shoot.

• Canon U.S.A. Free Photography Workshops In National Parks
Canon U.S.A. Inc., a leader in digital imaging solutions, is once again joining forces with several of the country's acclaimed national parks to offer free photography workshops to visitors this summer. The Canon Photography in the Parks Program provides participants with free equipment loans and professional photography instruction as they take part in a guided walking photo tour. Following the tour, participants have the opportunity to print images for free and take home a CD of their image files. Visitors of all ages and experience levels are welcome to participate.

• EOS Rebel T4i DSLR
Canon U.S.A., Inc.announced a new flagship model in its most popular EOS Rebel line, the Canon EOS Rebel T4i Digital SLR Camera. The new EOS Rebel T4i features an 18-megapixel CMOS (APS-C) sensor, DIGIC 5 Image Processor that helps capture all the action with high-speed continuous shooting of up to five frames per second (fps) and an extended ISO range of 100–12800 (expandable to 25600 in H mode) that gives photographers the opportunities to take the EOS Rebel T4i into more shooting situations than ever before.

• Try The Newly Updated photoFXlab v1.1
Topaz Labs has announced the availability of photoFXlab v1.1™. This new update simplifies setup and resolves many of your reported concerns - plus we added a few new features that we think you will find useful! If you're looking to streamline your Topaz workflow, you'll enjoy having instant access to your Topaz plug-ins, a searchable effects library, a simple layered workflow, IntelliColor™ technology, built-in masking and more - all in one user friendly workspace.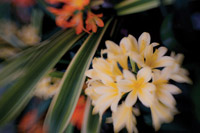 • "Canvas-Plus": An Old Craft Made New
Adding Oil Paints To Inkjet Prints
by George Schaub

I have always been of divided mind when it comes to printing photographic images on canvas. I have certainly seen inkjet canvas material in use at galleries and fine art fairs, where watercolorists, pastel artists etc use the material to create lower-priced copies of originals, making the art affordable yet attractive for many buyers. In fact, it's a fairly easy bet that the great majority of the canvas coming off inkjet printers is used for just that purpose. The main use of photographic imagery on this material, in my experience, is for portraiture and wedding photography, where the image can stand on its own or gets painted over by artists for a premium touch, and price.

Get The Full Story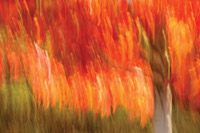 • Backlit Swipes
A Novel Approach To Fall Photography
by by Stacey G. Lloyd

Fall is that time of year when we as photographers aspire to capture the splendid color burst that surrounds us. After a few years it can be difficult to come up with new and fresh approaches. Combining camera movement with backlight is one way to capture the colorful exuberance of a bright autumn day.

Get The Full Story









• Vote!
"Off camera" flash opens the door to many creative lighting setups.



Giottos High performance is always a value.
Tripods*
Monopods*
Ballheads*
Panheads; Quick Releases; Lightstands; Cleaning Kits; Screen Protectors; Accessories
* 5-Year Warranty





• Expressive Monochrome Printmaking with George Schaub. Maine Media Workshops in Rockport, Maine. August 12-18, 2012.

• Digital Photography Workshop
Cruise Canada and New England in October. Contact: Patty, 800-652-2267

• AdoramaTV Watch, Learn , Create
We'd like you to know that our friends at Adorama have an exciting new resource that's a key part of their photographic education initiative. See host, Mark Wallace, present how-to videos for everyone from snapshooters to enthusiasts to professional photographers, plus product reviews, interviews with today's top professional photographers, and reviews of iPad apps. AdoramaTV is the newest part of the Adorama Learning Center, which has thousands of photo-related how-to articles, product reviews and buying guides. New videos are added daily. Visit us today and ignite your passion…

• Cavecreek Photographic Workshops
Courses offered each month. Contact: Alan Lowy's Cavecreek Photographic Workshops, 2135 E. Gaffney Road, Phoenix, AZ 85087, 623-465-1077.

• Adorama Photography Workshops
Various courses offered each month. Contact: Adorama, 800-223-2500.







•Newsletter Feedback
Let us know what you think about our Newsletter. Please send your comments to:
editorial@shutterbug.com

• To Change Your Email Address
Please send your request to: Allyson.Fischgrund@sorc.com


If you would prefer not to receive future communications from Shutterbug, unsubscribe here. You may also reach us by writing to the following address: Source Interlink Media, Inc., 261 Madison Avenue, New York, NY 10016 Att: Privacy Coordinator. Privacy Policy.

Shutterbug Home Page • Print & Web Media Kit • Contact Us
Copyright SOURCE INTERLINK MEDIA™ All Rights Reserved
1415 Chaffee Drive, Suite 10 | Titusville | FL | 32780