June 26, 2012
In This eNewsletter:

• How-To – Floral Fusions
• Industry Perspective – Please Join Fans of Shutterbug Magazine on Facebook!
• What's New This Month – b-grip, Photomatix, Redrock, DeluxGear, and Lensbaby
• How-To – A Basic Set Of Color Controls
• How-To – Slightly Diffused
• Vote! – New cameras are incorporating more and more processing options "on board." When adding special effects or image processing do you...
• Workshops – Learn and Show
• Shutterbug Forums – Your Photo & Digital Imaging Source

This eNewsletter Brought To You By: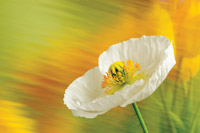 • Floral Fusions
A Simple Set-Up For Creative Effects
by Stacey G. Lloyd

In an age of abundant paint software and texture apps, it is easy to overlook other approaches to painterly image creation. Using moving sheets of textured glass with slow shutter speeds is one alternative approach. When combined with flowers I call the result "Floral Fusions".

Your flowers should be in pristine condition and composed into visually pleasing arrangements. I have found that lighter colored flowers work best with this technique.

Get The Full Story








• Please Join Fans of Shutterbug Magazine on Facebook!
by Ron Leach, Publisher



What began in 2004 as a social networking service for Harvard students has rapidly grown into an international phenomenon with social, political, business and cultural implications for users of all ages. With over 158 million users in the U.S. (and almost a million world-wide), Facebook now reaches nearly 75% of Internet users in our country.

In late 2007 Microsoft purchased a 1.6% share in Facebook for $240 million, giving the company a total valuation of around $15 billion. By 2009 Facebook was ranked as the most widely used social networking site in the world, and a year later an estimated 42% of the U.S. population had a Facebook account. In September 2009 Facebook announced it had become cash-flow positive for the first time, and a year later it was valued at $14 billion—becoming the third-largest U.S. internet company behind Google and Amazon.

Get The Full Story



DESIGN LIKE A PRO! collagesDesigner 2.0 is a FREE Album and Book design software. collagesDesigner 2.0 enables you to quickly create professionally designed albums and books. Choose from hundreds of page styles, flourishes, and backgrounds – or import your own! Mac and PC compatible. FREE sign up: www.collages.net/signup.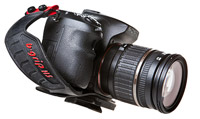 • New b-grip EVO Accessories
The b-grip EVO, made in Italy by CPtech, provides a strong, safe support for your DSLR. The base attaches to your waist belt (or to the belt provided), while the quick-release plate attaches to the camera tripod socket. A quick release mechanism provides instant access to the camera when required. The b-grip EVO is clad with a brand new sleek design, additional fastening points and safety features. New accessories for the line include a Universal Tripod Adapter, a Handstrap and a Travel Kit.

• HDRsoft Launches Photomatix Pro 4.2
Photomatix Pro 4.2 introduces 20 new built-in presets and the ability to filter thumbnail displays by category. All thumbnails, both user and built-in, can now optionally be displayed in two columns, and at a new larger size. Other updates include a new fusion method designed to produce natural-looking rendering of interiors with bright windows, and a Finishing Touch panel letting users add final adjustments to their images, with options for sharpening, increasing contrast, and adjusting the saturation of individual colors.

• Redrock Micro ultraCage & ultraBase for Video-Capable DSLRs
Redrock Micro launched the new ultraCage DSLR and ultraBase support for video-enabled DSLR cameras. The ultraCage DSLR has been called an essential accessory for converting the DSLR camera body into a movie-making production powerhouse.

• DeluxGear Launches Four New Lens Guards
The new XL, 2X-L, Jumbo, and Giant Lens Guards protect any of your larger lenses and many of your basic lenses with hoods. These include the popular Nikon 14-24mm and other fisheye and wide angle lenses; all brands of 70-200mm lenses; other popular zooms including the Nikon 80-400mm and 200-400mm, the Sigma 80-400mm, 100-300mm, 300-800mm and 50-500mm (the "Bigma"), the Tamron 200-500mm, and others; and large prime lenses -- 200mm through 800mm primes from Canon, Nikon, Sigma and others.

• Lensbaby Pro Effects Kit
Lensbaby announced the availability of its Pro Effects Kit, which bundles the latest Lensbaby lens, optics & accessories, perfect for injecting creativity and uniqueness into a photographer's portfolio. The Pro Effects Kit includes the Lensbaby Composer Pro with Sweet 35 Optic, the Edge 80 Optic, Macro Converters, Lens Cleaning Cloth and the Lensbaby System Bag.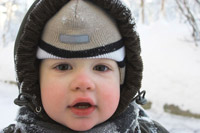 • A Basic Set Of Color Controls
A Short List Of Options To Help You Quickly And Easily Improve Your Images
by Anthony Celeste

Working with color is one of the most common activities when editing photos. All photo-editors, from the most basic to the most advanced, have an abundance of tools available for altering colors. In this article, I'll take a look at some of the basic tools that you'll find in the most humble image processing software, even the one that came in the box with your camera.

Get The Full Story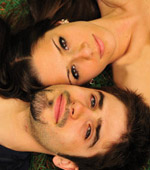 • Slightly Diffused
Controlling Point Source And "Hot" Light
by Chuck Gloman

Sometimes the lighting in your environment is too strong, whether daylight or artificial, and you need to soften it slightly—that's where diffusion comes into play. In the following examples, we'll look at how diffusion can soften "direct" light.

Get The Full Story









• Vote!
New cameras are incorporating more and more processing options "on board." When adding special effects or image processing do you...







• Expressive Monochrome Printmaking with George Schaub. Maine Media Workshops in Rockport, Maine. August 12-18, 2012.

• Digital Photography Workshop
Cruise Canada and New England in October. Contact: Patty, 800-652-2267

• AdoramaTV Watch, Learn , Create
We'd like you to know that our friends at Adorama have an exciting new resource that's a key part of their photographic education initiative. See host, Mark Wallace, present how-to videos for everyone from snapshooters to enthusiasts to professional photographers, plus product reviews, interviews with today's top professional photographers, and reviews of iPad apps. AdoramaTV is the newest part of the Adorama Learning Center, which has thousands of photo-related how-to articles, product reviews and buying guides. New videos are added daily. Visit us today and ignite your passion…

• Cavecreek Photographic Workshops
Courses offered each month. Contact: Alan Lowy's Cavecreek Photographic Workshops, 2135 E. Gaffney Road, Phoenix, AZ 85087, 623-465-1077.

• Adorama Photography Workshops
Various courses offered each month. Contact: Adorama, 800-223-2500.







•Newsletter Feedback
Let us know what you think about our Newsletter. Please send your comments to:
editorial@shutterbug.com

• To Change Your Email Address
Please send your request to: Allyson.Fischgrund@sorc.com


If you would prefer not to receive future communications from Shutterbug, unsubscribe here. You may also reach us by writing to the following address: Source Interlink Media, Inc., 261 Madison Avenue, New York, NY 10016 Att: Privacy Coordinator. Privacy Policy.

Shutterbug Home Page • Print & Web Media Kit • Contact Us
Copyright SOURCE INTERLINK MEDIA™ All Rights Reserved
1415 Chaffee Drive, Suite 10 | Titusville | FL | 32780