May 28, 2013
Please visit Shutterbug's Facebook page to read about what's coming up in the magazine, share your images, and interact with other readers. And be sure to "like" our page while you're there so you don't miss any exciting news!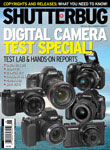 In This eNewsletter:

• How-To – Digital Light Modification
• Industry Perspective – The Helmet-Cam of Justice for Cyclists
• What's New This Month – TIPA Award, Samsung, Manfrotto, Canon, and Hensel Photo Contest
• How-To – Rethinking Digital Photography
• How-To – Christopher Grey's Vintage Lighting
• Vote! – Compact System Cameras are becoming more interesting, and popular.
• Workshops – Learn and Show
• Shutterbug Forums – Your Photo & Digital Imaging Source
This eNewsletter Brought To You By: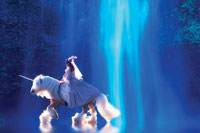 • Digital Light Modification
Post Processing To Enhance Exposure
by Jim Zuckerman

When we all shot film and our exposures were not perfect, there was very little we could do about our mistakes. All that has changed, and now we can make meaningful adjustments to the contrast, exposure and the color cast. It is a great time to be a photographer.
The following discussion about ways to alter your images after-the-fact is based on the assumption that you are shooting in Raw mode. JPEG images can also be altered, but not to the extent that Raw files can be improved and enhanced. If you are serious about producing images that can be considered fine art and that will look great as large prints, Raw is the only way to go. I say that because there are many important advantages, the most significant of which is that Raw files retain detail in the highlights and shadows better than JPEGs. Because JPEG files compress data, some information has to be discarded. First to go is the texture and detail in the highlights and shadows. This is the last thing you want.

Get The Full Story






• The Helmet-Cam of Justice for Cyclists
by Ron Leach, Publisher

Every so often a treasure-trove of previously inaccessible images is made available that makes me want to drop everything and just marvel at the collection. Such was the case with almost a million never-before-seen photographs unveiled one year ago that represent a remarkable visual history of New York City. As someone who loves riding vintage bicycles as much as shooting with state-of-the-art cameras (and had a serious crash a year ago to prove it), I was particularly intrigued by a project under development by Chaotic Moon involving an innovative bicycle helmet designed to capture critical imagery during an accident.

Get The Full Story





• Shutterbug Reader Wins TIPA Prize
TIPA would like to thank all the readers who took part in the TIPA Readers' Survey for 2013 that was published in the members' magazines. The prize draw for the TIPA Award winning cameras took place in Madrid on 29 April 2013 under the supervision of a notary. We're happy to report that Shutterbug reader Randy Johnson won a Panasonic LUMIX GX1 with a Panasonic LUMIX G Vario PZ 14-42mm lens for his participation in the survey.

• Samsung NX1100
Samsung Electronics America, Inc. announced that the new NX1100, compact system camera (CSC) with built-in Wi-Fi and AutoShare, is now available nationwide bundled with Adobe Photoshop Lightroom 4 for a MSRP of $599.99.

• Kata Pro-Light Rollers
Manfrotto Distribution has introduced a slimmed down lineup of Kata rollers, shoulder bags, video backpacks and rain covers. Designed especially for professional videographers, Kata's products offer a wide selection of carrying and protective solutions.

• Canon EOS Rebel T5
Canon U.S.A., Inc. has introduced a new flagship model to its popular EOS Rebel line, the EOS Rebel T5i Digital SLR Camera. The image quality and performance starts with an 18 megapixel CMOS (APS-C) sensor and Canon's DIGIC 5 Image Processor. Combined with an extensive ISO range of 100–12800 (expandable to 25600 in H mode), the EOS Rebel T5i boasts crisp, detailed images, even in low-light conditions.

• Hensel International Photo Contest
Hensel is calling on photographers worldwide to send photographs of them with their favorite Hensel product. They are looking for a picture of a Hensel product, either by itself or together with the photographer on the job. Funny, extreme, straight, or just different; it should be likeable. Write them a short statement of 500 words or less and submit it with your picture.


• Book Excerpt
Rethinking Digital Photography
Making & Using Traditional & Contemporary Photo Tools
by John Neel

Digital opens visual doors, and John Neel walks through many of them in his new book, Rethinking Digital Photography. This 240-page book is filled with ideas and experiments that encompass both historic film approaches and leading-edge software techniques, including how-to building guides for gadgets and hybrid imaging devices, using odd and wonderful software to build unique images and adapting items such as toy camera lenses into your work. In all, it's a great visual workout and idea book that breaks out of the traditional digital how-to book mold. In this excerpt, Neel takes us through techniques combining panoramic shooting and using software filters to create "planets."—Editor

Get The Full Story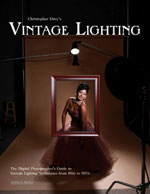 • Book Excerpt
Christopher Grey's Vintage Lighting
The Digital Photographer's Guide To Portrait Lighting Techniques From 1910 To 1970
by Christopher Grey



In his latest book, Vintage Lighting, pro photographer Christopher Grey shows how to capture the lighting techniques of bygone eras with today's cameras, light sources and postproduction tools. Spanning the period 1910 through 1970, from Edwardian through "Hollywood" to Pop and the Sixties, he shows in imagery and text how to recreate the many lighting styles, poses and props this exciting period in portraiture produced, finishing up with some digital processing techniques to help you enhance your images even more. In this excerpt, we look at his take on the Edwardian Era.—Editor

Get The Full Story







• Vote!
Compact System Cameras are becoming more interesting, and popular.









• AdoramaTV Watch, Learn , Create
We'd like you to know that our friends at Adorama have an exciting new resource that's a key part of their photographic education initiative. See host, Mark Wallace, present how-to videos for everyone from snapshooters to enthusiasts to professional photographers, plus product reviews, interviews with today's top professional photographers, and reviews of iPad apps. AdoramaTV is the newest part of the Adorama Learning Center, which has thousands of photo-related how-to articles, product reviews and buying guides. New videos are added daily. Visit us today and ignite your passion…

• Cavecreek Photographic Workshops
Courses offered each month. Contact: Alan Lowy's Cavecreek Photographic Workshops, 2135 E. Gaffney Road, Phoenix, AZ 85087, 623-465-1077.

• Adorama Photography Workshops
Various courses offered each month. Contact: Adorama, 800-223-2500.



•Newsletter Feedback
Let us know what you think about our Newsletter. Please send your comments to:
editorial@shutterbug.com

• To Change Your Email Address
Please send your request to: zachary.rizzuto@sorc.com


If you would prefer not to receive future communications from Shutterbug, unsubscribe here. You may also reach us by writing to the following address: Source Interlink Media, Inc., 261 Madison Avenue, New York, NY 10016 Att: Privacy Coordinator. Privacy Policy.

Shutterbug Home Page • Print & Web Media Kit • Contact Us
Copyright SOURCE INTERLINK MEDIA™ All Rights Reserved
1415 Chaffee Drive, Suite 10 | Titusville | FL | 32780