March 27, 2012
In This eNewsletter:

• How-To – Custom Color Balance For Portraits
• Industry Perspective – What's Next for Photography?
• What's New This Month – Lensbaby, Alien Skin, Topaz, LitePad, and Sigma
• How-To – Flowers And A Soft Drink
• How-To – Water Drops On CDs
• Vote! – Please comment briefly on your experiences with iPhone photography.
• Workshops – Learn and Show
• Shutterbug Forums – Your Photo & Digital Imaging Source

This eNewsletter Brought To You By: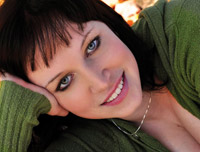 • Custom Color Balance For Portraits
Match The Light, Enhance The Mood
by Chuck Gloman



When shooting portraits, just setting the color balance on Automatic or one of the Temperature "modes" is not the most efficient way of capturing natural skins tones. Instead, take a manual white balance reading of your subject in the environment and then make adjustments from there.

With all of the portraits I shoot, there are a few constants: low ISO (200–400), mid range f/stop for more lens clarity (f/5.6–f/9), telephoto lens for narrow depth of field (70–120mm) and the sharpest part of the image being the subjects's eyes. The last "given" when I shoot is to always capture the image in Raw—knowing I can easily manipulate it in editing if needed.

Get The Full Story








• What's Next for Photography?
by Ron Leach, Publisher



The Future of Photography Museum Amsterdam (FOAM) recently celebrated its 10th anniversary with an exhibit and series of activities reflecting upon the future of our craft. The organization's mission is to enable people throughout the world to experience and enjoy photography—whether it's at their museum in Amsterdam, on their website (www.foam.org), or via their internationally distributed magazine.

FOAM is for photographers, picture editors, designers and anyone with a passion for photography. To pursue their anniversary quest into the future, FOAM posed the question "What's Next" to a panel of imaging experts. Clearly the process of creating still photographs has evolved dramatically over the past 20 years, and the recent digitization of the medium has altered not only how we capture images, but how we process, share, view, and archive them as well.

Get The Full Story




The New York Institute of Photography has launched a new service for photographers who'd like to drive more business with their websites called SiteCatapult! Get your expert website review today. Save $40 with the code 'bug40' for a limited time. Click here to sign up.




• Lensbaby Edge 80 Optic


Lensbaby, announced the availability of its 80mm Edge 80 Optic, the newest addition to its Optic Swap System. This new optic is compatible with the Lensbaby Composer Pro, Composer, Muse, Scout and Control Freak, and will transform any of these bending lens bodies into a tilt lens that delivers a selective slice of sharp focus through an image. Like the Lensbaby Sweet 35 Optic, the Edge 80 features Lensbaby's internal 12-blade adjustable aperture.

• Alien Skin Exposure 4 Plug-In for Photoshop and Lightroom
Alien Skin Software announces the immediate availability of Exposure 4, the new version of its photography effects plug-in for Adobe® Photoshop®, Photoshop Elements, and Photoshop Lightroom®. Exposure provides accurate film simulation and a wide range of creative effects in a simple interface.

• Topaz Star Effects
Topaz Star Effects is a creative effects filter that allows you to create unique star effects by manipulating and enhancing the various light sources within your digital images. With just a few clicks you can easily transform points of light within your image to create stunning lighting and star effects, supplement existing light sources, change or enhance image mood, add shimmering effects to things like water and jewelry, and much more.

• LitePad From Visual Departures
Nearly everyone owns a point-and-shoot that can take pictures up close, whether a digital compact or the camera in a cell phone. Getting the right light isn't so easy, though: Built-in flash units can wash out the subject, and the surrounding light often isn't adequate for a clear, colorful picture. LitePad, an exciting new product available from Visual Departures, is the solution. It's a bright, flattering, easy-to-use light source that fits in a pocket, ready for your next close-up.

• New Name, Pricing for Sigma SD1 Camera
In a personal letter to the company's loyal customers, Sigma Corporation CEO Kazuto Yamaki today announced that, starting next month, Sigma's 46-megapixel SD1 DSLR will be renamed the SD1 Merrill in honor of Richard "Dick" Merrill, the late co-creator of the Foveon X3 Direct Image Sensor technology. The otherwise unchanged DSLR will also be sold at a lower price that reflects new efficiencies in the camera's production.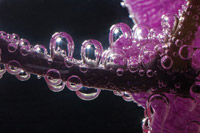 • Flowers And A Soft Drink
Bubbles And Color Together
by Jim Zuckerman

We don't normally speak of soft drinks and flowers in the same sentence, but there is a very cool technique that brings these two unlikely subjects together. Actually, you can use any kind of seltzer water or flavored water that is carbonated. Put the carbonated clear liquid in a glass or plastic container with clear and flat sides, and when you submerge the flowers in the liquid the bubbles cling to the petals. This is a unique subject matter for macro work, and with dramatic lighting the results can be quite beautiful.

Get The Full Story




• Water Drops On CDs
Using That Shiny Surface
by Jim Zuckerman

I'm sure you have been intrigued by the rainbow colors you can see in CDs and DVDs. As a visual person, it's hard not to be attracted to these intense, supersaturated colors. I've tried to photograph them but was never happy with the results until I experimented with placing drops of water on the surface of the disc. That changed everything. The colors of the CD combined with the defined shapes of the drops in amazing ways, and this was even more captivating than just seeing color in the disc.

Get The Full Story







• Vote!
Recent news reports indicate that photos on mobile phones are very vulnerable to "highjacking."
Please comment briefly on your experiences with iPhone photography.







• AdoramaTV Watch, Learn , Create
We'd like you to know that our friends at Adorama have an exciting new resource that's a key part of their photographic education initiative. See host, Mark Wallace, present how-to videos for everyone from snapshooters to enthusiasts to professional photographers, plus product reviews, interviews with today's top professional photographers, and reviews of iPad apps. AdoramaTV is the newest part of the Adorama Learning Center, which has thousands of photo-related how-to articles, product reviews and buying guides. New videos are added daily. Visit us today and ignite your passion…

• Cavecreek Photographic Workshops
Courses offered each month. Contact: Alan Lowy's Cavecreek Photographic Workshops, 2135 E. Gaffney Road, Phoenix, AZ 85087, 623-465-1077.

• Adorama Photography Workshops
Various courses offered each month. Contact: Adorama, 800-223-2500.





•Newsletter Feedback
Let us know what you think about our Newsletter. Please send your comments to:
editorial@shutterbug.com

• To Change Your Email Address
Please send your request to: Allyson.Fischgrund@sorc.com


If you would prefer not to receive future communications from Shutterbug, unsubscribe here. You may also reach us by writing to the following address: Source Interlink Media, Inc., 261 Madison Avenue, New York, NY 10016 Att: Privacy Coordinator. Privacy Policy.

Shutterbug Home Page • Print & Web Media Kit • Contact Us
Copyright SOURCE INTERLINK MEDIA™ All Rights Reserved
1415 Chaffee Drive, Suite 10 | Titusville | FL | 32780