January 28, 2014
Please visit Shutterbug's Facebook page to read about what's coming up in the magazine, share your images, and interact with other readers. And be sure to "like" our page while you're there so you don't miss any exciting news!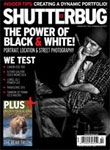 In This eNewsletter:

• How-To – Flash Basics
• Industry Perspective – Treasure-Trove of Century-Old Negatives Found in Antarctica
• What's New This Month – Tenba, Ilford, ExpoDisc, Canon, and Sirui
• How-To – Diffusion Techniques
• How-To – Image Processing
• How-To – Interpretation & Black & White
• Vote! – More and more new cameras no longer have low pass filters.
• Workshops – Learn and Show
• Shutterbug Forums – Your Photo & Digital Imaging Source
This eNewsletter Brought To You By: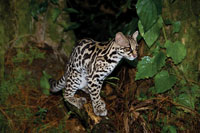 • Flash Basics
Power And Position
by Jim Zuckerman

To fully understand your flash, there are some basic principles and definitions I need to explain. When I start discussing how to be creative with your flash, you will know what I'm talking about with this information under your belt. Flash is not difficult once you understand some fundamental principles. I will start from the beginning and take you step by step to the point where it will seem like no big deal to get excellent flash pictures.

Get The Full Story






• Treasure-Trove of Century-Old Negatives Found in Antarctica
by Ron Leach, Publisher

The New Zealand Antarctic Heritage Trust recently discovered and restored a treasure-trove of century-old cellulose nitrate negatives left behind by the ill-fated Ross Sea party when they were rescued after spending three years struggling to survive on Ross Island after their ship broke loose from it's moorings and blew out to sea. The small box of 22 unprocessed negatives were part of more than 10,000 objects conserved at Captain Robert Falcon Scott's hut and brought back to New Zealand by the Trust and painstakingly restored.

Get The Full Story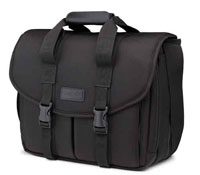 • Tenba Classic Bags
Tenba announces a reintroduction of three vintage bag designs for a new generation of photographers. The Tenba Classic collection includes three models: the P211courier bag, the P415 briefcase camera bag, and the Tenba 2 camera bag. These new Classic bags feature the same fine tailoring and uncompromising materials and hardware as when they were first launched up to thirty-four years ago.

• A New Ilford Multigrade Fibre Base Family
Ilford Photo announce a new range of variable contrast Baryta Fibre Base papers, a completely new and improved Multigrade FB and a new Cooltone FB paper to complement the existing Multigrade FB Warmtone.

• ExpoDisc 2.0 Professional White Balance Filter
Beyond its primary function as a white balance tool, the precision calibration and uniformity of the ExpoDisc 2.0 means that it can also be used to meter for an 18% incident exposure and todust map the image sensor. Made in the USA, every ExpoDisc 2.0 is tested by hand on a transmission spectrophotometer and individually adjusted using custom filters to ensure neutrality and an 18% total light transmission across the visible spectrum.

• Canon Firmware Upgrades for the EOS-1D X AND EOS-1D C
Canon U.S.A., Inc. announces improvements in the functionality and convenient operation of the EOS-1D X Digital SLR camera and the EOS-1D C Digital SLR Cinema camera through new firmware scheduled to be available starting in January 2014 and November 2013, respectively.

• Sirui VH-10 Professional Fluid Video Head
The world of videography has quickly changed over the past few years. Many photographers have realized the need and advantage of shooting videos. The introduction of DSLRs and lower priced modular video cameras that can produce professional quality videos, has accelerated this trend.


• Diffusion Techniques
Softening Accessories
by Jim Zuckerman

I have made the point that on-camera flash is not the most attractive artificial light for photography. In fact, I'd say it's at or near the bottom of my list for choosing artificial light sources to illuminate the subjects I photograph. If I can't take the flash off the camera and I'm forced to use on-camera flash, then the best approach is to diffuse the light. There are various ways to do this. Some diffusion techniques require a modest expenditure while others don't cost anything.

Get The Full Story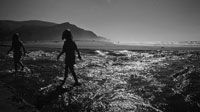 • Image Processing
Find The Potential In Your Images
by George Schaub

Dedicated black and white photographers have always processed their images and made their own prints. Negatives were carefully developed according to exposure and contrast needs; prints were made with extensive "handwork" and archival processing procedures. Processing was and is a key element in black and white photography—digital does not change that element of the craft.

Get The Full Story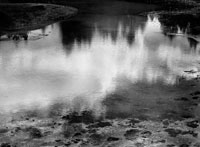 • Interpretation & Black & White
Exploring The Potential, Using The Tools
by George Schaub



One of the most exciting aspects of black and white photography is your ability to interpret your images, that is, joining your way of seeing with the application of techniques. For example, when shooting landscapes, the aim is generally to communicate your "sense of place." The techniques you apply define both the objective place (the record of that scene) and your perceptions and feelings about it. Depending on your decisions, you can create an image of the same scene pervaded by light and contrast, or set in deep, dark tones. The objective image does not change; what can change is your interpretation, the way the scene is altered by journeying through your mind's eye.

Get The Full Story







• Vote!
More and more new cameras no longer have low pass filters.







• AdoramaTV Watch, Learn , Create
We'd like you to know that our friends at Adorama have an exciting new resource that's a key part of their photographic education initiative. See host, Mark Wallace, present how-to videos for everyone from snapshooters to enthusiasts to professional photographers, plus product reviews, interviews with today's top professional photographers, and reviews of iPad apps. AdoramaTV is the newest part of the Adorama Learning Center, which has thousands of photo-related how-to articles, product reviews and buying guides. New videos are added daily. Visit us today and ignite your passion…

• Adorama Photography Workshops
Various courses offered each month. Contact: Adorama, 800-223-2500.


•Newsletter Feedback
Let us know what you think about our Newsletter. Please send your comments to:
editorial@shutterbug.com

• To Change Your Email Address
Please send your request to: zachary.rizzuto@sorc.com


If you would prefer not to receive future communications from Shutterbug, unsubscribe here. You may also reach us by writing to the following address: Source Interlink Media, Inc., 261 Madison Avenue, New York, NY 10016 Att: Privacy Coordinator. Privacy Policy.

Shutterbug Home Page • Print & Web Media Kit • Contact Us
Copyright SOURCE INTERLINK MEDIA™ All Rights Reserved
1415 Chaffee Drive, Suite 10 | Titusville | FL | 32780